Thinking of selling online? Great idea. But ask yourself this first: should you choose to sell using an online marketplace or not? 
The biggest online marketplaces and selling sites generated around £2.275 trillion in 2020, which accounts for 62% of the global web sales market. 
Leveraging the help of established platforms is one of the best ways to start selling your products on the web — this is because the growth of these sites far exceeds what many small business owners can achieve independently. 
In this small business guide, we explore five of the best sites and marketplaces to sell products online, as well as outlining information on possible alternatives like store builders and social media. 
Selling online with the best sites & marketplaces
If you want to sell your products online, using a marketplace is among the best and quickest places to set up your business and start shipping products. 
Some of the benefits of using these platforms to sell to customers include: 
✅ Buyers already trust the marketplace you're selling products on
✅ Reduced marketing costs as marketplaces have a well-established audience
✅ Convenient and efficient way for customers to purchase products
✅ Guaranteed site functionality and round-the-clock trading
With that said, these platforms often come with a few downsides you should be aware of: 
❌ Most sites charge a commission fee on item/s you sell
❌ Selling parties are limited how they can brand their online presence
❌ Expect a strict set of platform rules you must follow
It's worth bearing all of these points in mind when deciding whether to sell using an online marketplace or not.
The best sites & marketplaces for small businesses
Still believe these big online sellers lend your business the right kind of support? Here are five of the best options you can use to start selling: 
1) Amazon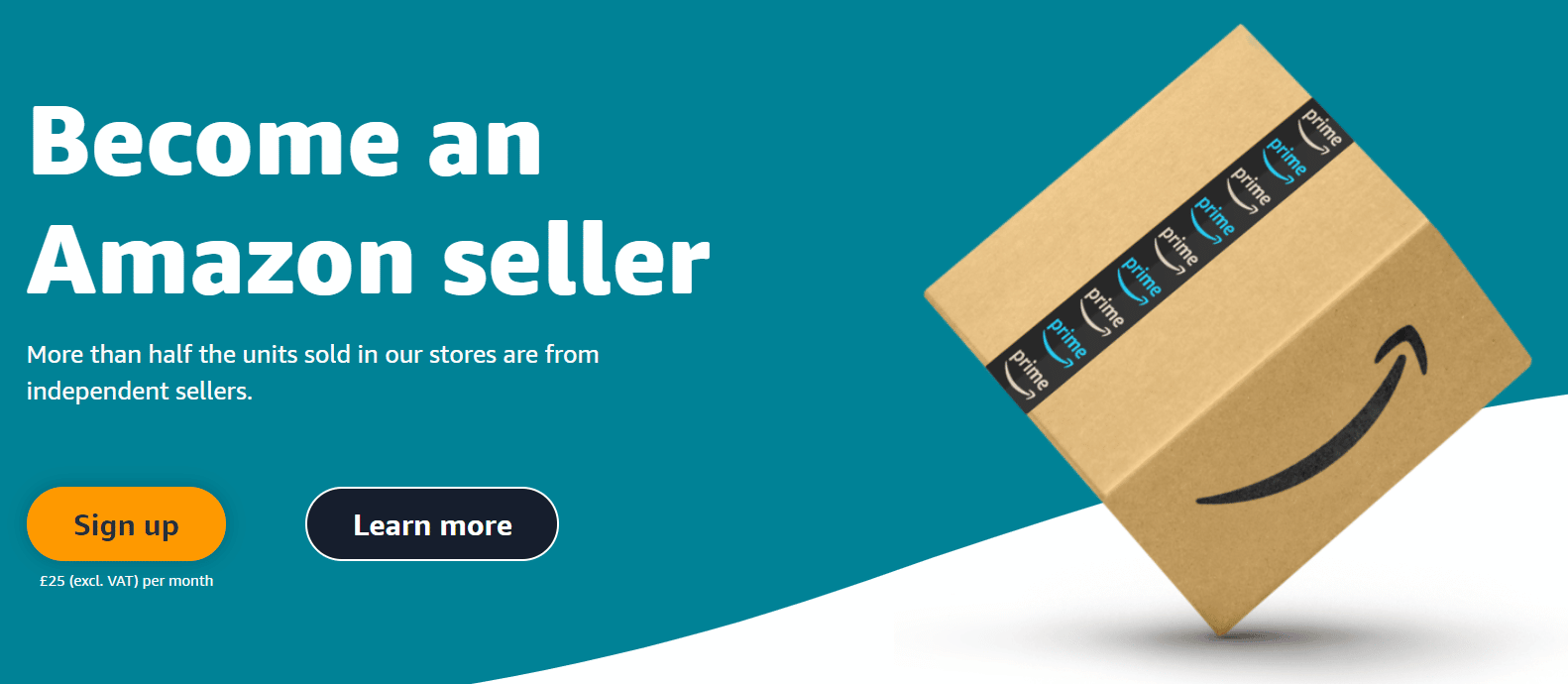 Image: Amazon Seller Central
Amazon has a reputation for being the go-to marketplace when people look to buy online. 
With Oberlo reporting Amazon sells over 400 products per minute, it's no surprise to see it become the world's top ecommerce company. But it didn't get here through luck. The platform earns its spot by nurturing consumer trust and revolutionising the fulfilment process: 
They vet sellers and are quick to remove fake products
They offer multiple delivery options for convenience
They pioneer one-day delivery through the Prime service
Alongside its unmatched pricing, Amazon continues to dominate the ecommerce market because they're almost entirely focused on consumers, which is why customers keep returning. 
If you're looking to sell online, this ecommerce giant is among the best places to do so, especially if you're looking to reach a broad global audience. 
However, its services and ecommerce experience come at a cost to sellers…
The cost of selling products depends on your plan and a variety of other variables, but if you want to sell a decent amount, at minimum, you can expect to pay £25 a month for a Professional plan (plus added fees). This allows you to sell over 40 units per month, advertise your listings with stock images, and qualify for top placement on its product pages. 
2) eBay
eBay is the original online selling site, having been active since 1995 — so chances are you've used it once or twice before. 
Fast forward to the present day and eBay has accumulated over 1.3 billion listings, and is still going strong among the best places for online selling. It is the easiest way for any individual to sell online, as long as they create an account with a registered email address and password. 
Use Paypal as the main payment gateway too and eBay becomes a safe way for relative strangers to sell and buy from each other without worry, by protecting sensitive information like credit cards. One big advantage of this is that you can run a trustworthy and profitable online store from this platform. 
However, as a seller you need to watch out for the types of fees eBay takes from your listing: 
Listing fee: for each product you list on the site
Insertion fee: for listing the same item in different categories
Value fee: for sale of your item (10% of the final total, capped at £250) 
It is worth noting that these transaction fees do offer value for money — because just like Amazon, eBay grants you access to a massive audience that can make for a particularly lucrative sales channel. 
3) Etsy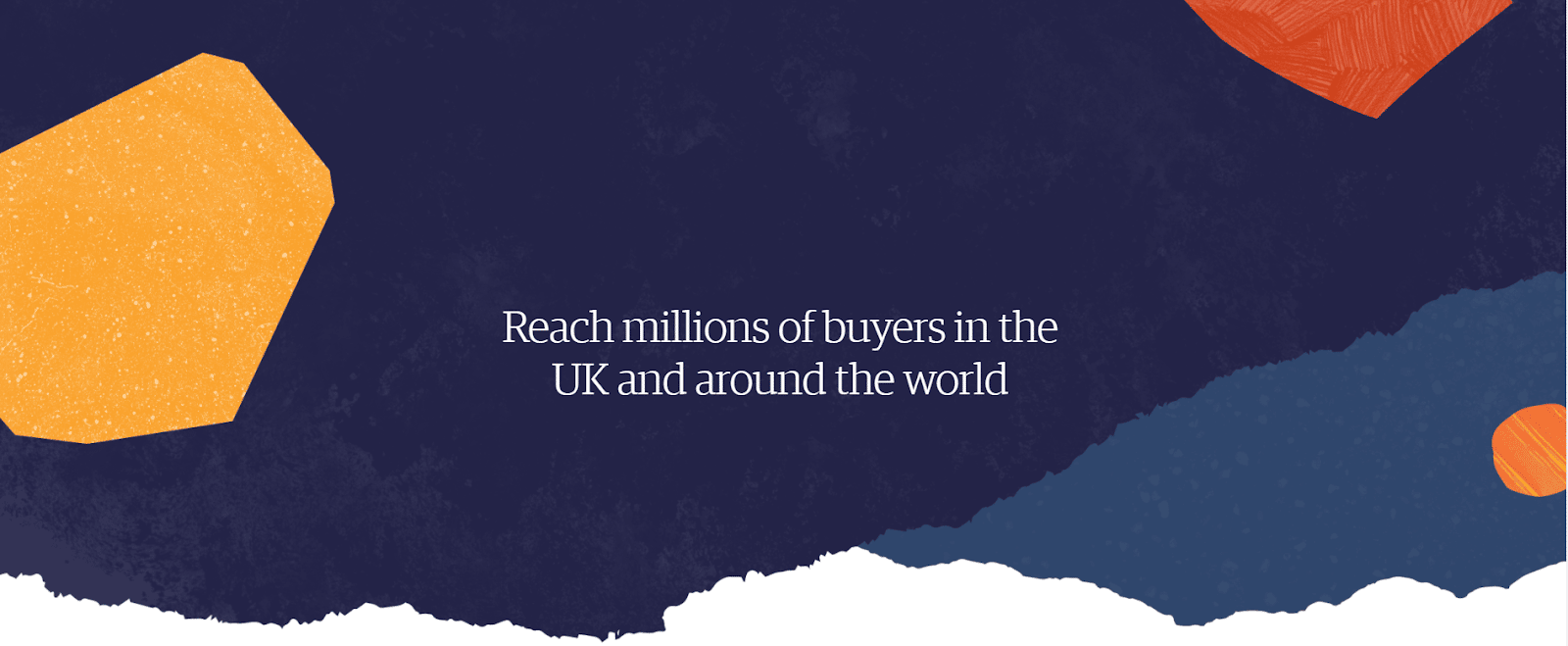 Image: Etsy
Passion for handcrafted items and vintage products? Sell online with Etsy and you can access an active network of buyers, a pop-up storefront, and a selection of tools to help market your business and thrive on the platform. 
Etsy began life in 2015 as a place for select accounts to sell online, but now with over 60 million buyers, the platform is helping support a variety of users sell their stuff. 
When online selling using Etsy, you'll be charged a nominal listing fee for each item that expires every four months, which means you'll be charged again if the item does not sell. Plus, when you do make a sale, Etsy charges a 5% transaction fee taken from the total billing amount (including display price, shipping, and gift wrapping). 
4) Nextdoor
Looking to start selling online, but with a more local focus? Nextdoor might be the place for you because it focuses on community selling. 
With Nextdoor you can embrace the neighbourhood feel by getting involved in forums where users can post about what's going on in their area, be it traffic jams or top restaurant recommendations. 
Unlike many other selling sites, listing items on this platform is completely free. The catch? You have to meet the buyer in person. One positive to this is that there is an extra level of protection as users have to register a verified profile before actively using the site. 
5) Handshake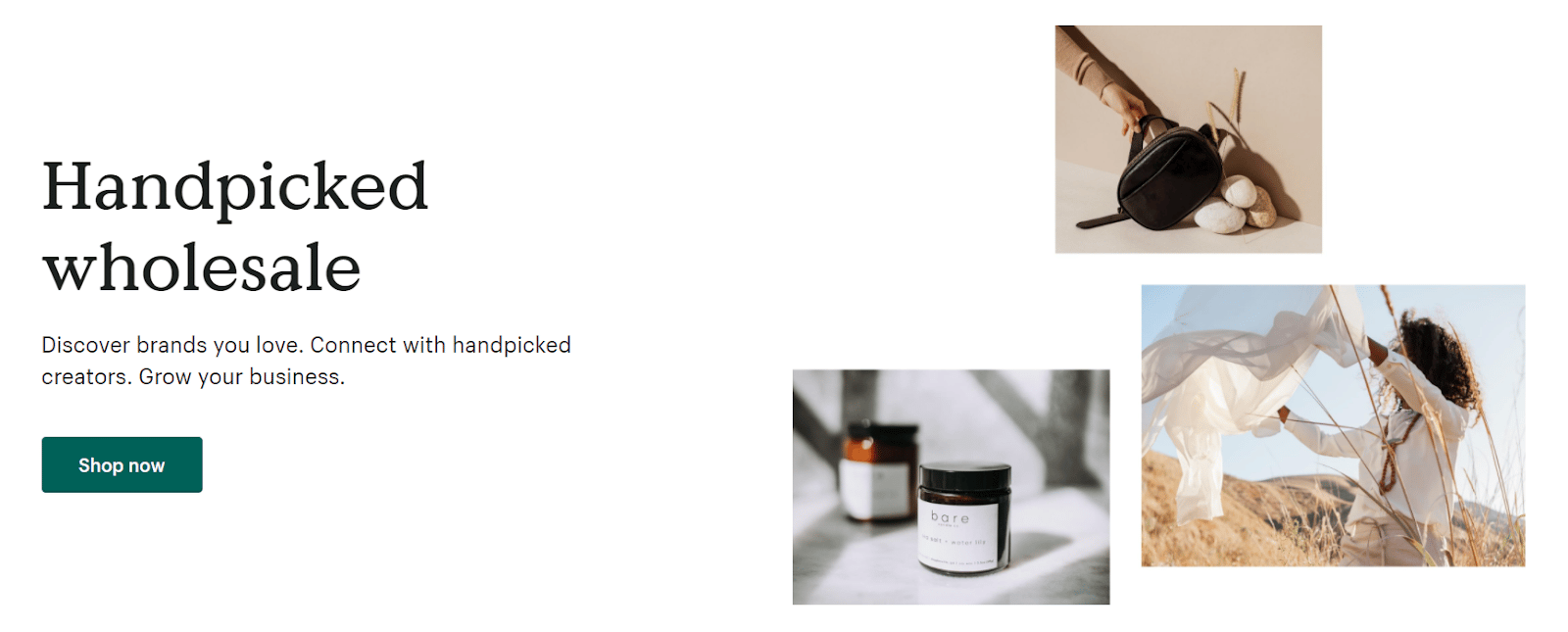 Image: Handshake
If you're looking to sell wholesale goods to interested buyers, then Handshake is a wholesale marketplace that connects suppliers with suitable retailers. 
A combination of brick-and-mortar shops alongside ecommerce stores use Handshake for various unique, non-mass produced products to do with fitness, pets, jewellery, and food. 
Unlike many other marketplaces, Handshake also integrates with store builders like Shopify so you can manage inventory, track sales, and monitor the fulfilment process under one roof, while also achieving a little more flexibility with your business. 
Selling online using an ecommerce store builder
Despite much of the market being dominated by online marketplaces, there is a lot to be said about creating your own online store. 
While you have the additional responsibility of marketing your brand and channelling customers to your website, you also have a few notable upsides: 
✅ You have complete control over your business and pricing strategy
✅ You don't have to pay commission on what you sell
✅ You can design your own store and implement branding easily
Plus, with the help of online store builders, you don't have to be a computing wizard to turn a website into one of your most lucrative sales channels. 
Read on for a quick outline of Shopify and WooCommerce — two of the best (and most popular) store builders your online business can use to sell products directly to your customers. 
Shopify
Shopify is one of the most recognisable and easy-to-use ecommerce store builders, making it simple to run an online business without much technical knowledge or a big budget. 
Powering over one million ecommerce businesses — with brands like Kith and ColourPop Cosmetics among them — as a merchant, Shopify supports you with a toolbox full of helpful features: 
Integrated blogs 
Abandoned shopping cart recovery 
Social media sales integration
Numerous apps and optimised plugins
This layout is also beginner-friendly and you have access to lots of training resources to help you get a grip on things. Plus you can use customisable themes to give your business a greater sense of identity. 
All this (and more) makes Shopify an excellent platform for a growing business to satisfy its shoppers. 
WooCommerce
WooCommerce is another popular store builder that allows you to create an ecommerce website to fit your selling needs. 
Like Shopify, WooCommerce powers many successful ecommerce brands such as The Good Batch and Root Science with extensive tools and simple customisation options. 
Technically, it's a WordPress plug-in, so if you've already got your own WordPress site for your business, you're onto a winner. 
Ultimately, however, choosing between the two builders is up to personal preference — but know both are fantastic ways to sell products online with more control over your brand. 
Selling online with social media
Nowadays some of the biggest social media platforms are beginning to test the ecommerce waters as well.
This is great news for online businesses because you can reap the rewards of selling to an audience without paying commission like you would with a traditional marketplace. 
Here are some selling features Facebook and Instagram offer right now: 
Facebook Marketplace: a great way for an individual to buy and sell items from their Facebook account — this offers a big opportunity for sellers to reach a large active audience 
Instagram Checkout: Instagrams' latest exploration into ecommerce, which opens up a direct selling channel for registered businesses — this means professional sellers and brands can now open an ecommerce shop on Instagram
It's definitely worth checking these options out when approaching online selling, especially when it comes to cost. 
If your small business isn't selling online then what are you waiting for? 
Ecommerce is ever-expanding and offers new ways for businesses to operate online. 
Whether you choose to use a marketplace or do it all on your own via store builders and social media — thanks to the modern web, creating a successful ecommerce business is more achievable than ever before.