Are you a recently launched ecommerce startup and struggling to get sales by working on SEO only? Well, you are missing one big opportunity: Google Ads. Yes, for any established ecommerce business or ecommerce startup Google Ads brings the best sales and ROI.
Google Ads allows the user to search on a search engine results page for a website by paying. Ecommerce companies use paid search as it is affordable, easy to use and generates immediate results. Google Ads work on the concept of paid search, meaning advertising in listings of search engine results page. Google ads appear at the top of SERPs at one side, labeled 'Ad'.
Startups can use ecommerce marketing to proactively advertise online and help their website stand out against the competition. Google Ads are a powerful medium that can be leveraged by online businesses to get in front of users searching for those services and products. Google Ads is a great way to get a company or its campaigns noticed online.
Before explaining about Shopping Ads, we should first understand what Shopping Ads really are in Google Ads. Shopping Ads are visually displayed ad on Google along with a product photo, price, product name, and company name. Here is the visual representation of the difference between Shopping Ads, Search Ads & Organic result on Google.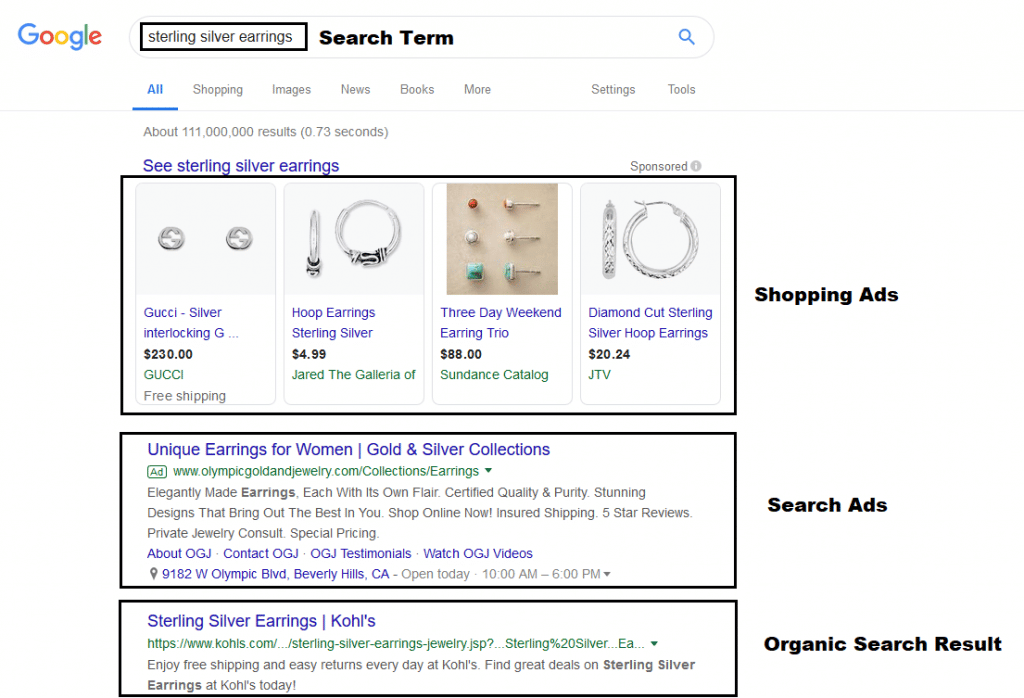 Why are Shopping Ads beneficial for ecommerce startups?
Cost-per-click is lower: It is observed that the cost per click rates for Google Shopping Ads are lower than other search engines like Bing. The average click-through rates for Google ads is also higher than the industry average and compared to other text ads. Google Shopping Ads and banner ads are cheaper than video ads and yet bring the best return on investment.
Google Shopping Ads contain a lot more info: Google Shopping Ads help generate more purchase intent as the image based ads contain higher info for the visitors. The ads contain product name, image, price, and rating. If the ads have a compelling graphic design and attention-grabbing text, then it is sure to make a mark on your end consumers (Showcase Ads).
Keywords work a little differently: Google Shopping Ads definitely provide an edge over other text-based ads as the keyword input ensures that your products appear above others in organic search results. Display ads pop up when the customers are not sure what they are looking for and use related keywords.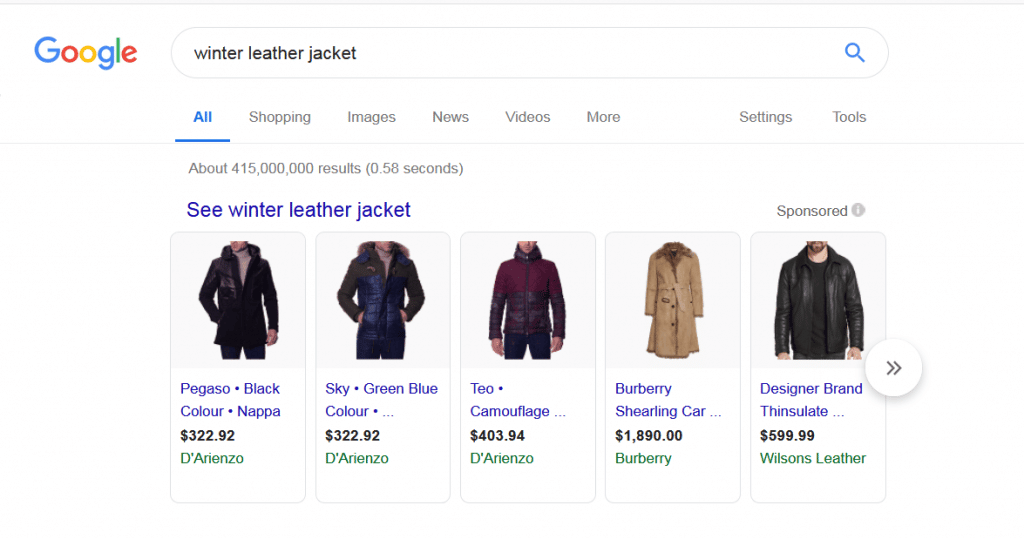 5 reasons why every ecommerce startup should use Google Ads
So why should ecommerce startups use Google Ads? Here are a few reasons why.
#1 Increase your ROI
More retailers are now allocating marketing budgets towards Google ads as they bring more ROI than other ads. Google Shopping Ads and display ads have an ROI that is 3% higher than the industry average. This gives you the best ROI you need for your business.
#2 Better qualified traffic
Lead quality is improved through Google ads as it is targeted at the shoppers who want to make an informed decision. As the customers have already done some research and know what to expect, once they are directed to your website, they are more likely to convert.
#3 Broader reach
Google ads ensure that you appear more than once for a single search. Google also chooses keywords based on which your products can be shown which also ensures that your products show up for related keywords. Related keywords ensure your ads appear even when the search engine has not guessed. For Google Ads, an exact match is not needed. Google can easily use synonyms too which makes the search flexible.
#4 Stand out against the competition
For a startup or a smaller business, it is a great boon to appear on top of a search engine results page. This helps in driving consumers to purchase your products. Even if the customers are not familiar with what your business offers, Google helps in ensuring that the products appear when Google matches with search keywords. Google Shopping Ads ensure that your products appear on top in the organic searches. They are a great medium to effectively expand the online visibility of a brand or a business. The products are displayed to the users who have researched about the category and are interested in your offerings.
#5 Simpler to manage
Google Ads are simple to manage and they eliminate keyword process. Rather than bidding on the keywords, Google selects relevant keywords based on product data feed. The user can set up a Google Shopping Feed in the Google Merchant Center account. The product data can be pulled directly to Google by using an app which connects the online store using Google Shopping's API.
Last words
Many businesses, startups, and established companies are using the Google Ads platform. They are allocating larger shares of their marketing budget for Google Shopping Ads. This ensures that they stay above their competitors in terms of digital trends. Google ads ensure that your marketing campaign is visible and your ROI is higher. So for any business, Google Ads are the best bet to ensure maximum output with minimum investment.