Charity marketing isn't much different from marketing campaigns used for profit-oriented businesses. We can say that the main difference is the budget they can spend on their campaigns. That is why carefully choosing keywords for charity is an essential step forward in creating a successful charity marketing campaign.
As a charity worker, you don't have the luxury to ask for more money after your budget gets depleted early. You can even be blamed for neglectful spending, and that can have a severe impact on your charity's reputation.
Finding the right keywords for charity is complex and time-consuming work. But you don't need to hire skilled freelancers or SEO agencies, you can do that by yourself with the help of the right tools and guidance. That is why we prepared for you a complete DIY step-by-step guide for finding perfect fundraising keywords while keeping your costs at a minimum.
1. Define your target audience
If you are not already a well-established charity or you are just starting your online marketing campaign, it is almost impossible to outrank better-placed charities on high-volume keywords, such as "best charities in the UK".
That is why you need to do two things at the start:
Determine who your campaign is intended for, including their demographics, interests, and behaviors.
Put yourself into the place of donors and try figuring out their intentions.
People looking to help others search for various places to donate what they have. That doesn't need to be money, people also donate old clothes, food for shelters or public kitchens, toys for kids, etc.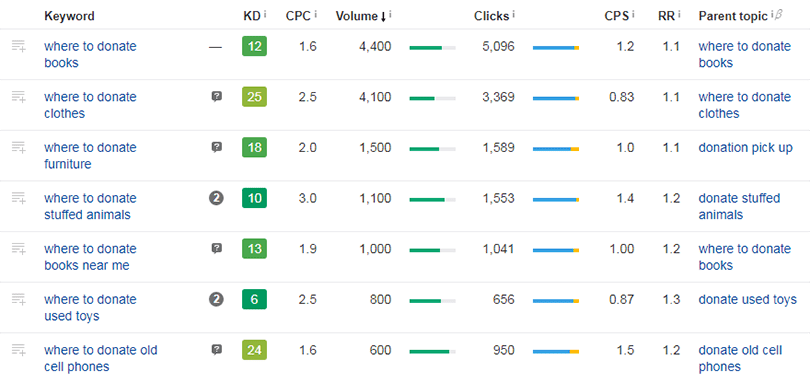 On the other hand, another group of donors is inclined to give their support to institutions, such as schools, churches, or shelters.

Here you can see some of the questions people type in the search bar when looking to donate. You can use those questions to your advantage. Consider setting up a blog on your charity site and using those charity keywords for creating detailed guides. That way, people can find your charity even if they are looking for other ways to donate or other charitable initiatives.

You can find keywords for charity in lots of places. You can use social networks and specialized sites (such as Keyword Tool) or by installing browser add-ons, on Quora, but Google is still the best place for identifying charity keywords you can use. With its Autocomplete feature, you can see different variations (some more relevant than others) of the query while you are typing it.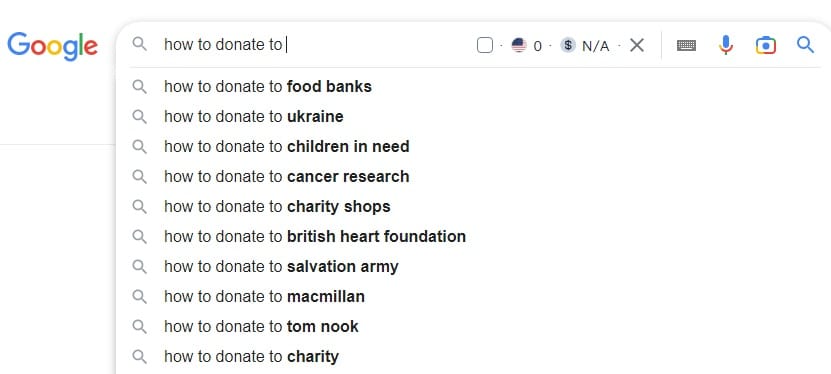 At the bottom of the page, above pagination, you will see a block for "Related Searches", where Google shows other keywords people search similar to the query you entered.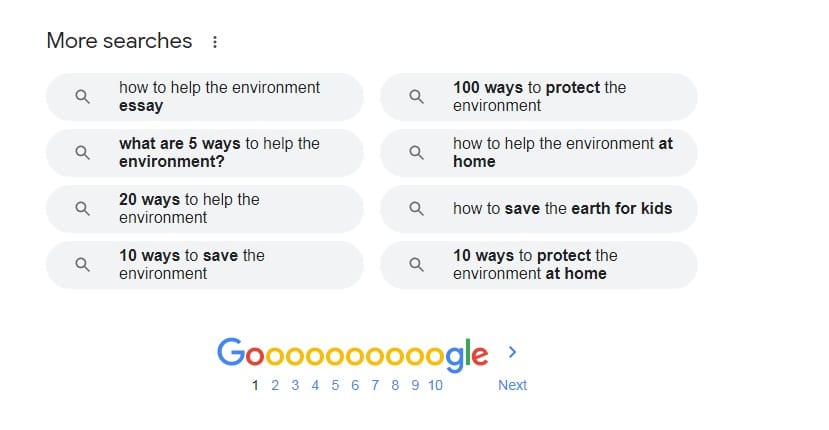 2. Choose keywords that work
The next step is to check the most relevant metrics of the keywords you identified. We cannot stress enough how this step is important for your campaign. If you ignore them, your visibility will be far behind the competition, and all your effort will be futile. Here are the top 4 key metrics to look for when picking fundraising keywords for your charity.
Long-tail keywords
We already told you that using the most common keywords won't give you much. That is why you need to turn to long-tail keywords. Long-tail keywords are more specific and targeted phrases that can be effective in reaching a specific audience.
They are your ticket for the 1st page of Google ranking. Usually, they don't have many searches, but you can dig some worth targeting. Long-tail keywords usually contain more than three words.
For example, instead of using "charity donations" as a keyword, you could use "donate to education charities" to reach people specifically interested in supporting educational causes.

You are probably thinking that under 100 monthly searches are too low, and you waste your budget on something that won't bring many donations. So, why do we suggest this course of action for you?
Here is the catch, if you optimize your content for a long-tail keyword, there is a good chance you will rank for several shorter keywords. Users often use similar word construction for the same query intent. That was recognized by Google and now they don't rank results by exact-match wording, but by search intent.
For example, for the query "best charity for animals", Google will show organic results optimized for "pets" besides "animals." Google algorithms understand synonyms and process them among search queries. That is why a well-optimized long-tail keyword can bring you a lot more traffic than it seems at first glance.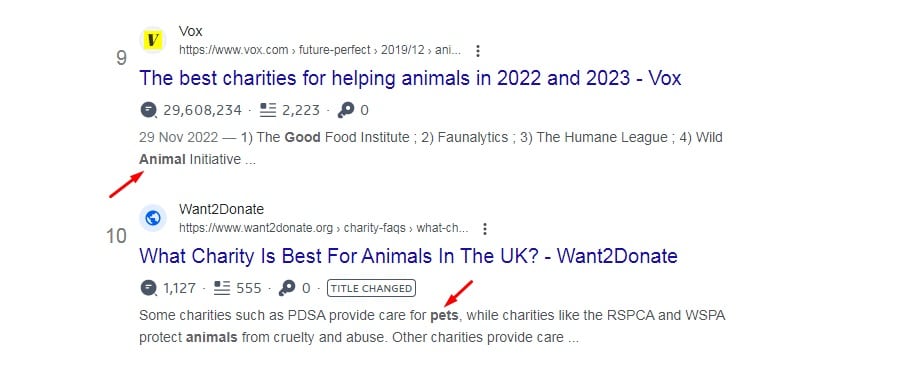 Difficulty
Keyword difficulty is a metric used to determine how difficult it will be to rank for a particular keyword in search engine results pages (SERPs). You can find charity keywords that have a lot of monthly searches but low keyword difficulty. You can use them to easily appear on the first page of Google.
For example, the keyword "PayPal donation" gets 3.2K monthly searches (at the moment of writing this text). But its ranking difficulty is quite low – it is just 18 on the 100-point scale. This is a good example of a charity keyword you need to use in your marketing strategy.

Clicks
After Google introduced its featured snippet (famous position 0 in search results) that gives an instant answer to a query without needing to open a link, many contents lost clicks. Especially if they are ranked below the top 3 results.
That means even if you find a keyword with potential and optimize content for it, you won't have too many visits if any. That is why you need to check this metric as well.
For example, if you want to optimize your content for the "Red Cross founder." Here's what Ahrefs key keyword metric looks like.

When using Google search, you can see who the founder of the Red Cross is straight away. There's no need to visit any of the pages below; that's why 76% of searches get no clicks. Only 24% of people wanted to read something more about the given query.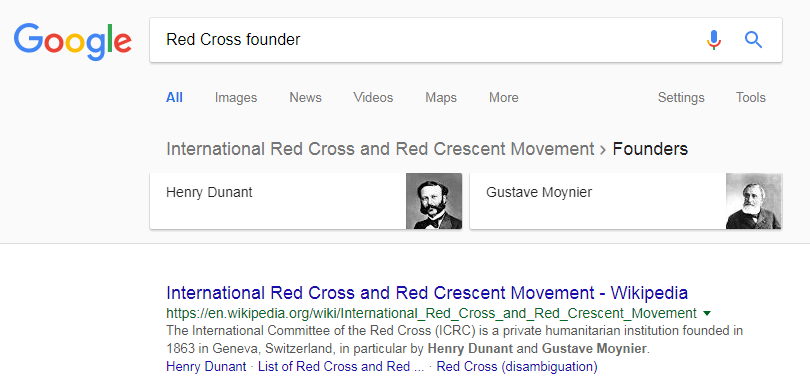 Seasonality
There are charity topics that aren't in the focus for the whole year. For example, the interest in "AIDS awareness" starts growing before December 1st, which is World AIDS day. During the rest of the year, the interest remains at a low level.
The bottom line is such a keyword will bring you a lot of traffic only in high season. When doing keyword research, go to Google Trends and check seasonality of each target phrase.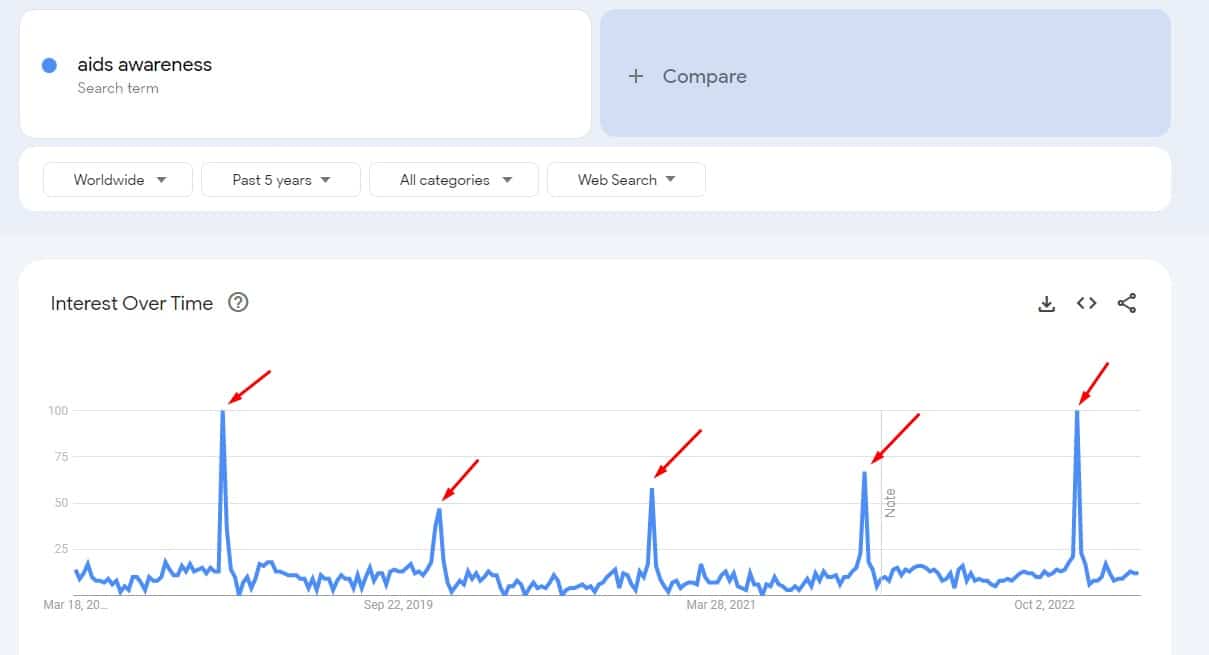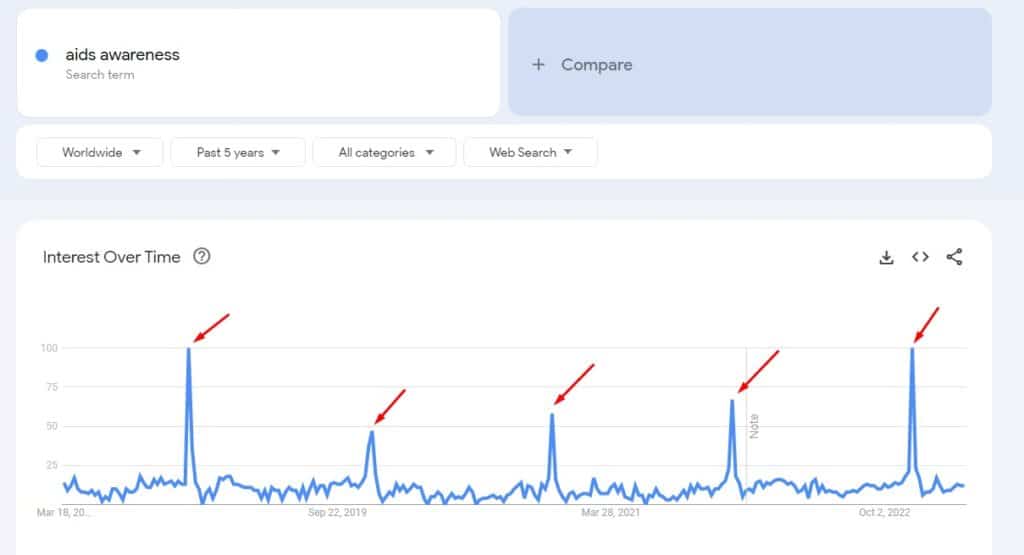 3. Try using keywords your competitors are using
You need to be aware that someone has already gone through these steps we are presenting to you. There are numerous charities already ranking for many good keywords. That means they've done all the hard work that is in front of you.
The good news is that you can take a shortcut from here. You can "borrow" some of those keywords and use them for your campaign. For that purpose, you can use so-called SERP checkers that will reveal competitors' keywords and other important SEO elements from their sites.
SERP checker will show you all the keywords your competitor ranks for in the top 10. From there, you can see how much traffic they get and what content their users are visiting. After you review their content, you can use easy-to-rank keywords and create more informative content to drive some of their visitors to your site.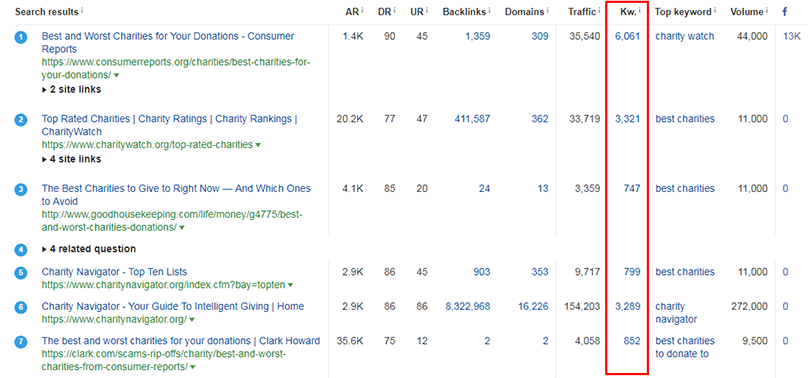 4. Use fundraising keywords that reputable charities overlook
Although the previously mentioned technique can be fruitful for your fundraising efforts sooner or later, you will need to be unique. You will need to produce something that will persuade people who donate to charities to switch to a new organization. That isn't an easy job, but it is possible.
You will need original content that hasn't been rewritten on tons of charity blogs yet. If you are looking for inspiration, you can use Neil Patel's tool Answer The Public. For example, if you are looking for ideas for the "charity" keyword, it will generate over 390 suggestions:
80 questions
56 prepositions
40 comparisons
207 alphabeticals
8 related keywords


Besides those ideas, you will see other important SEO metrics, like keyword difficulty, search volume, and cost per click.
By clicking on any idea provided by Answer The Public, you will be redirected to Google search results. Review the top 3 results, and if on those places you don't see highly reputable sites, that is your chance. You can use those queries and create highly useful content around them to target a new audience.
5. Remove similar phrases from your charity keywords list
If you go deep into your research, you will come up with thousands of keywords for charity. For example, Ahrefs showed 8.948 variations of a single phrase "donate money."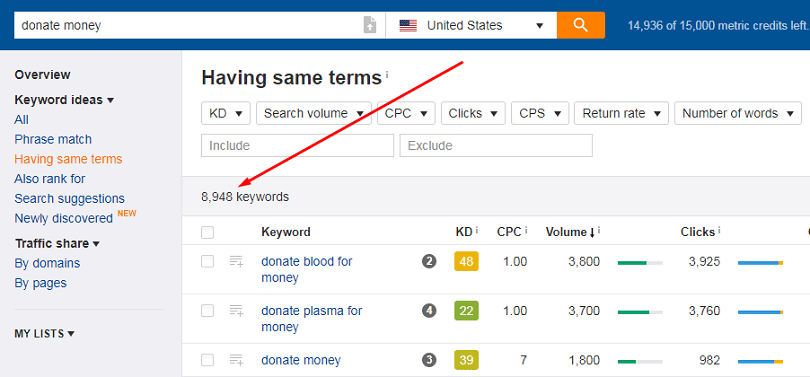 Surely you cannot cover them all in a quality way as that would be waste of time and resources. And even if you create thousands of pages on your blog, it would be considered spamming, and Google will penalize you.
That is why you need to eliminate all the phrases that have the similar or same meanings. Don't think you will miss something because, with the launch of RankBrain, Google now understands search intent and doesn't give back exact matches but the best content available for a variety of search queries that can be entered with a similar set of words. Google's algorithm is now so advanced that it equates to a lot of things.
Here are the samples of synonyms:
Part of speech: DONATE blood when pregnant = DONATION of blood when pregnant
Conjunctions: donate blood WHEN pregnant = donate blood WHILE pregnant
Questions: CAN I donate blood when pregnant = donate blood when pregnant
Pronouns: can I donate blood when pregnant = can YOU donate blood when pregnant
Word order: can I donate blood when PREGNANT = PREGNANCY: can I donate blood
Whatever query you enter into Google search, you will be served with almost the same results in a featured snippet and organic search. There may only be some slight differences in the SERP position.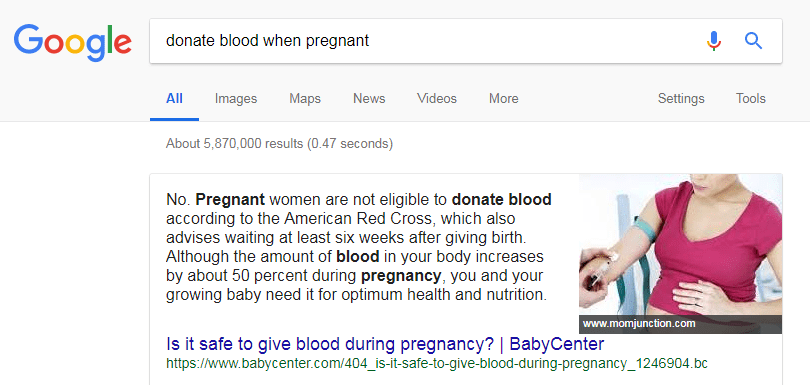 6. Break down your keyword list into categories
The last step is to group the remaining charity keywords by categories. Some of the categories you can use are the things that can be donated, the purpose of the donation, institutions that need donations, etc. Here is a sample of categories you can use when targeting the keyword "helping charity."
| | |
| --- | --- |
| Charity location | charities helping Afghanistan, charities helping Ethiopia |
| Charity mission | charities helping earthquake victims, charities helping endangered animals, a charity helping mothers |
| People in need | charity helping families in need, charity helping foundation for the needy |
| Questions | will helping charity help with taxes, what are the benefits of helping charity, who donates the most for helping charity |
| Miscellaneous | helping charity NGO quotes, helping charity names, helping charity slogans |
Keywords for charity: final words
As you can see, keyword research is not a difficult task but requires time and deep analysis. Following the steps from our complete guide on how to identify the best keywords for charity, you will be able to create successful marketing strategies that will bring you new donors.
Remember to keep your keywords relevant, specific, and targeted to your audience. With effective keyword research, you can increase your online visibility and drive more donations and support for your charity campaign.
Besides creating content, you will need backlinks to give authority to it. You can create them by outreach or, if you have a budget for backlinks, you can buy some from the niche sites. Some more SEO tips you can read in our guide for charity websites.