Charities are great at marketing. They often put on inspiring and interesting campaigns to raise awareness and spread their messages far and wide. Here are nine of the best charity marketing campaigns.
Unmute — Ask Him (Movember)
Movember launched their 'Unmute — Ask Him' campaign ahead of World Suicide Prevention Day (September 10th) in 2017. Movember are aiming to reduce premature male death by 25% by 2030; one of the biggest killers in men is suicide.
Their month-long advertising campaign was aimed at combating male suicide, and featured 3 subtitled videos in the style of 'how-to' tutorials. Each video features three different men demonstrating how to do something typically 'blokey' like fixing a flat tyre, or fishing.
Unmute — Ask Him encourages people to talk about men's mental health
The idea was that the viewer started watching the 'tutorial' muted — tapping into something everyone does all too often when we're scrolling through Facebook — and was then invited to unmute the video.
It turns out that with the sound on, the man in the 'how-to' video is saying something completely different to the subtitles; he's opening up about his mental health struggles.
Movember's aim with this thought-provoking campaign is to encourage open conversations about men's mental health. They use the video to ask people to 'unmute' in real life, and to reach out to men they know to ask if they're okay.
It's a clever campaign that taps into our social media habits and uses them to draw attention to a big issue — men's mental health. The call to action is simple: ask and listen.

Get Over It! (Stonewall)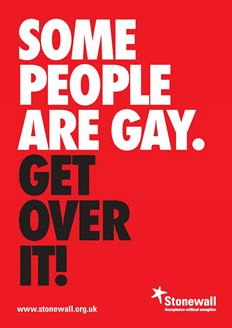 In 2007, Stonewall launched the ground-breaking 'Get Over It!' campaign to tackle homophobic, biphobic and transphobic bullying.
Their succinct, attention-grabbing posters were seen in classrooms, on billboards, in bus stops, and train carriages up and down the UK. The posters — which said simply, 'Some People Are Gay. Get Over It!' — were aimed at tackling bullying in the classroom in particular.
Get Over It! celebrates gay identity & its message was picked up by celebrities
The campaign was a huge success, promoting discussions about how LGBT pupils are treated in schools, LGBT sex education, and bullying. It also celebrated gay people and gay identities, and the message was soon taken up by celebrities, politicians, sports stars and activists all over the world. The slogan has since diversified to include 'Some People Are Bi. Get Over It!' and 'Some People Are Trans. Get Over It!', as well as being translated into many different languages.
It's still one of the most memorable charity campaigns out there to this day, over a decade later.
#KnowYourLemons (Worldwide Breast Cancer)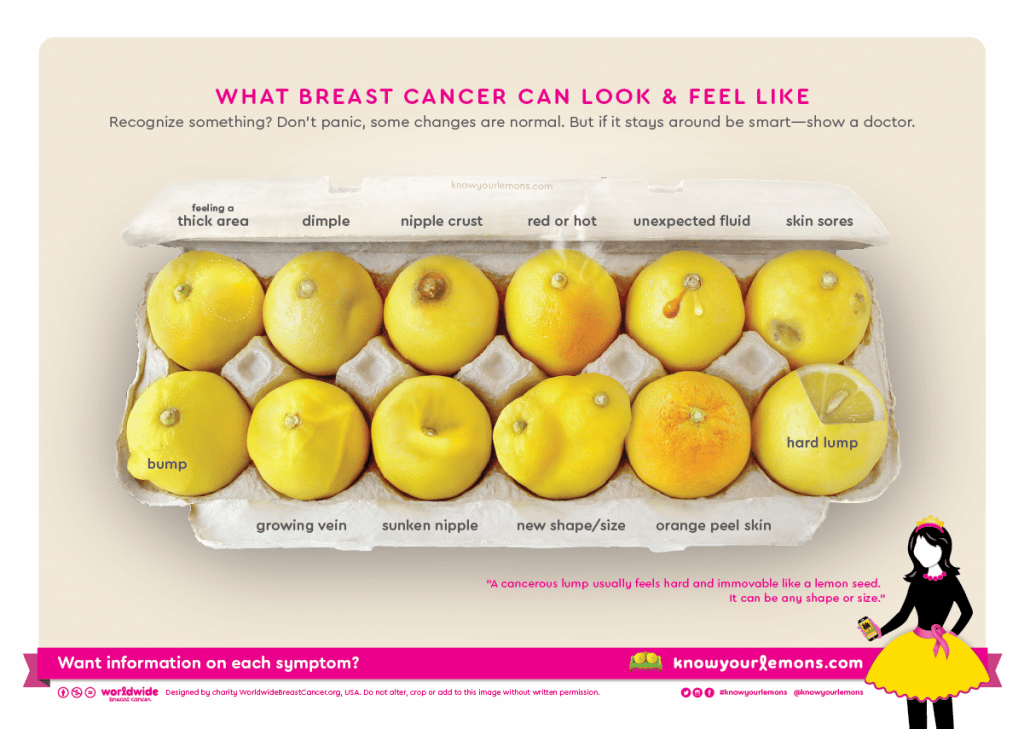 One of my favourites. #KnowYourLemons was a breast cancer awareness campaign that went viral back in 2017. Their awesome campaign managed to reach an incredible 166 million people around the world in just 3 weeks, and is still being shared now.
#KnowYourLemons is a simple & effective social media campaign
Worldwide Breast Cancer's campaign raised awareness of the symptoms of breast cancer with their distinctive educational poster of 12 lemons in an egg carton. Each lemon showed a different way that breast cancer could present itself, and managed to get past those pesky nudity rules on social media by cleverly using lemons instead of real breasts.
There's obviously no cure at the moment for breast cancer, so the best chance of beating it is early detection. This innovative marketing campaign makes it easy for everyone to visualise what to look and what to feel for.
Shared in 23 different languages and more than 70 countries, the #KnowYourLemons campaign was simple, effective and reached a lot of people.
A Dog Is For Life, Not Just For Christmas by Dogs Trust
The iconic slogan 'A dog is for life, not just for Christmas' was first created by Clarissa Baldwin, the then-Chief Executive of Dogs Trust, way back in 1978.
Since then, it's been used as an annual marketing campaign every year leading up until Christmas — to promote responsible dog ownership and remind people that we need to safeguard dogs.
A Dog Is For Life… is instantly recognisable & can be adapted each year
The beauty of this marketing campaign is that it's memorable, instantly recognisable and can be adapted each year to create an a new spin on the same campaign. In the advert below, a whole load of celebrities get involved in the campaign:

And in this one, Dogs Trust has created a comic advert based on all of the real reasons people have given for giving their dogs away:
Fatty Cigarettes (British Heart Foundation)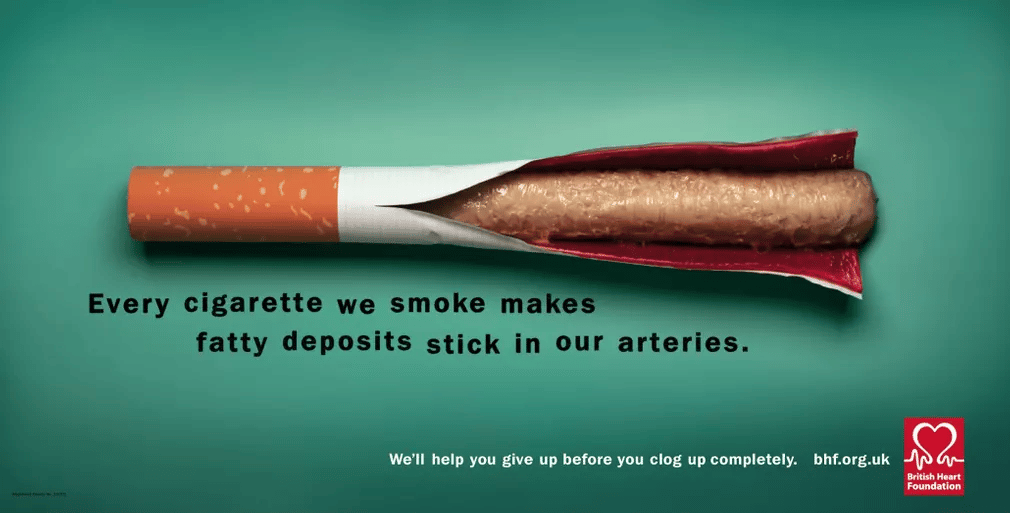 This pretty graphic campaign is definitely not the most pleasant to look at, but it's one that will stick in your mind for a long time after — particularly if you're a smoker. The marketing campaign comprised of visual images such as posters and internet adverts showing a cigarette as a clogged artery full of fatty, and a pretty gross TV advert showing fat dripping out of cigarettes as a group of friends sit around smoking.
Fatty Cigarettes use gruesome imagery to show the horrors of smoking
The British Heart Foundation ran this campaign back in 2004 to make more people aware of the link between smoking and heart disease, and what smoking can do to your arteries.
It worked a treat: the charity received 12,000 calls to its smoking helpline, and 65,000 hits of a smoking awareness website in January. Apparently,14,000 people gave up as a direct result of the marketing campaigns — what a success.
Likes Don't Save Lives (UNICEF Sweden)
This hard-hitting charity market campaign was launched by UNICEF Sweden with the slogan 'Likes don't save lives'. They called out so-called 'slacktivists' — people who just click the 'like' button rather than actually donating to help out a charity.
Likes Don't Save Lives has a direct message that demands people take action
Social sharing is great for building communities and raising awareness — and all charities need this. But it can't just stop there — charities rely on cash donations to help with causes.
UNICEF Sweden was the first charity to just come right out and say it: hungry, sick children will not be helped by virtual 'likes' alone. Check out one of their compelling adverts below.
#OneMoreMinute (Child Bereavement UK)
The #OneMoreMinute campaign by Child Bereavement UK was launched last year to raise awareness of the needs of bereaved families and children. It's a really emotive campaign showing a number of bereaved families as well as celebrities who have lost someone, talking about what they would say if they had one more minute with their loved one.
#OneMoreMinute's raw footage helps open up the discussion on grief
It's a difficult subject and the footage is really raw, but the campaign has helped to open up discussion on grief, and it has benefitted so many families already. Money goes towards giving families bereavement support and guidance.
Wear It Pink (Breast Cancer Now)
Breast Cancer Now's 'Wear It Pink' marketing campaign has been going since 2002. Since then, it's raised more than £31.5 million to fund research into breast cancer.
Wear It Pink makes its message shareable by keeping it clear & simple
It's a clear, easy campaign idea which is probably why it's worked so well for nearly 20 years. The concept is simple: register, wear pink on 'Wear it Pink' day (held in October during breast cancer awareness month), and raise money. It's inclusive, not time-consuming, and doesn't entail being sporty or skilled — so everyone can join in.
Wear it Pink tend to have a digital marketing side to their annual flagship campaign too. In 2017, they sent their supporters a short, personalised video on Twitter when they tweeted #wearitpink. This 'thank you' message was personalised with the user's name and photos they'd tweeted. As a result of retweets and likes, these videos reached more than 77,000 users — a good lesson in how digital engagement can strength a charity's relationship with their audience.
Second a Day (Save The Children)
Save The Children's 2014 marketing campaign, 'Most Shocking Second A Day Video' is one of the most revolutionary and memorable video campaigns. It's been seen over 59 million times and been…
Second a Day makes conflict relatable
It features a young British girl, depicting her life in London in the style of a 'second a day' — but with a twist. The video imagines what it would be like if London experienced a Syrian-like conflict, and the result is shocking.
The video calls for donations to help Syrian refugee children, and the accompanying tagline, 'Just because it isn't happening here, doesn't mean it isn't happening,' forces the viewer to confront the realness of the situation shown.
A Moment of Dyslexia (Dyslexia Association)
Do you know how many people have dyslexia? Have a guess. Got your figure? OK, I'll tell you – up to 17% of the world's population is dyslexic, that's 1.28 billion people. In 2018 the Dyslexia Association launched a campaign to let people know what it's like to live each day with dyslexia.
A Moment of Dyslexia shows people what it's really like to be dyslexic
Dyslexia Association put a message raising awareness on two outdoor screens, which began: "Dear employers of the UK, It's difficult to explain dyslexia to someone who doesn't have it." Facial recognition technology was used to detect when people stopped to read the message, and the longer they paused to read the more jumbled the words became – showing what it's like to read if you have dyslexia.
As someone with a dyslexic family member, this campaign really hit home for me. You can spend an entire lifetime supporting people, but you are never truly able to help them without knowing what they're going through – Dyslexia Association's campaign gave you this chance.
The success of this brilliant campaign goes beyond helping people with dyslexia. It shows that to make a real difference to people's lives, you can't simply look into the mirror with them and see what they're living through: you have to live it too.
British Dyslexia Association – A Moment of Dyslexia from Ocean Outdoor on Vimeo.
Every Pin Tells a Tale (Royal British Legion)
31 July – 10 November 1917 saw on the bloodiest conflicts of WWI, the Battle of Passchendaele. While there are numerous claims about the total number of people who lost their lives during those days, the casualties are in the hundreds of thousands. In 2018, the Royal British Legion used its Every Pin Tells a Tale campaign to tell the stories of the British pilots, soldiers, and nurses who fell during the battle.
Every Pin Tells a Tale uses modern technology to tell an old story
Royal British Legion combined AR and direct marketing to bring the stories of those who fought at Passchendaele, creating an AR app and selling limited-edition pins made from shells and earth from the Passchendaele battlefield. Upon scanning your pin with the app, you see a story about one serviceperson or medic who died during the conflict.
War is never glorious, neither for the victors nor the defeated – it's a tragic waste of human lives that rips people away from their families, scarring nations and communities for generations. Every Pin Tells a Tale struck such a chord because it put flesh onto the bones of those buried by the folly of WWI, providing a modern and poignant reminder of who the victims are – real, everyday people.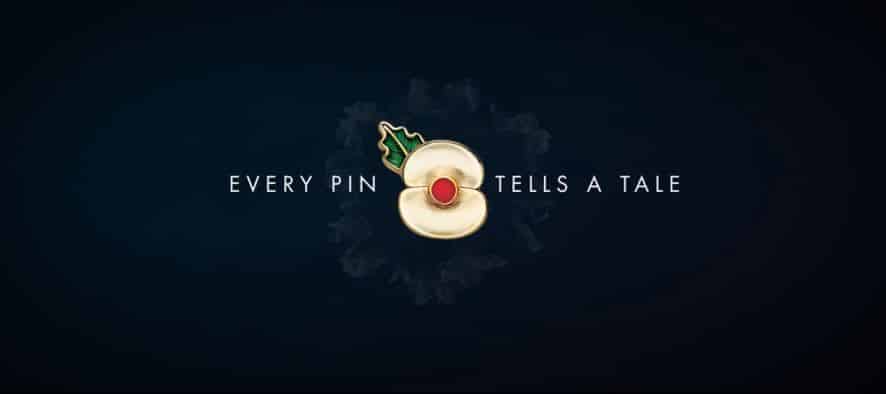 Ask Alex (Cyrenians)
The UK has the 5th largest economy in the world, behind only Germany, Japan, China, and the US. Despite this wealth, the UK has a rising homeless population, with 1 in 200 people without a home. Cyrenians is a Scottish charity that helps to support vulnerable and homeless people and in 2017 it launched Ask Alex, a chatbot personification of a young homeless man.
Ask Alex uses AI to allow you to interact with homeless people in a way that's real
As the title suggests, the campaign let you "ask Alex" a series of questions about his life. As Ian Grimwade, Head of Business Development at Cyrenians, explains, Alex chatted about: " how he became homeless, his work situation, life in a B&B, family and friend relationships, hopes for the future and his favourite football team."
Cyrenians campaign was groundbreaking because it allowed you to interact with homeless people in a way many people are unable to – even those of us who speak to homeless people in person can find that they are (understandably) reluctant to talk candidly about their circumstances. Alex was happy to speak candidly and his answers provided insight on an unhappy topic.
We're Not Laughing (Battersea Dogs & Cats Home)
Unlike some campaigns that talk persuasively about specific issues that aim for general change, We're Not Laughing raised awareness about a precise area of legislation and campaigned for direct action. In this example from Battersea Dogs & Cats Home, we are asked to support giving longer sentences to people who abuse animals.
We're Not Laughing leverages celebrity influences to get its message across
Battersea Dogs & Cats Home teamed up with a series of celebrity comedians, including Ricky Gervais, Sue Perkins, Paul O' Grady, and Tracy Ullman – none of whom were laughing about the maximum 6-month stretch inside that UK animal abusers face. Battersea Dogs & Cats Home put up digital billboards and posters across the UK to harness the reach of the celebrities and their message.
Thousands of people emailed their MP and signed an online petition as a result of the campaign, pressing the casing make the case for lengthening the maximum term available to abusers of animals. Though Battersea Dogs & Cats Home was unable to get the sentence up to the years five it sought, the term is now 12 months.
See The Person, Not The Sight Loss (Rnib)
RNIB invites us to see the funny side of everyday life while driving home an important message. The 2018 campaign encourages viewers to confront their way of thinking by showing blind and partially sighted people coming up against various challenges.
See The Person… asks you to look past someone's disability & see that they're the same as you
On first glance, these challenges seem to be as a result of their disability. However, on further inspection it is revealed a partially sighted man hesitating at an escalator is just avoiding his ex, and a sight impared woman getting cut on a cheese grater is simply being distracted by a handsome Gino D'acampo.
As well as Mr. D'acampo, See The Person, Not The Sight Loss has gained celebrity support from Brian Blessed and Steven Fry. RNIB have evidently got the attention of the public too. The adverts, voiced by comedian Robert Webb, have gained over 35,000 views across social media.
The message is simple; blind and partially sighted people are simply people and their disability makes up a small part of who they are. Additionally, the adverts show that not all visual impairment is a complete loss of sight. By giving blind people more varied representation in the media, RNIB are not only encouraging people to give donations to their cause, but are also contributing to the normalisation of visual impairment. This is especially important given that partial sightedness is fairly common with 250 people starting to experience sight loss every day.
Give HIV the Finger (HIV prevention England)
As part of National HIV Testing Week (NHTW), HIV prevention England started this campaign in 2017. Eye-catching, brightly coloured advertisements with people of varying ages, sexual orientations and ethnicities were used to spread the word of NHTW with the slogan Give HIV the Finger.
Give HIV the Finger shows the value of using a catchy slogan
The tongue-in-cheek campaign used a clever play on words to show how simple it was to get tested for HIV asserting that "a finger-prick test is all it takes". This has been repeated yearly since the campaign's inception, with plans for the 2019 run already in place. The most recent campaign in 2018 proved to be effective as following NHTW activities, awareness of HIV testing increased by 78% among clients and the local communities.
Life with Cancer is still life (Macmillan cancer care)
In 2017 Macmillan released a series of adverts depicting different people with cancer and their relationships with friends and family. The Life with Cancer campaign, much like the RNIB 'See The Person Not The Sight Loss Campaign, chooses to center people and their relationships rather than focussing on the often upsetting side of the cancer. With variations like "a mate with cancer is still a mate" and "a mum with cancer is still a mum', Macmillan reinforces that cancer does not stop strip life of the important things.
Life with Cancer is still life demonstrates that cancer doesn't change
who
you are
Macmillan's approach also highlights that cancer is, to an extent, part of a lot of different people's lives. Cancer affects 1 in 3 in the and makes up 4 out of the 10 leading causes of mortality in the UK. As it affects so many, campaigns against Cancer often prove to be quite successful. In 2017, the year of this campaign's inception, Macmillan earned £145.1 million in donations, forming a large part of the £192 million used to better the lives of people with cancer.
Take Off the Tape (Mind)
An estimated 13% of adults will develop some form of anxiety, but there is still a stigma around discussing mental health. In 2016 Mind worked with MEC Manchester to create an award-winning campaign aimed at breaking the silence. Participants were invited to post a picture on their social media with tape, labelled with their main cause of anxiety, over their mouths. An abundance of Instagram pictures and tweets were then liked, shared and retweeted with the hashtag #TakeOffTheTape.
Take Off the Tape succeeds because it asks its audience to tell their story
This proved to be quite successful and with over 8 million people taking part in the challenge it is little wonder that MEC Manchester won that year's Northern Digital Award for Best Digital Marketing Campaign.
Anxiety is a topic that is worthy of a conversation because a large part of the problem is the shame associated with it. Rather than marketing a message at its audience, Mind actively encouraged the audience to take part and have a much-needed conversation. This, in turn, made it easier for the general public to relate because it wasn't celebrities or actors portraying the message that anxiety needs to be discussed, it was people just like them.
Hedgehog Road Safety (Think)
A beloved charity campaign launched in 1997, two hedgehogs taught children across the UK of the importance of road safety. This specific campaign was so popular that Think used it for nearly two decades.
Hedgehog Road Safety works because it makes an important message catchy (like a pop song)
Songs such as Stayin' Alive and King of the Road were altered to deliver the message of road safety as two hedgehogs made their way along the pavement of a busy road. The cartoon advert particularly appealed to a young audience and, because of its long-standing popularity, is a campaign remembered and cherished by many.
What makes the best charity marketing campaign so good?
There's no golden formula for creating a successful charity marketing campaign, but, as the 18 examples in this article show, there are some things that help.
Keep your message clear & simple
If you can say something in eight words or less, people are almost 100% more likely to remember it. Many of the best marketing campaigns succeed because they use simple language, clear imagery, and a memorable slogan – like the best examples from this article.
Make your points personal & relatable
Building a connection with your audience is essential if you want them to support your charity. If you can find a way of showing how your audience's lives can be affected by the issues you're talking about, you give them a reason to pay attention to your charity.
Ask your audience to tell their story
It makes sense to use your audience wherever possible. Why? Because it adds credibility to what you're saying, showing people that your charity really understands and cares about the issues it supports.
Why you should support these charities & their campaigns
It's difficult to picture a world completely divorced from horror, vulnerability, and disparity, but without trying we won't get close. Charitable organisations are only able to help people, animals, society, the environment, and more, if they are shown the support that they show to others. While you may already be helping other charities (some of whom might have released their own expert marketing campaigns) we ask that you consider these 13 too.
As you can see from our list, there have been many great charity campaigns in recent years. The use of videos and social media trends can make a huge difference to a charity — reaching way bigger audiences, increasing awareness, and raising more money for their cause.
Are there any great charity marketing campaigns you think we've missed out? Let us know in the comments below.
As you can see from our list, there have been many great charity campaigns in recent years. The use of videos and social media trends can make a huge difference to a charity — reaching way bigger audiences, increasing awareness, and raising more money for their cause.
Are there any great charity marketing campaigns you think we've missed out? Let us know in the comments below.