Whether you are starting a new business or trying to improve an existing one, you could use a corporate social responsibility policy. A well-implemented CSR policy can help a company build trust with its stakeholders, including customers, employees, investors, and the broader community.
If you are just getting to know what CSR policy is and seeing many different CSR policy templates, you are probably confused. That is why we prepared a guide in which you will find answers to various questions, such as what is a CSR policy, how to write a CSR policy, what to include in it, and how to implement CSR policy in your company.
What is a CSR policy?
Corporate social responsibility policy (CSR) is a set of guidelines that a company establishes to ensure it ethically conducts its business operations. The CSR policy outlines the company's approach to addressing its impact on the environment, communities, and society as a whole.
We had similar examples in past, but those were isolated cases inside the company carried out by individuals. By implementing CSR policies inside businesses owners and managers state their concerns about human rights and environmental protection. And all that while building a brand and successful business strategy.
Practically, a CSR policy is putting all these goals on paper and making them mandatory for your business.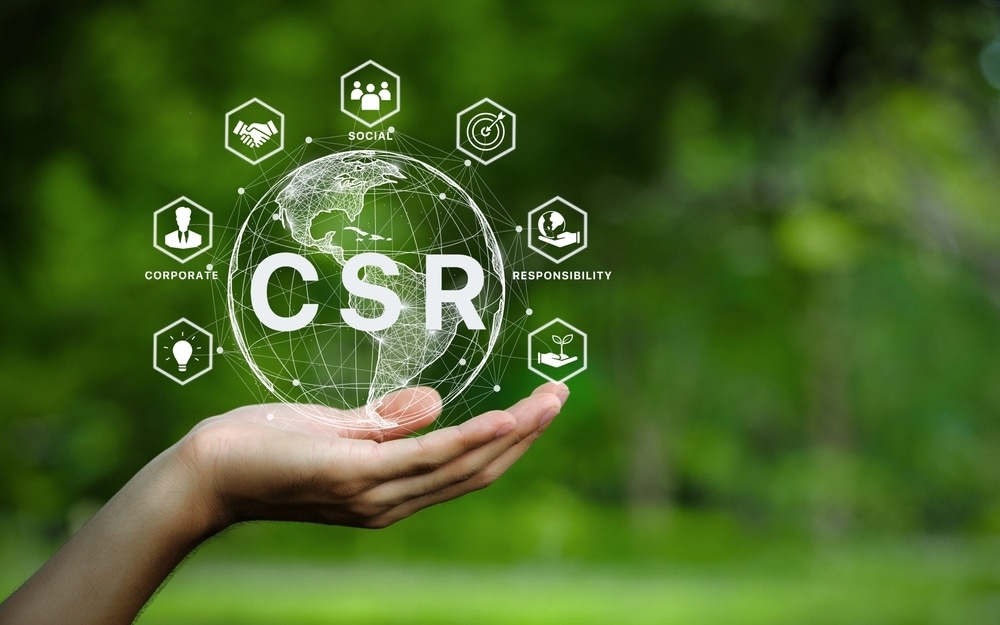 What does a CSR policy affect?
Social responsibility policy affects many aspects of business and involves a commitment to social responsibility. Some of the key contributions of corporate responsibility policy are:
Responsible trading in the marketplace
CSR policies (particularly those of e-commerce stores) regularly include initiatives to ensure responsible trading and operations in the international marketplace. The company commits to maintaining the highest standards of ethical behavior in all its business operations, including anti-corruption measures, fair labor practices, and respect for human rights.
Businesses will monitor where goods are purchased and sold from. Products and services will only be purchased from suppliers who fulfill ethical standards regarding work conditions. The same will apply to customers who also need to meet requirements from the CSR policies (whether B2C or B2B).
The corporate social responsibility policy needs to include how businesses interact and treat their customers. Some examples of those rules are:
Respecting customer feedback.
Supporting vulnerable customers.
Acquiring customers and partners from excluded groups.
Ensuring that supply chain partners share company values.
Protecting employees: human rights & safety
All CSR policies need to include references to protecting human rights and ensuring employees work in safe and free conditions. We are witnessing the exploitation of the workforce by some big companies that brought much negative publicity to them.
It is imperative to preserve human dignity on the job, and any unethical behavior regarding working conditions should be eliminated or sanctioned by stakeholders. With CSR policy, the company commits to creating a workplace that is diverse, inclusive, equitable, that values and respects the differences of all employees.
For example, in the UK, businesses are legally required to adhere to the terms of the Modern Slavery Act 2015. This Act has been created to protect workers from slavery-like conditions and ensure their human rights are being upheld. All businesses are required to monitor non-compliance with the requirements of the Act in their industry and supply chain and react if needed.
Working in the community & volunteering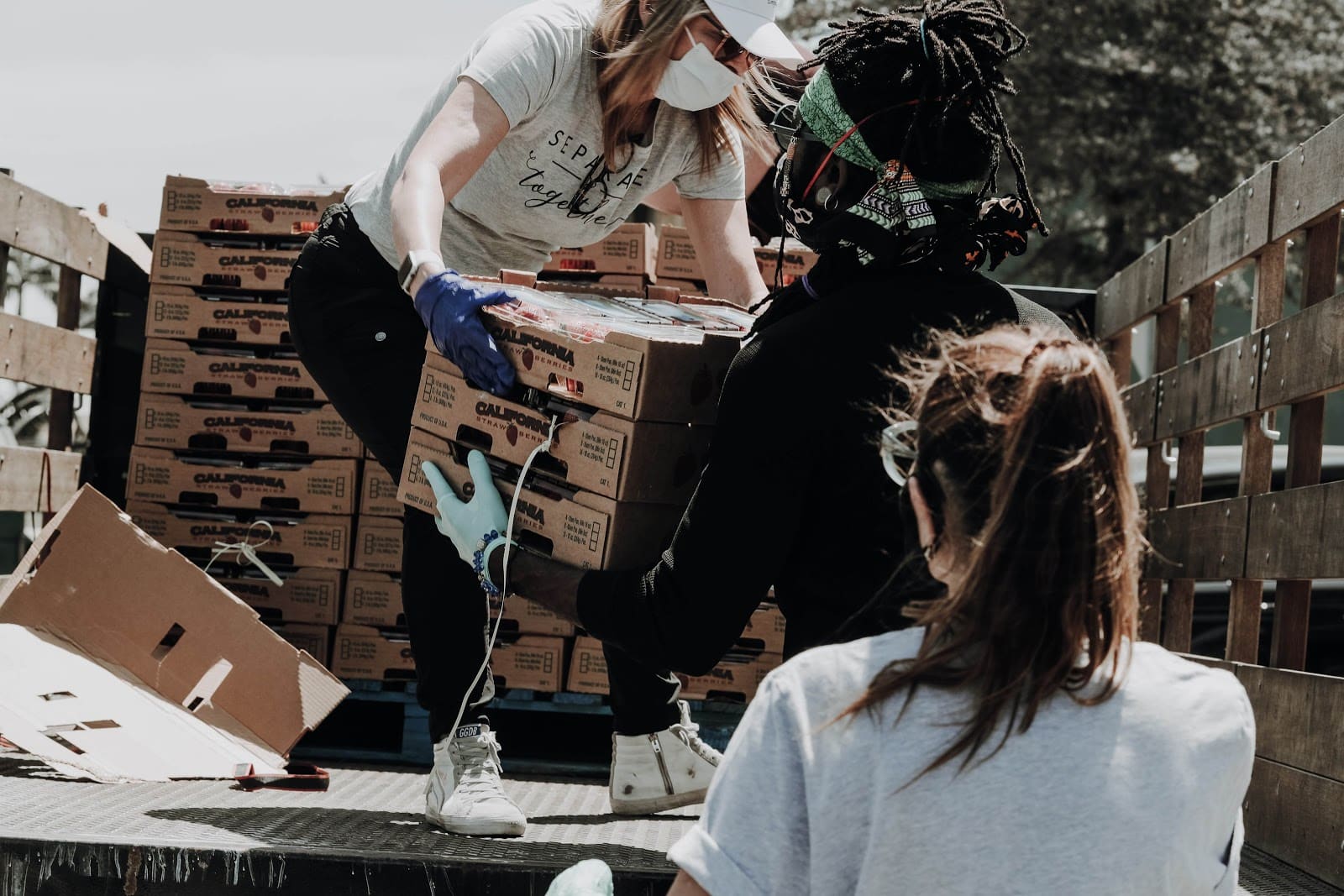 Although this is something done in a good faith, it is a fact that we all owe to our local community and need to help our neighbors. CSR policies should always include a part where the company commits to supporting the communities in which it operates through charitable giving, volunteerism, and other forms of community engagement.
There are several ways a company can do charity work, from donating shelter for the poor and homeless to building children playgrounds or organizing events to raise awareness about rare diseases. They can even find a charity that will work closely with local authorities.
Giving your time to help the vulnerable is a noble effort and an essential part of any CSR policy that aims to get teams physically involved, rather than just sending money to another charity or initiative.
Environment & carbon footprint reduction
Environmentalism and sustainability are two of the biggest concerns in the third decade of the XXI century. With each passing day, more and more businesses recognize how they affect our environment and planet Earth and how they can change the negative impact of their actions.
A good CSR policy needs to include articles in which the company commits to reducing its environmental footprint, conserving natural resources, and minimizing its impact on climate change.
Some courses of action companies can make to help nature:
Use pollution-free packages and ask suppliers to deliver them sustainably.
Encourage your employees to use public transport, share transportation to minimize the number of vehicles used, or let them work from home to avoid using personal polluting vehicles.
Hold virtual meetings whenever it is possible.
Turn off all the machines that aren't currently used within the office. Also, when purchasing office machinery, buy ones that use less power and emit smaller carbon footprints.
On top of this, explain to your employees what you do within the office, how it can impact the environment, and what benefits your action bring. They can later incorporate those measures into their personal lives.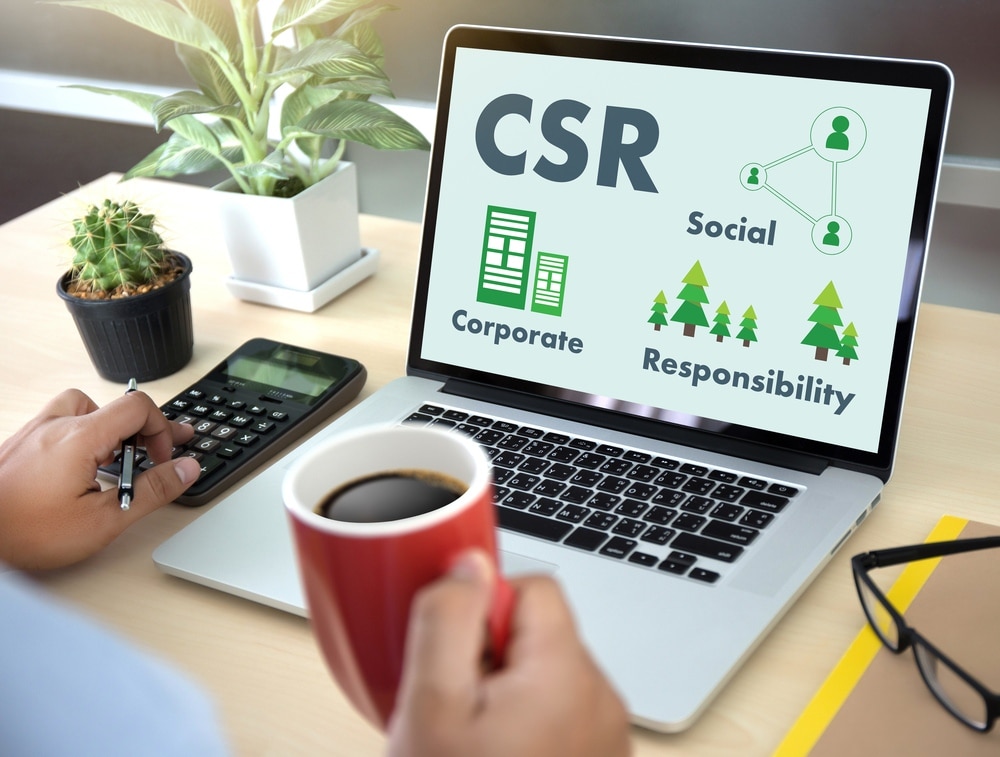 The benefits of a CSR policy
A well-written and successfully implemented CSR policy can give a lot of benefits to startups or already established businesses of any size.
First, you're doing a noble cause. While that might not be your primary aim as a business (of course, it's profit because otherwise, you will end up bankrupt), good deeds give you a moral currency that can boost internal operations and achieve essential brand building. Companies that use CSR tend to be viewed more favorably by customers, employees, and investors. By demonstrating a commitment to social and environmental issues companies can enhance their reputation and build trust with stakeholders.
Also, customers are more likely to remain loyal to companies that demonstrate social responsibility. Charity work and similar initiatives will give a positive perception of your brand among customers, and you will get a boost for your PR. By working in the local community, you can become a press favorite, which can further increase your reputation.
Finally, employees who work for companies that prioritize CSR tend to be more motivated because you show them that you are not only focused on productivity. They will be proud to work for a company that demonstrates a commitment to social and environmental issues and are more likely to feel that they are doing something meaningful.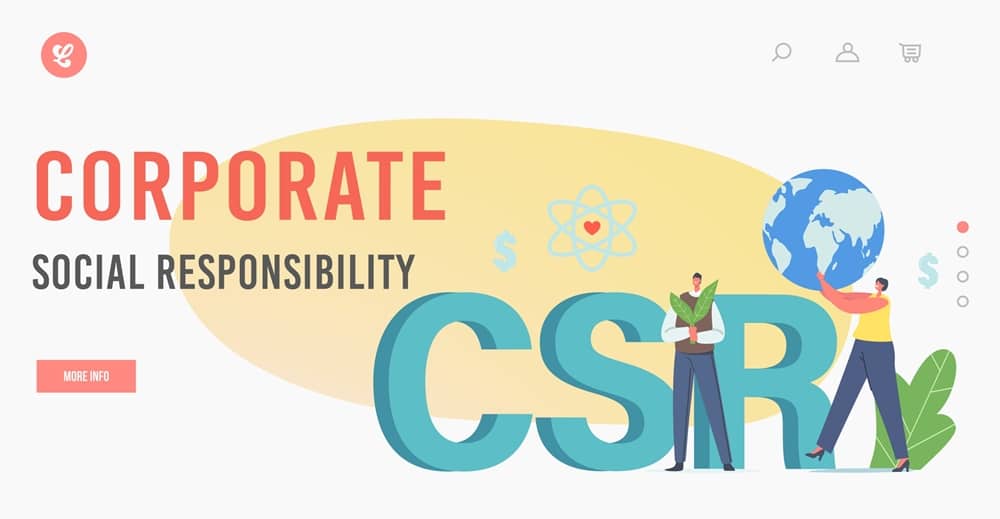 How to write a CSR policy template
Writing a corporate social responsibility policy is a very delicate and complex process. You first must perceive the personal goals and overall capabilities of your company, and see what you must achieve and what is beyond your reach.
Your CSR policy must be something you can hold on to in long term, not something that will encumber your business. Define the most important aspects of ethical and responsible business practices you want to commit to and see if you are capable of adding more.
Here are some steps you can take when writing a CSR policy template:
Find what makes your company unique and define your company's mission statement and values. Involve all your resources, from assets to employees, and see how they fit into your potential actions. Be transparent about your progress toward your goals.
Include your employees in defining goals. Ask them for their suggestions and engage them in decision-making. You will benefit twofold by getting quality suggestions and giving your employees a sense of involvement.
Look at big companies that already implemented CSR policies and how they are ensuring their business remains in compliance with it.
Establish clear metrics. Define metrics for measuring progress toward your CSR goals and targets. This will help you track your progress over time and make adjustments as needed.
Use CSR policy as the impulse for your brand strategy. You can differentiate from your competitors by implementing CSR and committing to responsible business practices.
How to implement your CSR policy?
Creating CSR policies is time-consuming, but the same applies to the implementation phase as well. Even if you didn't define some of the points of your policy well, you can implement the CSR policy effectively. But you need to approach it with due diligence to be able to do so.
In the first phase of implementation, communication is the key. Identify your most important stakeholders, including employees, customers, suppliers, local communities, and NGOs you will use. Involve them in the implementation of your CSR strategy, and seek their feedback and suggestions.
Use versatile communication channels such as your website, social media, and corporate reports to communicate with stakeholders. That way, you will directly reach an existing and new audience and let them know what you plan to do and how your actions will impact them.
Involving your customers and clients can help spread your message and motives to new audiences. This will improve your public reputation and give you more resources to achieve your goals. If your audience is big enough, you can even create a poll for them to see what other issues you can include in the company's policy and how to work on them.
The final step of implementation can be forming a partnership. If you don't have enough resources to make difference by yourself, partnering with other companies or individual can help you achieve your goals. Developing these relationships (whether as sponsorship or not) is crucial for both marketing and material reasons.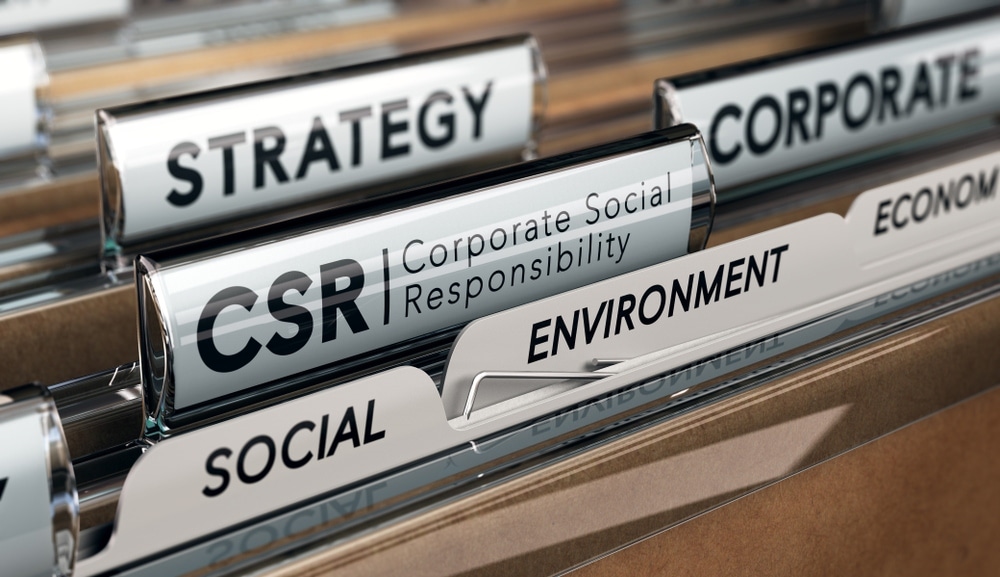 CSR policy template
There are various forms of CSR policies, and to choose the appropriate one you will need to set your course of action. Also, it must be aligned with the mission and vision of your company. However, every good CSR policy template needs to have these elements:
Introduction
In the opening part of your corporate social responsibility policy, you will give a clear and concise statement that emphasizes the company's commitment to CSR, why it matters, and what the policy aims to achieve.
You will describe all the problems you cover with CSR, such as environmental impact, labor practices, and community involvement. Also, you will include an explanation of how you plan to achieve that.
Communication
Here you will write a description of how the company will communicate its CSR policy to stakeholders and engage with them to ensure their feedback and support. You should outline how you intend to raise awareness about the negative impacts of your business and what you're doing to reduce them.
Your CSR principles
This is the core of policy, here you will set guidelines and principles that outline the company's approach to CSR. Here you can address (among others):
ethical business practices,
respect for human rights,
environmental sustainability,
commitment to the law,
healthy work environment,
decreasing carbon footprint.
Responsibility for reviewing and evaluation
Your policy needs to include details on who will take responsibility for regularly reviewing and evaluating the effectiveness of the CSR policy. If something is out of order, those people will make necessary adjustments and report progress to stakeholders.
That will also ensure all staff is aware of its contents and how effective it has been.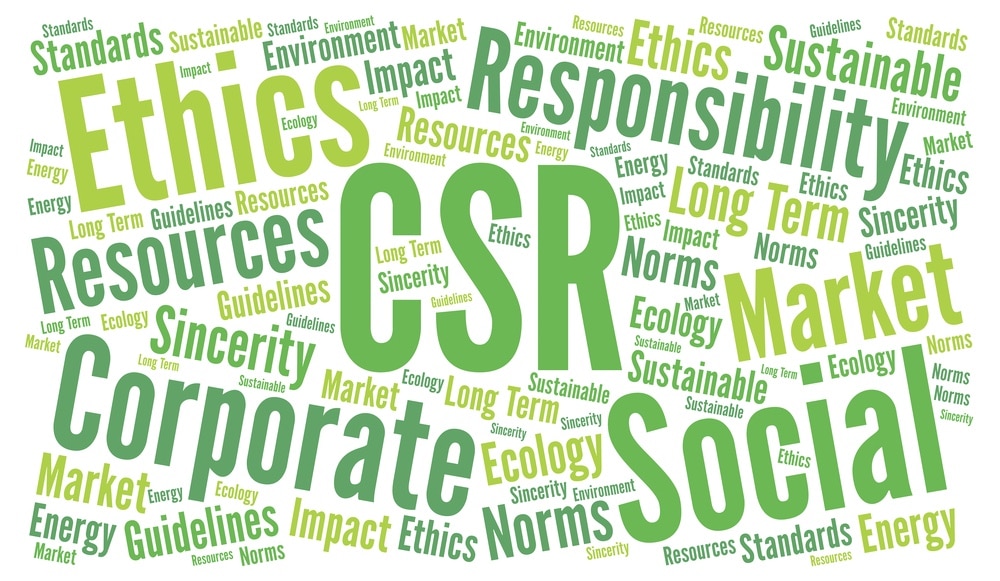 Best CSR policy examples
When looking for great CSR policy examples to learn from, you can find thousands, but we single out these three for you. They are our favorites because they show how effective is to pursue principles of CSR in modern businesses.
1. LEGO
All-time favorite Danish brand of building blocks for kids and adults, LEGO, started a campaign to make the world a better place.
The launch of the "Build the Change" initiative showed how LEGO will transform from one of the largest producers of plastic to a company focused on using recycled and renewable materials. At the same time, the company will keep a series of events where children will be educated about biodiversity and climate change.
LEGO will give a platform for children to express themselves and show what they expect will happen in the future. These standpoints will allow LEGO to raise awareness in these fields:
child poverty and environmental damage
better inclusion of certain groups of children
reducing carbon emissions and Earth pollution
One more goal of LEGO's CSR policy is to improve the work conditions of their employees and employees in the companies they are working with. Their focus is on maternal leave, diversity and inclusion, and promoting a family-friendly workspace.
2. TOMS
TOMS is a footwear and apparel company that has made Corporate Social Responsibility (CSR) a key part of its business model.
TOMS is well known for its "One for One" giving model. For every pair of shoes sold, the company donates a pair of shoes to a child in need. In addition to shoes, TOMS also donates eyewear, clean water, and other resources to communities in need around the world. This means that TOMS, apart from being a profit-oriented company, is a charity at its core.
One more goal they promote is using eco-friendly materials in its products and packaging. They set a goal to use 100% sustainable cotton by 2025.
TOMS has built a strong reputation for its commitment to CSR policy. The company's model has had a significant impact on communities in need around the world.
3. Patagonia
Many clothing companies are notorious because of the inhumane conditions their workers are forced to work in. Some of them even use child labor which is outraging.
Patagonia is an exemplar of how one clothing company needs to behave in the modern world. Patagonia has made a strong commitment to corporate social responsibility (CSR) throughout its history, promoting minimizing environmental impact, fair labor practices, and supporting local communities.
This company is committed to reducing its environmental impact, so it uses sustainable materials, such as organic cotton and recycled polyester, in its products. The company has also implemented initiatives to reduce energy and water consumption in its operations.
Patagonia believes in transparency and provides information about its supply chain and sustainability initiatives on its website. The company also publishes an annual sustainability report that details its progress and challenges. They have strict rules their suppliers need to fulfill regarding labor practices.
Overall, its CSR is one of the best examples you can follow in your company.
Corporate social responsibility policy: final words
Whatever your business does, and however small it is, it can make a genuine difference in the world with just a slight adjustment of your work processes.
The first step you can take is to include principles of CSR policy in your business strategy. We showed you some successful examples of CSR implementation so you can copy their work to make you start.
Helping your community or taking more care of your employees and employees from other companies in your industry or supply chain will prove more effective than any marketing strategy you can pay. And you will be praised for your role in raising awareness for negative things going around us.
CSR doesn't promote imaginary things, but something we need to actively work on. That is the only way to make a difference and have a business that will be oriented toward helping others.