Starting a business can be overwhelming, especially when it comes to putting together a marketing strategy. 
As a new business, you have to find ways to promote your business, increase awareness, and drive traffic to your website, on a very tight budget. So it's a good idea to get inventive with your marketing. 
We take a look at seven of the best creative marketing ideas for your new business.
What is creative marketing?
Creative marketing essentially means thinking outside of the box, and coming up with new and engaging ways to market your business and sell products. 
Using existing marketing channels, you can come up with fresh, innovative ways to promote your business.
How to come up with creative marketing strategies
The best creative marketing ideas usually come from brainstorming sessions, where everyone can bounce ideas off each other. If you get your whole team involved you'll get suggestions from a range of different perspectives, and it'll also help improve communication and collaboration in your business. 
Try to come up with an original idea, or a new angle on something that's been done before, or entertaining approaches. It'll depend on what your business does and who your target market is, but creative marketing ideas need to be different and stand out.
Creative marketing approaches
Successful businesses always have a clear, distinct brand that sets them apart from their competitors. So it's important that your creative marketing strategies incorporate and highlight your unique brand. 
There are three clear elements that can help your business to do this: 
Imagery 
Emotional marketing
Storytelling
Your imagery, photos and videos, should capture and convey honest, candid moments to build trust with your audience. You want to show real people using your product or services to create an insight into what your business does. 
Playing on emotions with your creative marketing ideas will also make them more successful. How someone feels about a brand is a key part of their purchase decision. You want your target market to feel that your brand is trustworthy and dependable, but also focus on other emotions like happiness and excitement.
And using storytelling as part of your creative marketing strategy will build on this — you want to entertain your audience and make your brand memorable to them. Instead of listing off features and product specifications, you want to use more creative ideas to build your business. 
Focus on telling a story about the benefits your products offer, showing them why they need it.
Creative marketing ideas for your new business
These are a few simple creative marketing ideas that you can take inspiration from to increase awareness of your new business and expand your reach.
Run a social media competition
Run a competition on one of your social media channels that require people to share or interact with your business's social media accounts. Ask your followers to comment, share your post, or tag other users on the platform to win the competition.
It's a great creative marketing idea for a new business because it:
Boosts engagement
Increases your visibility on social media
Raises awareness of your brand
If your competition is run well, it should result in more traffic to your website and people signing up for emails.
While running a competition on social media is fairly straightforward, you do need to be really clear about the rules, the deadline for entering, exactly what someone has to do to enter, and who can enter (based on their location or other requirements).
It's not just defining your requirements though — you need to ensure that your competition follows the rules of the platform that you are running it on.  If you break the rules, your account is likely to be penalised or even suspended, which can have a serious impact.
To get started running a social media competition, you need to outline your goals and budget so that you can clearly measure the outcome. 
Then you need to decide exactly what the prize is and the rules for entering — it's important to balance how easy or difficult you make it to enter based on how valuable the prize will be to your audience.
Once you've chosen which channel you're using, the rules and the structure of the competition you need to promote it through social media, email, and even on your website. It's essential that your competition reaches as many people as possible for the best result.
Create video content
Video content is one of the biggest marketing trends and it just keeps growing. 
Although it might seem a big investment, it's important for new businesses to utilise video to build a better connection with their audience and showcase their products and brand. It's far more engaging than any other form of content, and one of the best creative ways to market your business.
Solo Stove uses multiple videos on their product pages to demonstrate how and where people use their products: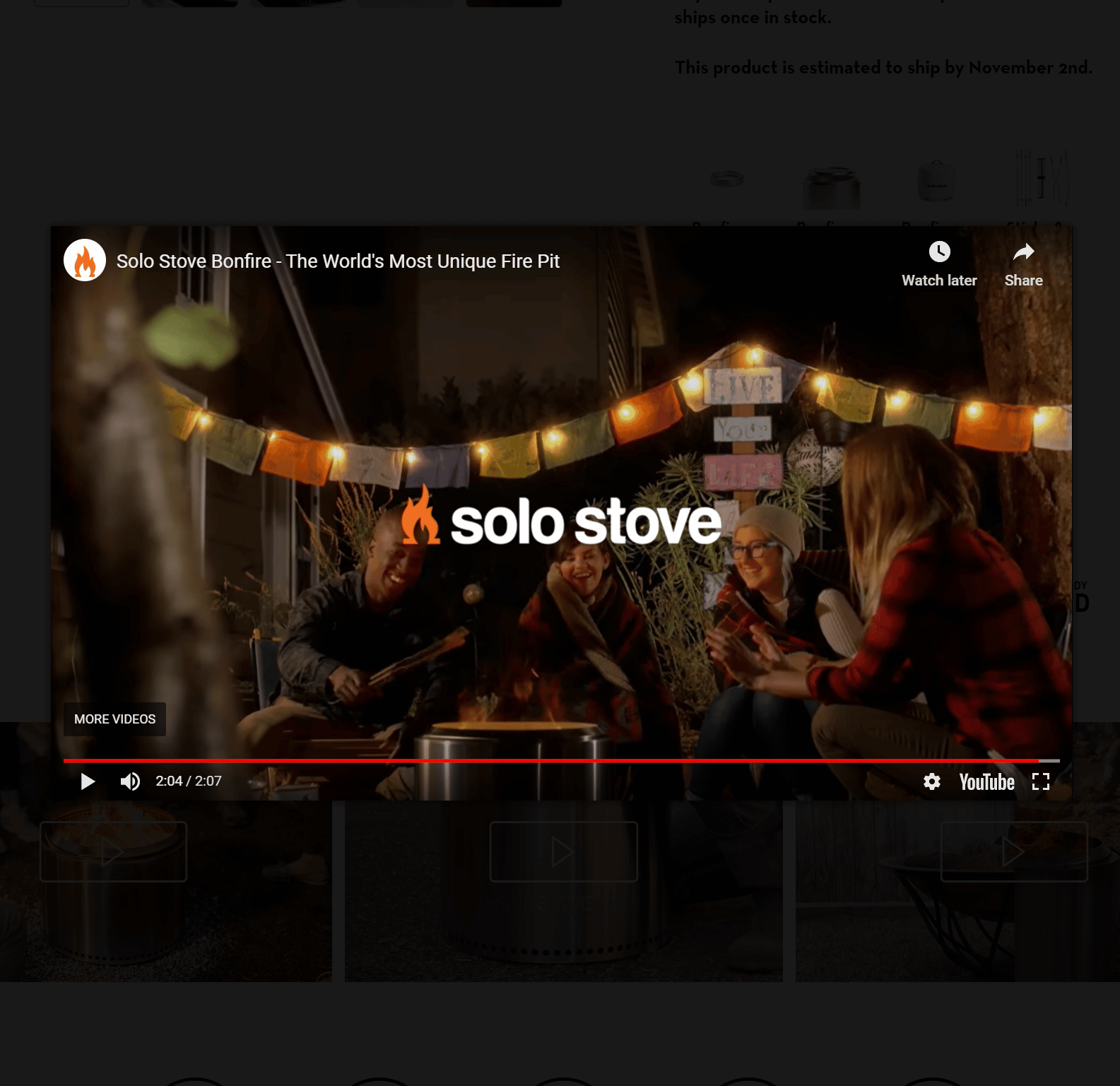 Image: Solo Stove
High quality, professional videos will cost a lot, but that shouldn't put you off using video. You can either invest in one or two videos to outline your business, product or service that will last a long time and can be repurposed and reshared.
 Alternatively, if you're on a budget, you can use a good smartphone and editing software to record your own videos to share on social media.
There are lots of creative ways to incorporate video into your marketing strategy, however much budget you have available.
Write guest posts for other sites
Another creative way to advertise is to approach other sites that are relevant to your business or industry, or your personal expertise, and offer to write a post for them to publish on their blog.
Writing guest posts for other websites gives you an opportunity to get more links back to your website, as well as spread awareness of your business, without spending any money on advertising.
While it is a low-cost marketing idea, guest blogging can take up a lot of time — especially if you are writing high quality, long posts. So it's important to ensure that the sites you are working with have enough traffic to make it worthwhile. 
It's also worth remembering not to give away great content to other sites if it would actually be more beneficial on your own blog to share with your audience.
Work with micro-influencers
Influencer marketing is a huge business; businesses work with someone that has a large social media following to promote their products.
 But influencers with millions of followers will charge a lot, so for new businesses, it's probably a better idea to try and work with micro-influencers with between 1,000 – 20,000 followers. 
They'll still have a good reach and an engaged audience, and they'll be more affordable to work with. It's a good way to increase awareness of your brand, grow your business's social media following, and drive more traffic to your website.
Before you start working with influencers though, it's important that you have a clear agreement of payment and what you are expecting from them. You also need to be sure that their audience is actually aligned with the target audience for your business.
Focus on evergreen content
Evergreen content is any of the content you produce that will stay relevant for months or years. 
Detailed blog posts and tutorials, or any useful content that isn't out doesn't quickly become out of date. It's also something that's really relevant to your industry and will provide long term value to your target audience.
Evergreen content should be an important part of your inbound marketing. It's a really good way to improve your search engine ranking and increase organic traffic to your website —  the more visitors to your blog post over time, the better it will rank. This means you can then use this content to hook visitors into your business. 
Marketing tool, CoSchedule, uses their blog to share evergreen content about the key skills marketers and writers need to understand, as well as tips about how to improve their work — this content will stay relevant for years after it's published.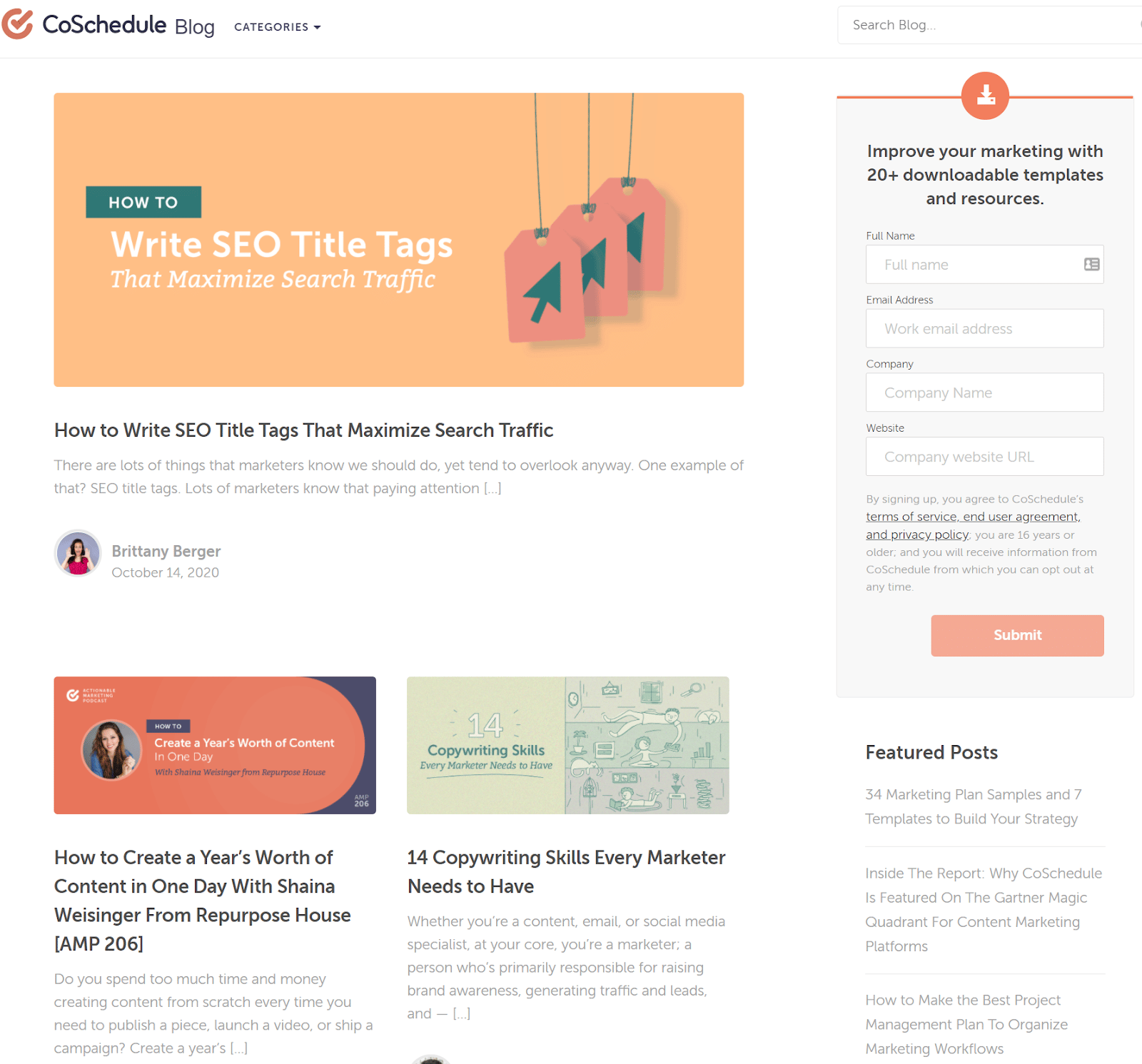 Image: CoSchedule
Add an email address pop-up and links to other useful posts of website pages throughout to keep gathering more information about your visitors and keep them on your site.
While evergreen content is a good creative marketing strategy, it does take a long time for your work to pay off. So it's not a quick way to immediately increase traffic to your site.
Start off by looking at the important issues and topics in your industry, look at the content your competitors have produced about it and what the top post in search engine results are. You can then use this information to create content about the same topics, but improve on existing posts, and ensure that it's optimised for search engines.
Share user-generated content
User-generated content is any content that's created and published about your business by people that don't work for it. This includes users, customers, or followers of your brand.
Resharing your follower's content creates a sense of community and builds a connection between your brand and them — it's one of the best creative ways to promote your business. Plus it shows real people using your products or talking about your business, which will increase awareness and encourage more people to visit your site. You can share it through your social media accounts, but also on your website.
For example, Ikea uses Instagram images of their products in real homes and share them on their product pages to provide inspiration to shoppers: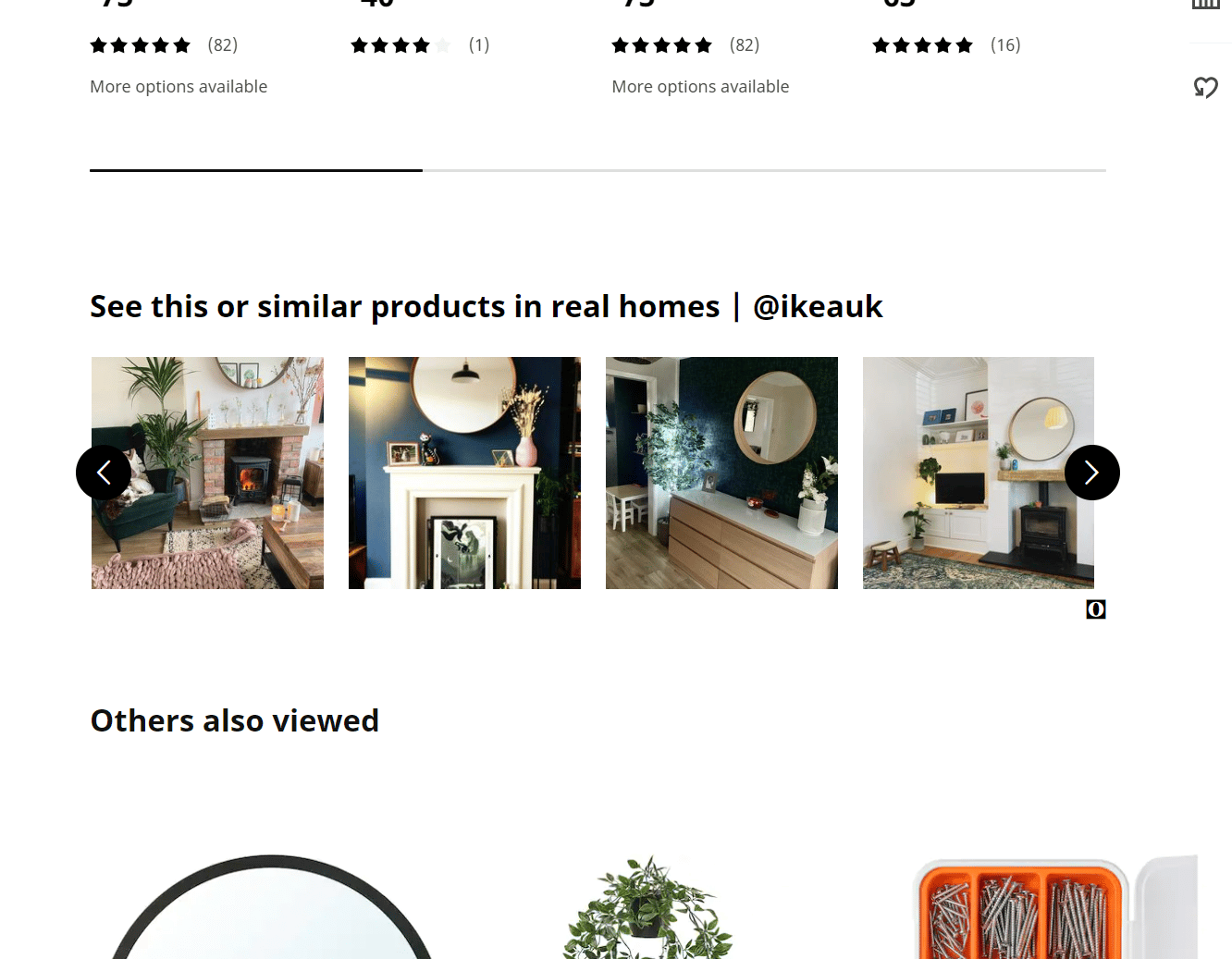 Image: Ikea
It is important to get permission to share someone else's content though, as well as give credit to them for creating the image or video.
Find user-generated content to share by tracking mentions of your brand. You could also ask your followers to take photos or videos with your products to share and tag your business, or even create a branded hashtag to keep an eye on.
Use email marketing
Email marketing is a great, cost-effective, way to connect with existing customers and potential customers to build up a relationship. 
Set up a weekly or monthly email newsletter to send out to your email list so that you can stay in contact, keep providing them with valuable content and information about your brand, and move them through your sales funnel.
It will take up some time to put together and send out regular emails, but it's a good way to build up your audience. You also need to ensure you don't end up sending too many emails to people.
Start building up your email list by using subscribe pop-ups on your most visited blog content, or ask people to give their email address in exchange for longer content, white papers, or tutorials. You can then use an email marketing tool to create a branded template and send a regular roundup of your latest blog content, product and business news. 
These are just a few creative marketing ideas that you can tailor to your brand. 
By focusing on creative marketing strategies like these you'll be able to build a better connection with your target audience, bring more traffic to your website, and grow your new business.