Restaurants trying to reach their sales goals this year will be looking for new ways to get more people through their doors. One of the best ways to do this is through events held at your restaurant. You have put in the effort and money to organize a great event but how do you get customers to attend?
You need a strong marketing strategy for your event if you want it to be a success. But while you work on promoting your event via social media, Facebook advertising, or your local bulletin board, one of the key elements of the strategy you should be concentrating on is a visually attractive event poster. Your event is meant to be driving footfall to your establishment, and a well-designed poster can help you do just that.
Why Should You Use Posters?
Posters are easy to produce and distribute now and don't take too large a bite out of your budget. With the proliferation of online poster maker tools giving people the ability to create their own graphics, businesses no longer have to hire graphic designers to make posters, thus saving on budget and coordination.
Unlike digital advertising, which needs to be sent out at particular times during the day, and has to be targeted to select audience demographics, posters engage all kinds of target groups throughout the day, every day, until you take them down. Till then, if your poster is well positioned, it will be seen by anyone who walks past your restaurant, which is why you should be focusing on optimizing it for your intended audience by using relevant visuals, short and sharp text, and calls to action.
Posters are also incredibly versatile in their composition. Once you have decided on a size, your imagination can go wild with regards to creativity, as long as you highlight the most important information pertaining to your event. And the more creative and unique your poster is, the more likely it is to stand out in a crowd and be seen by your audience.
As one can see from the below example, the colour scheme is relevant for the time of the event – dark blue and black for night time. The poster uses simple graphics that convey the message – popcorn and ticket stubs to represent the movie night. The text is well spaced out and uses contrasting colours to the background so it can be read easily and from a distance.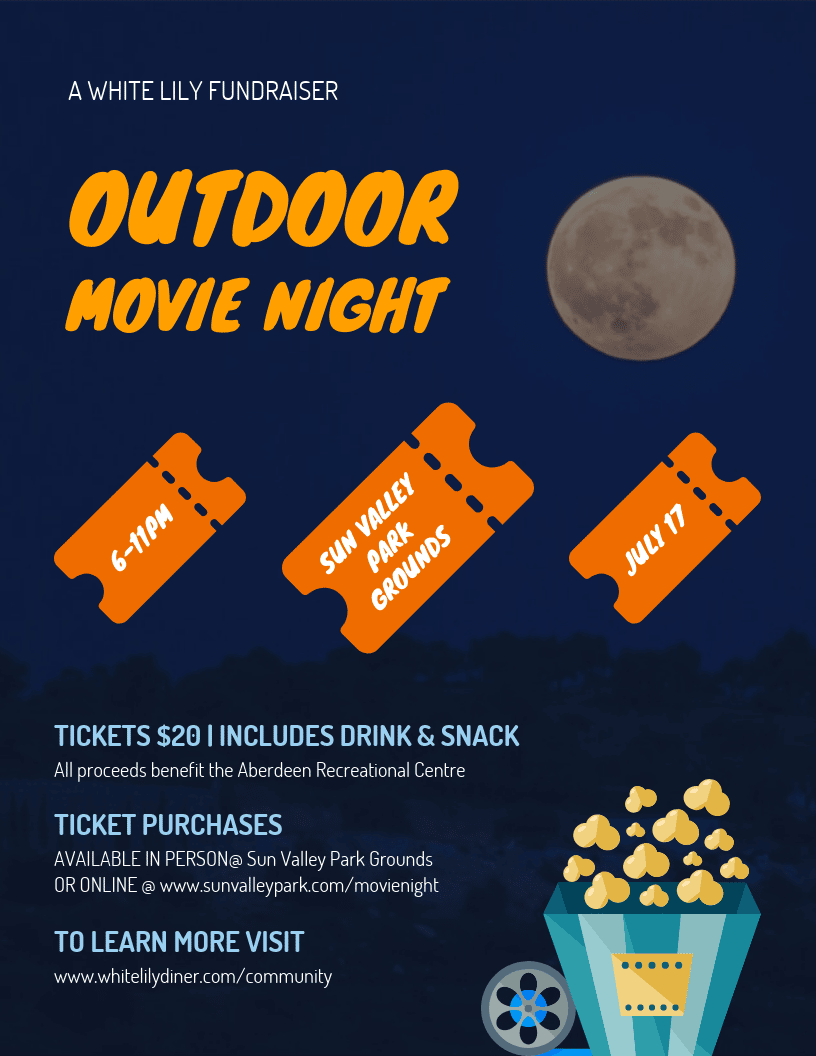 You can also make variations that will appeal to different audience segments – such as a more cartoonish version for younger audiences, or using visuals pertaining to pop culture for less business-oriented audiences – and position the posters accordingly, all without breaking the bank like you would have to do for other forms of outdoor advertising and digital promotion.
What Your Poster Needs
Making a poster that works for your restaurant's event will require some thought. Making the biggest, boldest, poster may not work for everyone. You will need to plan out the graphic design of your poster so that it is relevant to your brand, without being overly sales-focused.
Focus on providing information to your audience, or even entertain them with a fun anecdote, adding a call to action only at the end. This will engage anyone who views your poster, and by the time they reach the end, they will have been hooked and thus, more likely to attend your event.
An event is a fun experience, especially when there is food involved, and you should emphasize that aspect of your event to draw in your audience. The poster below ties immediately makes it clear that the event is about Halloween and food, and calls for visitors to have fun with its irreverent tone: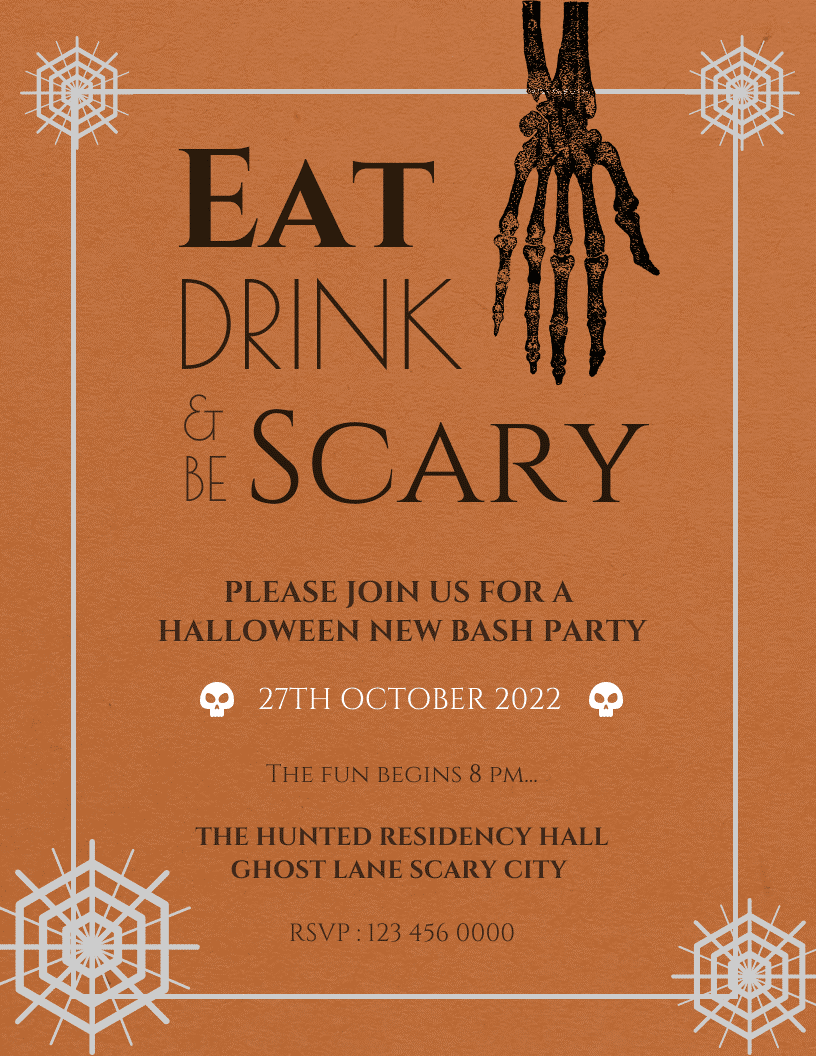 You can't only rely on the attractiveness of your poster; you need to optimize the information on the poster for your target audience.
Using engaging text that tells a story, rather than simply selling a product or event, coupled with memorable taglines that are short, humorous, or thought-provoking – such as 'Eat. Drink. Repeat.' or 'The World on Your Plate' – can go a long way in audience retention.
Conclusion
Think of it this way: your poster is essentially a full page ad in a newspaper, except you get to choose where to place it. You wouldn't spend money on an advertisement that has no information, and that's the philosophy you should adopt for making a poster.
With that in mind, if you need inspiration on how to make a good poster, you can look at some creative poster ideas, and use the six top tips from the infographic below to help you create the perfect event poster.