In business, branding is everything, and your logo is an important part of your overall startup brand. Your logo effectively is a shorthand that communicates your industry, your unique selling point, your personality, your fluidity — everything about your brand.
For startup logos, it's especially important to convey your message quickly and efficiently. You have not got the luxury of being a household name, so make sure your logo works.
To help you nail your logo, let's look at some top logo examples from industrious startups, followed by some useful tips on general startup branding to help your brand stand out.
Best startup logos
Your logo is the welcome mat to your startup. As well as simply looking good, it should let prospective customers know who you are and what you're about. Let's look at a few examples of great startup logos for some inspiration.
Flatbread
Hong Kong-based Flatbread is a flat listing service for landlords and renters. It takes the hassle out of connecting property owners with renters with a simple, intuitive marketplace that does the work for you.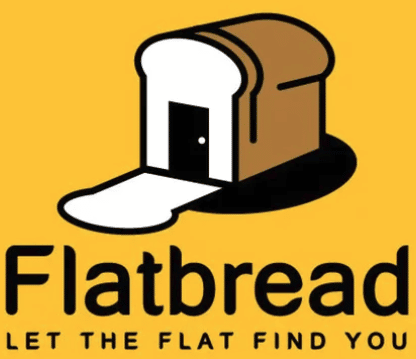 Image Flatbread
What first strikes you about Flatbread's logo is its very literal interpretation of its name. A loaf of bread with a door is an amusing image that catches the eye and lets you know what the startup is about. It's playful with a vintage color palette.
But what really makes this logo great is its tagline. Listing its unique selling point (USP) under the logo immediately lets prospective customers why Flatbread is different.
Top takeaway: use a tagline to convey your USP to customers. Keep it short and snappy so it fits with your logo. You could also get creative with your visuals and use images to communicate your USP.
Shipyard Games
Based in Helsinki, Shipyard Games builds location-based mobile games. It's a fun, quirky brand with a fun, quirky website to match. Its featured image on its site is bright and playful, a visual nod to the brand's industry.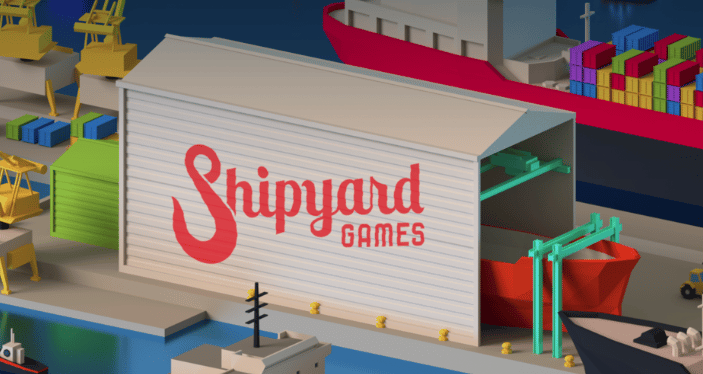 Image Shipyard Games
The stylized logo is reminiscent of maritime fonts, something echoed by S's resemblance of a shipyard hook. This plays into both the name of the startup and the nature of the business: a virtual shipyard for the development, not of ships, but of mobile games.
Top takeaway: create a logo that alludes to your industry. Fonts, stylized letters, and colors all create a visual link between your business and your industry for your customers.
EventsFrame
EventsFrame is a great startup that seeks to disrupt event ticketing. Taking on the prohibitive pricing and poor management functionality of Eventbrite, EventsFrame provides a subscription-model ticketing system for both organizers and attendees.

Image EventsFrame
And it has a pretty cool logo too. The E/F shape on the left is an interesting spin on the brand's initials, and would work just as well as a recognizable standalone logo too.
Top takeaway: create a smaller, square version of your logo that mimics the branding of your main logo. You can use this in your website tab icon, and as an avatar for any content you create.
The Great Divide
The Great Divide is a men's apparel retailer based in London that sells authentic, handcrafted American brands to British customers. It describes itself as "less following fashion and more committing to beautiful products from authentic companies", and that sentiment is echoed throughout its marketing. It's unpretentious and down-to-earth, and it occupies a great niche that few other brands so.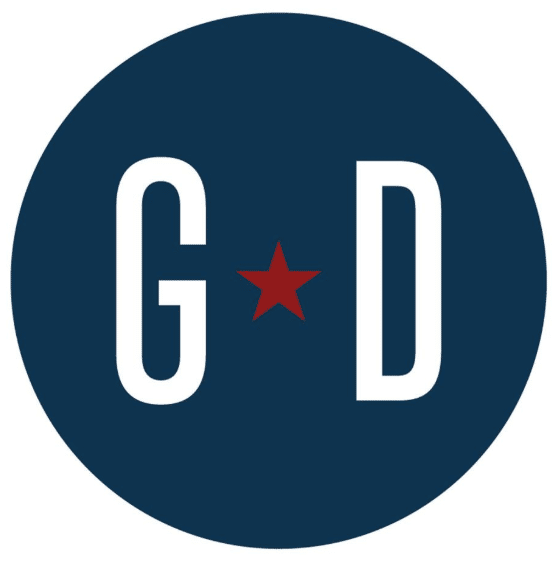 Images The Great Divide
The Great Divide's logo harks back to classic Americana. The red, white, and blue colors, combined with the star, make for an affectionate nod to the Stars and Stripes of the US flag. The larger version of its logo is accentuated by a literal divide across the letters, creating a visual link to the brand name.
These are all fairly simple touches, but it makes for a striking logo that embodies The Great Divide's branding.
Top takeaway: alluding to your industry doesn't need to be particularly complex or clever. Even subtle touches like the above are enough to build your branding in your customers' minds.
House Of Holland
House Of Holland is an online fashion retailer that sells a range of quirky and alternative clothes and accessories. As well as providing a great variety of styles to choose from, House Of Holland also has a blog dedicated to seasonal looks.
And as if that wasn't great enough, when you buy from their rainbow suit range, they donate 25% of the profits to the UK homeless LGBT charity, the Albert Kennedy Trust.

Image House Of Holland
Now House Of Holland's logo doesn't scream creativity — but that's okay. It's big and bold, just like the clothes and accessories it sells. And the fonts it uses throughout its copy are just as bold, following the same style and creating a visual thread that runs throughout its online store.
But above all, House Of Holland's logo is also simple. As a result, it's perfectly optimized for mobile.
Top takeaway: your customers will primarily be finding your business on mobile. Don't let your branding be diminished by an unoptimized logo. It should look good across a range of devices, so be sure to create a scalable design. Alternatively, create different styles of logo for different devices.
How to do your own startup branding in 3 easy steps
But startup branding isn't all about logos. Beyond that, there are several elements you should pay heed to when creating a strong branding strategy for the first time.
Show people that you're different
The rise of DIY store builders and content management systems have made it easy for anyone to start an online business. As such, the online startup market is somewhat saturated. And to stand out, your branding should show customers that you're different.
Find your business's unique selling point. This is what sets you apart from your competition. As mentioned earlier, your logo should reflect this. But so too should your about page, email newsletter, social content, product descriptions, and the rest.
Top takeaway: your USP should be reflected in every aspect of your marketing. Your copy, hero images, social posts, and so on should all embody your USP to constantly remind customers how and why you are different.
Develop a unique tone of voice
Branding is about personality, and the way you engage with customers online (especially on social) is where you convey that.
But the quirky tone of voice has been done to death. Zany brands saying zany things is a tired trope.
Instead, speak to your customers in the same way they talk. Use social listening tools to monitor how your customers speak online. Identify slang terms and cultural references that they use, and work them naturally into your copy.
Top takeaway: as your startup grows, your team will grow. Create a set of style guidelines so everyone in your team knows how they should speak to customers online (if you need some inspiration, MailChimp have a particularly good style guide).
Create good content
While your logo plays a big role in your branding, you're not defined by it. The content you create and share across your web, email, and social marketing is just as important in communicating your brand.
Your content should reflect your brand and industry in style and form. Start by identifying what content your customers are searching for online using your business's keywords.
Use this to create an editorial calendar that hits these topics. And don't be slapdash with it. Your content should be comprehensive and actionable.
As a consequence, your content will position your brand as a respected authority to your customers, enhancing your branding tenfold.
Top takeaway: know your customers, and you'll know what they want to see. Deliver this in your own unique style to create a content marketing strategy that augments your branding throughout.
Your logo plays an important role in your startup branding. It communicates worlds of meaning about your brand. But it doesn't stop there. Follow the tips above to create flawless branding that's present throughout your venture.