Marketers have known for a long time that people are visual beings. We all love to see something catchy that will make an impression. That is why visual content is now more important than ever. We can say that it ranks the highest among the targeted customers.
That means every company needs to have resources allocated to creating pictures and videos that will be shared among clients. That will help them raise awareness about their brand and reach a wide range of people who can connect their visuals and products.
These statements have a strong foundation in data. We will present you visual content marketing statistics from the year 2020 that will show why you cannot overlook its benefits.
Most Important Visual Content Marketing Statistics
Research conducted by Omnicore agency showed that video content has over 50 times more chance to drive organic search results compared to plain text.
Convince & Convert blog claims that by adding a visual piece of content to your website, you can increase your chance of appearing on the 1st page of Google by 53 times.
Infographics increase website traffic by up to 12%, but only if they are informative and optimized enough.
HubSpots findings showed that 32% of marketers increased investment in visual content marketing during 2020.
ABG Essentials showed data that visual content marketing has 5-6 times higher conversion rates than other marketing methods that are often used.
One more proof in favor of visual content is the fact that almost half of the buyers (49%, to be precise) view 3-5 pieces of content before making a purchase or engaging in talks with a sales agent.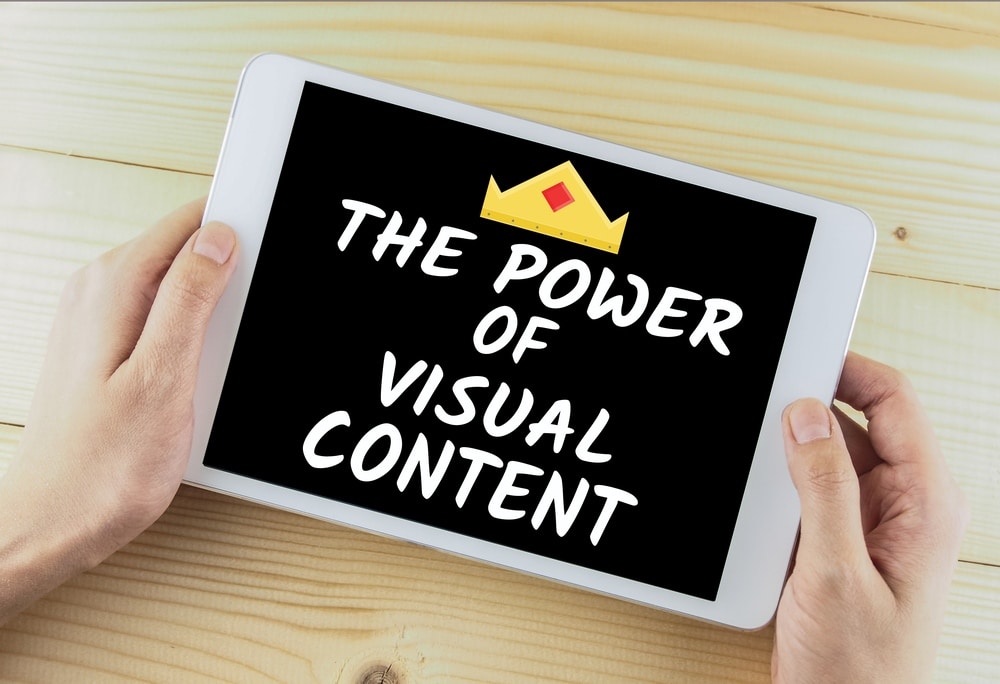 Visual Content Marketing: Leads and Strategies
Survey from Content Marketing Institute showed that content marketing gets three times more leads than paid search advertising. That is great news for all marketers that adopted visual content marketing techniques among their strategies. That is why the marketing professionals gave these answers, as well.
Major key to success in the year 2019 was a well-developed content strategy, according to 72% of marketers from small, medium, and big companies, and
Almost ¾ of marketers (around 70%) claimed that successful content marketing focused on visual elements increased their brand awareness among customers.
The Importance of Blog
TechClient's research showed that Google favors companies that have blog sections on their website, or separate blogs. Those companies have 434% more indexed pages compared to the companies that do not blog.
One more data from Content Marketing Institute survey showed that over 60% of all online purchases are the direct result of a customer reading a blog and finding useful info there.
CMI survey also showed that the majority of marketers that work in the B2B sector (73%) strongly believe that blog posts enriched with visual elements are the most effective content type for the current generation of customers.
HubSpot came to the conclusion that positive ROI can be increased up to 13 times if marketers prioritize blogging in their marketing strategy. That means writing high-quality blog posts that are backed with visually appealing elements.

How Marketers React?
14. Answers collected by eMarketer showed that 60% of marketers create at least one piece of content daily. They usually try to combine visual elements with text.
15. Over 70% of marketers are actively investing resources in content marketing, making it better and more appealing to potential clients.
16. DemandMetric claims that 80% of people appreciate learning about a company through visual content, especially if it is unique.
17. 86% of highly effective organizations have someone in charge of content strategy.
Some More Content Marketing Benefits
18. The same study from DemandMetric showed that companies could save up to 62% when using content marketing over traditional marketing. Cutting costs isn't the only benefit. Visual content marketing generated about three times as many leads.
19. You can even reuse the content in different campaigns. Research showed that 60% of marketers use one piece of content between two and five times.
20. You can use long-form content to generate more leads. Curata discovered that, on average, longer forms of content generate eight times more leads than short-form.