Marketers have a few tricks up their sleeves that help them get the most benefit from their campaigns and marketing assets, such as A/B testing. If you are an entrepreneur starting a business or with a new business, you can also benefit from A/B testing.
A/B testing lets you experiment with two versions of a marketing element to see which one performs better. It takes some of the guesswork out of marketing strategies. A/B testing makes marketing more directed and intentional.
Marketing is a time and money investment; if you want to see a return, you must reach your target audience. A/B testing helps you pinpoint the strategies that best serve your business interests.
The Basics of A/B Testing
A/B or split testing has been around in some form for more than a century. However, it didn't become a staple in marketing until the 1990s, according to Kaiser Fung, founder of the applied analytics program at Columbia University.
A/B Example
A/B testing allows you to compare one marketing element to another and see which one is better. For example, let's say you own a fruit stand, but you are unsure which product would sell better in a display, apples or bananas.
On Monday, you would put out a display featuring apples and keep track of how many sold. You could even take it further and track how many sold per hour to know the best time to display your apples.
On Tuesday, you perform the same experiment with your bananas. Then on Wednesday, you would compare your data and see what you learned. Afterward, you could repeat the experiment on other days to narrow down the best times for each fruit.
This is a simple example of A/B testing. You pit one plan against another and then compare notes. The goal is to narrow down which marketing strategy works best and why. Once you analyze the results, you could go ahead with your marketing campaign or do more A/B testing until you hone in on the ideal ways to reach your target audience.
What Is the Purpose of A/B Testing?
A/B testing is more than determining which of the two marketing elements offers the best return. It allows you to gather information about your target audience.
The golden rule of marketing is you must know your target. The more details you have about them, the better you will understand how and why they do certain things, especially when it comes to decision-making and the buyer's journey.
When putting together an A/B test, you create two versions of content with a tiny difference. In the fruit stand example, the stand and display remained in the exact location and were open the same hours during the day. The only difference was what fruit was featured in the display.
An A/B test should be given to the same size audience and performed for the same time frame, so you know that the one variation in the content creates any differences in the results.
Second A/B Example
Let's look at another example. Maybe you want to create an online social media ad selling a new product. You might design the ad in two different colors, blue and red. Everything else, like the copy text and images, is precisely the same. The goal is to see if color affects the behavior of people who see your ad.
You would set both ads for the exact number of impressions to appear simultaneously each day. You would also target the same audience – maybe working women under the age of 40.
You would track the metrics of the ads and see how each performs. For example, if your red ad gets 100 clicks and the blue one only gets 10, then you know your target reacts more positively to a red color palette. You can use that palette in other marketing assets like your web pages and brochures.
What Are the Benefits of A/B Testing?
The benefits of A/B testing depend on the goals of the test. Some common goals include:
Increased website traffic
Increased conversion rates
Reduced bounce rates
Ultimately, A/B testing allows you to make data-driven business decisions. As an entrepreneur looking to build interest in a business, you choose the goal and then create the A/B test around it.
Tips for Creating A/B Tests
One of the biggest mistakes business owners make when creating A/B tests is making them too broad. This testing aims to determine how one variable affects the results. So, your tests should be identical except for that one variable. Test one variable at a time. When you get the results, move on to the next test.
For example, if you're testing a new email marketing campaign, you should make sure to send your A email (control) and your B email (new version being tested) to the same type of audience. This means that whicheven change you see in the B version is a result of the change you made to your email, and not some other variation like the type of audience.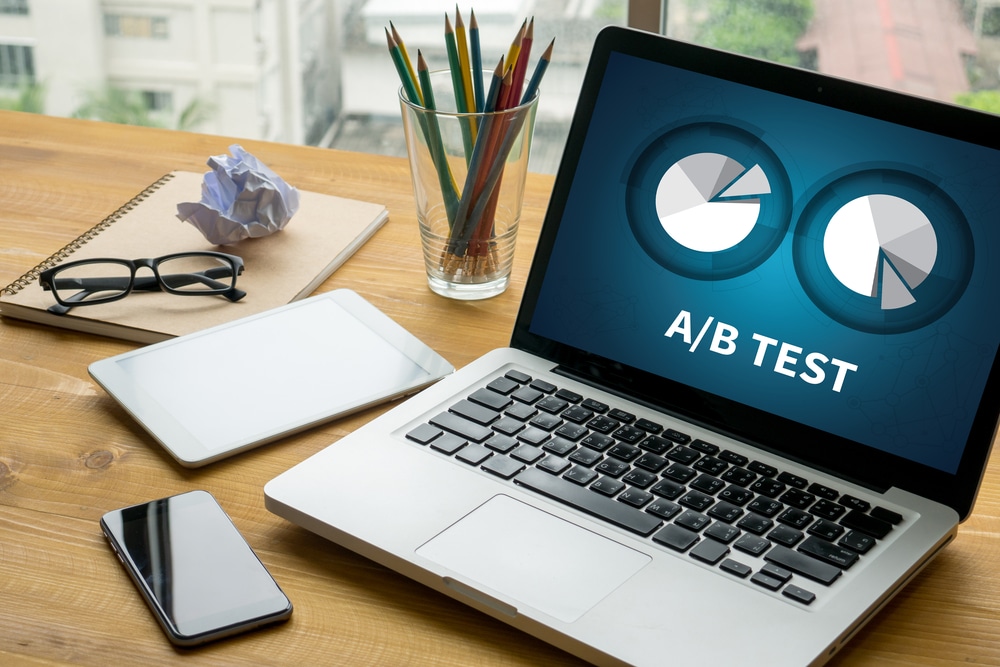 Build the Test Around Your Goal
A/B testing should not be like throwing spaghetti against a wall to see what sticks. Instead, you should have a goal in mind and then build the test around it. In the fruit stand example, the goal was to see what fruit would sell the best when on display. In the color A/B test example, the test was to see what color triggered the best response in your target audience.
You might get more information from the test but focus on your goal first when creating it. Then, see what else you can learn.
Develop a Control and Challenger Strategy
The control vs. challenger standard for A/B testing is useful when you have an existing way of doing things and are considering changing a variable. If your online ads already have a blue palette design but you wonder if red might be more effective, you would create an ad in each color. Blue would be the control because it is your current design. Red is the challenger because you want to see if it can perform better.
The control/challenge format allows you to think clearly as you create the test. Even if you are establishing new marketing assets, use the same premise. Maybe your competition uses blue, but you think red will do better, so blue is the control.
Use Testing Technology
Use a platform design for A/B testing. This ensures that the tests are identical except for the variable you are testing. There are a number of platforms available to help you design the test.
You could try to do one without assistance from technology, but there would always be a question as to whether all the elements of the test were identical. Using an A/B testing tool removes doubt and covers all the bases.
Rank Your Testing Variables
If you have more than one variable to test, then rank them by effort and potential impact. How difficult is the variable to test, and what will the testing accomplish for you? Do the most accessible tests first and focus on impact.
For instance, maybe your A/B test is to optimize your web pages. Start with your home page. This is the page visitors see first, so it will have the most significant impact.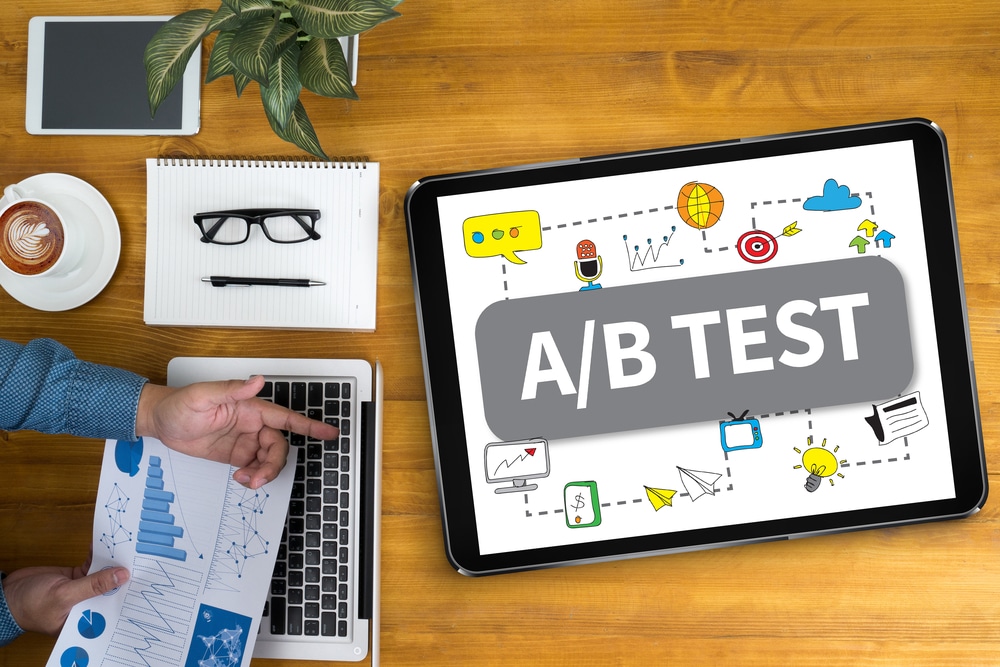 Define Your Success Metric
When designing your test, figure out what metric will determine a winner. If you are testing online ads, the metric will likely be clicks. You could also use increased website traffic or even conversions. You should establish one metric as your goal, though.
Put Away Your Assumptions
Don't let assumptions skew your results. For example, maybe you read that people respond better to blue, so you test two shades of blue instead of blue and red. Generalizations like that don't necessarily target your ideal customer.
Document your Data
A/B testing is a scientific process, so keeping records matters. Take the time to document all your data, so you can refer to it later if necessary. Then, if another question comes up, you'll have the actual numbers.
Document all the metrics, too. You don't know what question you might have later. The better your records, the more helpful that test will be. You can use that data to create another A/B test, for example, with a different variable.
Always Have a Test in Mind
Marketing is a marathon, not a sprint. You always want to be considering ways to improve your efforts. If you continue to look for ways to improve, there will always be an A/B test to run. Focus on big changes first, then use the new tests to tweak.
A/B testing is a marketing staple because it works. If you do it right, it won't take that much time and effort, either. But it can potentially give you a high return on your investment. Entrepreneurs know that the success of a business relies on looking at all angles. In marketing, A/B testing is how you do that.