More than 15 years since the launch of Facebook, social media marketing has developed considerably and we find ourselves in a new age of online communication. 
Facebook itself has changed too. The platform has evolved from one based around communication between family and friends to perhaps one of the most powerful marketing tools available today. 
Described by Mark Zuckerberg himself as a "TV camera in your pocket", Facebook Live is a live streaming service that allows users to broadcast directly through Facebook to their followers and wider audiences. Since its launch in 2016, Facebook Live has been used in many creative, educational and promotional ways. 
In this article, we'll cover how Facebook Live works, how to use Facebook Live for businesses and provide a list of creative Facebook Live ideas.
The benefits of using Facebook Live for your business
Facebook Live comes with a number of benefits for businesses of all shapes and sizes, from well-known brands in huge industries to new startups and home-based enterprises. 
Marketers around the world are reaping the benefits of video content every day, and Facebook Live is just one of the latest steps in this initiative. The data tells the whole story about video content — with video content having a significant impact on everything from sales figures to general business growth. 
The benefits of video for business are well-known, but there are unique elements of Facebook Live that can give a business an extra boost online. These include: 
Access to a huge online audience already familiar with the platform
Unique audience interaction features such as live commenting
Built-in analytics capabilities for reporting
The option to boost live videos for further reach
How to use Facebook Live
Let's take a look at how to use Facebook Live on desktop and portable devices. 
Bear in mind that on all devices, the quality of your live stream will depend on the strength of your internet connection. Avoid using mobile data and stick to a stable Wi-Fi connection. 
Facebook Live for mobile device
Businesses can go live on Facebook using the Facebook app. We advise going live on Facebook through a mobile device for more low-budget productions that don't require professional microphones and graphics. 
You can go live through a page, profile, group or event on Facebook. Going live through a page does provide you with access to more tools and capabilities than a profile, group or event, however, you should consider the audience you'll be broadcasting to on those channels.
The features unique to going live through a page include:
Detailed insight in Creator Studio
Access restrictions to specific locations using geo controls
When broadcasting through a Page you can easily share it to your profile, a group or an event. Once you've started your live video, head to the live video post on your Page timeline and tap the share button to see available sharing options. 
If you want to restrict your broadcast to a particular group (say a special members-only Live session), you should go live in a private group. 
To get set up and broadcast through a mobile device, follow these steps: 
Choose your broadcasting page, group, profile or event
Select Live from the composer
Add a title and description to your post to tell audiences what it's about. You can also tag accounts you're friends with, check into a location or add a feeling or activity at this point
Tap Start Live Video
For charity broadcasts, you can also add a 'donate' button to your live video using the Facebook app. This allows you to send viewers to donation pages for charitable causes. 
Facebook Live for desktop or laptop
Users can go live from a desktop or laptop computer that has a built-in or connected webcam using Live Producer. 
The steps for going live are as follows:
Go to the left-hand side of the screen and select Go Live Now or Schedule a Live Video for a future date and time. 
Select what you will broadcast through (page, group, event or personal profile)
Add a title and description to your post to tell audiences what it's about. You can also tag accounts you're friends with, check into a location, or add a feeling or activity at this point
Set audience restrictions such as age and geography
Go to Get Started, located on the right-hand side of the screen
Select the Use Camera function
Under Setup, check that your microphone and camera sources and correctly configured 
Select whether or not you want to share your screen (do note that streams sharing a screen cannot switch back to the camera mid-broadcast)
Click the Go Live button on the left-hand side of the screen to get started
Facebook Live broadcast management
During and after a broadcast you can:
Like or reply to a comment by tapping or clicking on the selected comment
Pin a comment by tapping or clicking the comment and selecting 'Pin Comment'
Delete a comment by tapping or clicking the commenting and selecting 'Delete Comment'
Block viewers by tapping and holding or clicking on their profile picture next to a commenting and selecting 'Block'
When you end a broadcast you will be presented with the option to save, delete or instantly share your video in full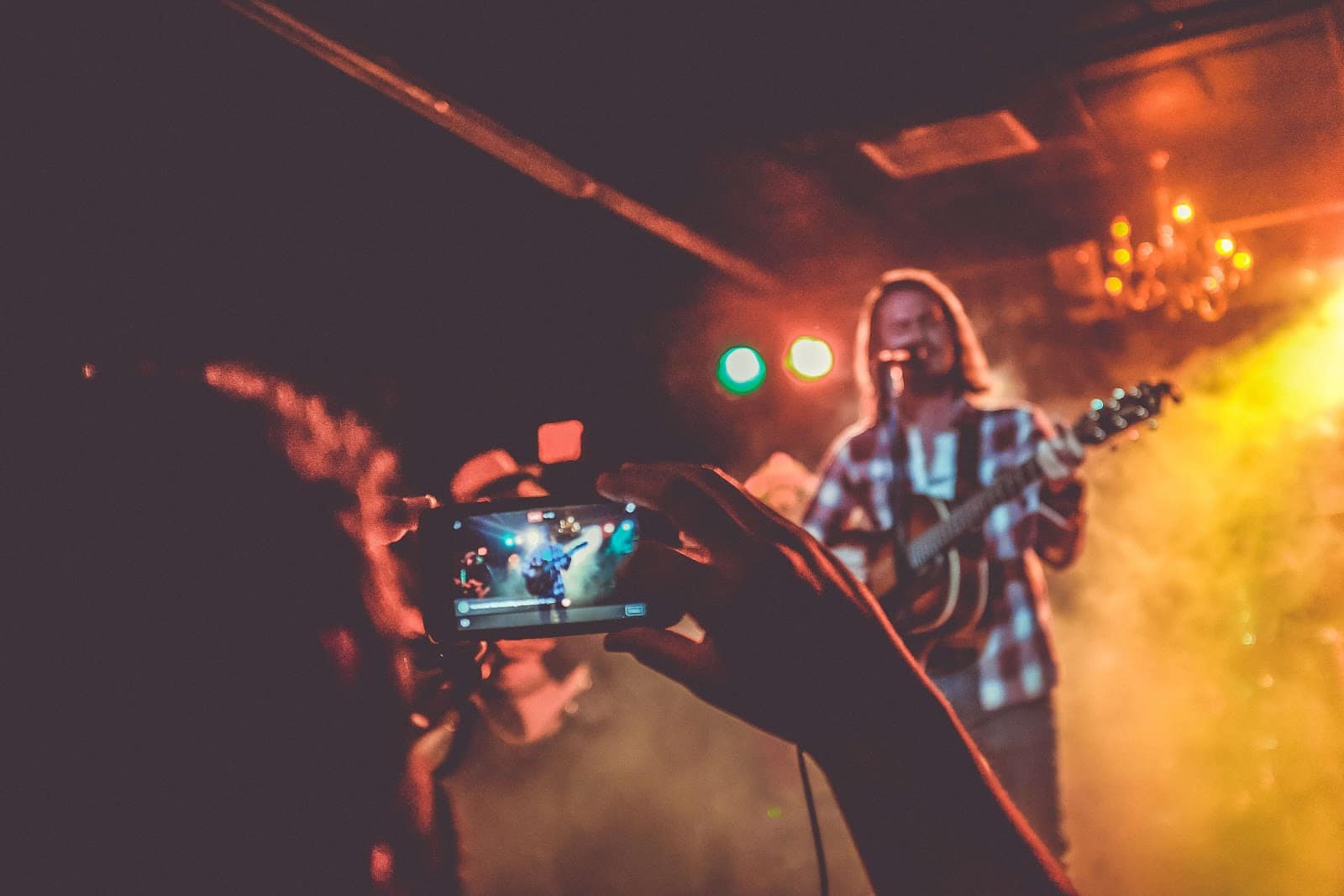 Image Unsplash
Why Facebook Live?
Some of you are probably asking, "Why should I make Facebook Live my streaming app?"
Sure, there might be dedicated apps such as Periscope or big-name streaming alternatives such as YouTube or Twitch. But we think Facebook Live offers something unique for businesses. 
One of the biggest benefits is Facebook's built-in privacy filters. Unlike alternatives such as Periscope and Meerkat, Facebook Live will only show videos to people you choose. That means not just anyone can drop into your stream and start disrupting it in the chat. 
This allows you to create and control a more family-friendly atmosphere on your page. 
Even better, content streamed through Facebook Live stays on your page, giving more users the chance to engage with your video even if they missed the original broadcast. This is where Facebook Live thrives against competitors such as Periscope and presents a more long-term option to using mediums such as Instagram Stories. 
Essential tips and tricks
To close off, let's take a look at some tips and tricks for making the most of your Facebook Live streams and maximise your reach. 
Source content in creative ways
For so many brands and businesses, it's not just a question of whether or not they should use Facebook Live, but what they can do with it. 
Sourcing content ideas for new platforms and mediums is difficult for even the most creative brands. That's why we recommend turning inwards for inspiration. 
Streaming is about being in the moment and offering a unique window into your business. That's why behind the scenes content is ideal for Facebook Live — it gives users a chance to interact and see your business from a totally different perspective. A Q&A from a frequent set between shoots or an evening stream from the office combines familiar areas with a new and different way of interacting. 
Likewise, you can use your community to source content ideas. Send out polls and email newsletters asking for ideas for streams. Users will jump at the opportunity to have some input on the content they're consuming, with the option to pick their favourite idea ensuring you're delivering content that will garner an audience. 
In some cases though, it helps to have some consistency throughout your content. If you broadcast regularly, a familiar set and time slot can help you earn a consistent viewership who enjoy the comfort of your videos much in the same way they would a TV show. 
Promotion is key
The instantaneous nature of live streams means they're quite easy to miss. This is why promotion is key for attracting the biggest and most engaged audience possible. 
Fortunately, Facebook allows you to set reminders for live streams and target particular users, events and groups with promotional posts — ideal for when you're launching a highly-focused advertising campaign. 
An incredibly simple way to get the most out of your live streams is to create a separate event and broadcast through that event page. This will send users who are interested a special notification reminding them of when it's about to start, alongside all of your regular updates.
Ensure you're varying your updates, though, and adding something new every time you post. Each announcement on your event or Facebook page should offer something new and exciting, such as an additional detail of your live stream or a peek behind the scenes of the set being built. 
All great digital marketing incorporates cross-promotion at some level. Don't be afraid to advertise your Facebook Live event through other social media channels, on your blog or in email newsletters in the run-up to the event, maximising the number of viewers you'll get on the day. 
Be responsive and offer constant context
The best thing about live streaming is the immediate access it offers you to your audience. 
To maximise that asset you need to ensure you're constantly being responsive to your audience — and offering context to new viewers who may have just dropped into the stream as it's ongoing. 
As you watch the viewer count go up, make sure to reiterate what's being discussed and offer context over the conversation. Live streams are highly reactive forms of media that viewers will regularly drop in and out of, or have on in the background while they're doing other things, so reminding viewers of the focus of the broadcast is vital. 
Every few minutes or after each interval, say:
"If you're only just joining us today, we're discussing…."
"For new viewers, I want to repeat — this is [NAME] and I'm joined by [NAME]"
This helps get viewers up to speed, feel more engaged with the content and let them know what they should stick around to see next. Audiences are very familiar with this, and will not be turned off by this constant contextualising of the broadcast.
Use professional equipment
Finally, if you want to create a professional product and win over new viewers, it's best to invest in some high-quality filming and recording equipment. Most Facebook Live broadcasts will benefit from:
A stable internet connection
A tripod for the camera
Microphones for each speaker
A green screen for projecting images behind you
Professional equipment will help improve the style and quality of your videos enormously, and can only help your branding.
Facebook Live is a comfortable and polished service that outclasses other forms of streaming on social media for businesses of all sizes — while still providing viewers with the familiar and casual feel that they enjoy from live streams. 
It's a surprisingly simple tool to use, but getting the most out of it involves strong promotional tactics, a focus on producing quality content and plenty of audience interaction. Happy broadcasting!