Using Instagram for sales can be a powerful strategy in your marketing toolbox. But it works at its peak when you create people-centric content. This is part of having an empathy-based marketing approach.
You've shared…
●       Professional photos
●       Guides with best practices
●       Polished testimonials from experts
●       Promotional posts encouraging a conversion
But the results just don't seem to roll in. Maybe you're even getting ready to throw in the towel.
Don't. 
Why? The answer is a need for a more complete content experience with empathy-based marketing infused into your Instagram content strategy. This will then make for a better Instagram shopping experience. Empathy based marketing is all about being able to walk in your customer's shoes to better understand and help them get what they want. 
Forget labels like "users" or "leads". We're talking to real live human beings. And as human beings consuming Instagram content, we need more than just cold logic-based marketing. Neuroscientist, Antonio Damasio stated, "We are not thinking machines that feel rather, we are feeling machines that think." Every decision we make is based on emotion as we feel out each choice we've discovered.
And if you use Instagram to its full potential – or any content platform – each piece of content serves as a helpful stepping stone. Each stone facilitates the Instagram sales journey from awareness to conversion to brand advocate.
Here are ways you can begin to conquer the Instagram content experience in order to drive sales and nurture brand advocacy.
Optimize Your Bio and Include Shoppable Instagram Posts 
People who land on your account make a decision to follow or not in a few seconds. Having a clear bio, call to action, and shoppable Instagram posts – if applicable to your brand – is key. Privately message your own followers and ask them what they think you're about solely from looking at your bio and thumbnails of recent posts. And although you can't link in the captions, you can optimize your bio to have a link landing page. This will host links to all the products or services you refer to in your content. 
In other words, make it stupid easy for people to understand and interact with your brand on Instagram and off the platform as well. It's not a place for jargon.
When it comes to shoppable Instagram posts, 72% of customers believe that seeing Instagram images of a product increases their chances of buying it. The same research revealed that as many as 38% of customers said that they frequently buy products that they see on Instagram. If you have a product-based business, this is a feature to take advantage of. Shoppable Instagram posts conveniently give people the power to discover, shop, and buy without ever leaving the platform.
Leverage User-Generated Content
Chances are if you've been getting customers you already have some potential brand advocates. Tap into your existing base for user-generated content. Interacting with them on Instagram is an effective way to help them realize you exist on social media. 
For example, UGC has been a solid strategy for VEED, an online video editor allowing users to easily add subtitles to video, text, progress bars, music and more.
Overview of VEED's UGC strategy

When VEED first started posting to Instagram In early February 2020 they had 126 followers and no engagement primarily due to being inactive. 
But they already had a solid base of monthly active users to tap into. These users were providing the team with positive feedback via email, video, and live chat. 
When it comes to UGC, 93% of consumers find it to be helpful when trying to make a  purchasing decision. And 77% of people prefer customer photos to professional ones when buying. 
So when VEED became more active on Instagram they located power users, interacted with them, and after a week the mentions started rolling in. They now have over 1.5K followers, an above-average engagement rate of 6.54%, and get approximately over 10 tagged mentions in UGC every week which drive conversions. Word-of-mouth marketing from UGC is an underrated Instagram selling strategy.
People crave recognition. Want to encourage potential advocates to step into the spotlight? Celebrate them with a reshare through your Instagram stories whenever they mention you. Top it off with a thank you message. Nurture your audience through the conversations you start and content you serve them to support your end goal. 
Drive Sales on Instagram with Storytelling
Not getting sales on Instagram? Chances are you need to develop better storytelling for the platform to help facilitate sales from Instagram. The stories in your content are not about making you the hero. Rather, they're about helping your audience view themselves as the hero in the storyline. You are the knowledgeable and kind guide helping them achieve their goals through your offer. 
When it comes to people-centric content, people want to be seen, heard, understood, and to know they have the freedom to make their own decisions. Show don't tell. While a hard sell can work, effective content is about giving more than you ask.
Rather than exclusively push sales-oriented content consider each piece of content nudges people in the right direction in your Instagram sales funnel. Therefore, a brand new follower has to care a bit about your brand before they feel like clicking your link in bio. Boosting your engagement is key for this.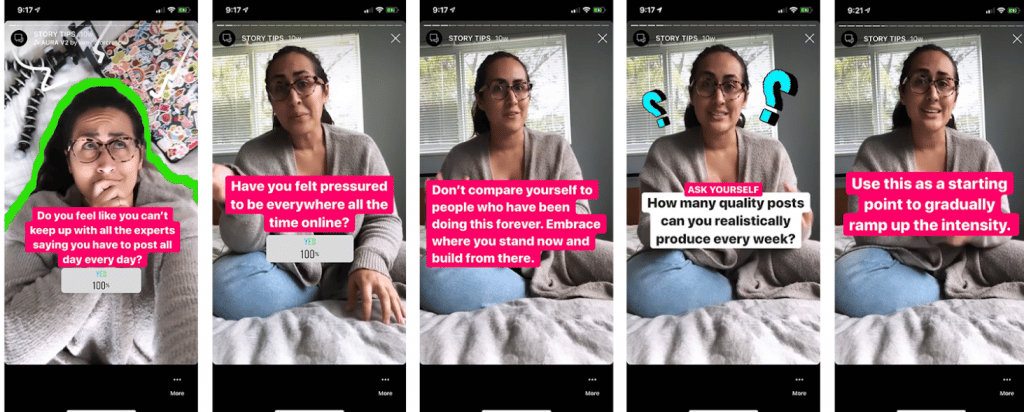 High engagement is achieved through relevant quality content serving your target audience. But it's also about developing organic relationships in the DMs and comments to stay top of mind. By doing this you also stay at the top of their Instagram feed. The more people you communicate with, the more signals the algorithm receives telling it to push content higher up someone's feed because you've built a connection.
Create content to drive awareness. This content helps empower your audience with information to understand their own challenges and identify solutions. For example, if you offer a solution to help content creators repurpose video content from YouTube to Instagram you could create educational content around the topic of repurposing. This positions you as an industry expert so they can know, like, and trust you. 
Include content for the consideration & decision phases. This is when your audience is aware of their problem and some solutions available to them. They're weighing the pros and cons. Put yourself in the shoes of your customer to tell stories around their pain points with actionable advice. This is where you'll sprinkle in mentions of how your brand alleviates their challenges and further helps cement their decision to buy from you.
Generate Sales on Instagram with Stories and Direct Messaging 
Instagram stories are often a major untapped opportunity for brands. There are 500 million daily active users on Instagram stories alone! 
The best part is they are also the easiest type of Instagram content to create. The more natural the story looks, the better. Meaning, make your stories with the in-app tools. You might even notice brands using Instagram for selling who make ads that look like they were made in stories. This is because they feel more organic to the content consumption experience rather than a rude interruption. 
Here's how you can combine Instagram stories with DMs to facilitate the Instagram sales process. 
Tell stories or host story events
Include poll or question stickers
Follow-up with everyone who interacted with the stickers 
In order to make people take the action you want them to take you have to make it easy for them to understand why this is the best move. By hosting tutorials on your stories or telling a story around a pain point, you're serving them value and helping them understand and visualize what it would be like to not have to deal with (or alleviate) whatever challenges they face.
The poll or question stickers are used as checkpoints to gauge interest and satisfaction with the story content. You can then personally follow up with every submission. It's time-consuming but it creates not just a loyal following but also a great preview of the level of attention to your customer experience.
Add Subtitles to Video to Make Inclusive Content
According to Social Media Examiner, 80% of marketers use visual assets in their social media marketing. Video alone has surpassed blogging as far as it's usage as a social media marketing asset.
While video content is great, the biggest mistake many brands make is adding subtitles to their video for a more inclusive experience. With tons of free and paid tools to add subtitles to video – or even create sdh subtitles for those who are deaf or hard of hearing – there is no excuse to not make content accessible. 
 Here are some interesting stats:
●       92% of people watch videos with sound off according to a US survey
●       37% of viewers said they are encouraged to turn on the sound on because captions make the videos seem more interesting
●       466 million people have disabling hearing loss. That's over 5% of the global population.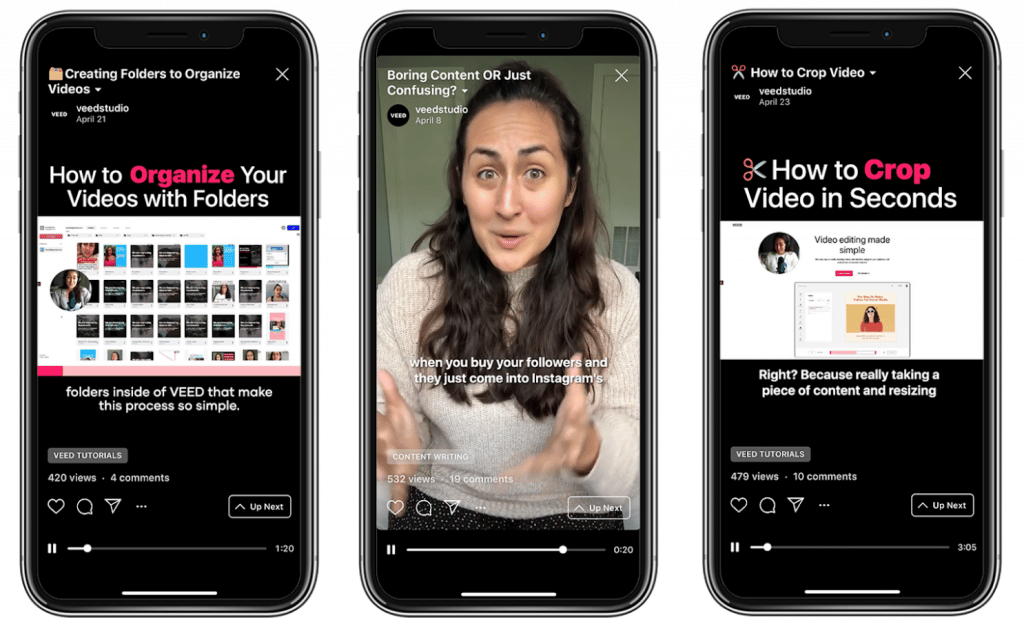 It takes just a few extra minutes to edit but it's a win for everyone. Just look at marketing genius' Gary Vee's video content. Every video is optimized with subtitles. Luckily, if you want to create videos like Gary Vaynerchuck there is no shortage of tools out there to easily make it happen. 
The more targeted eyeballs you can get on your content, the more engagement you get, and the higher the chance of boosting your sales on Instagram.
The most underestimated tip out there is to have patience. Rome wasn't built in a day. While there are certainly many brands who achieve virality granting them an overnight success of sorts, this is not the norm.
Those who win at selling on Instagram understand this. Instagram and content as a whole are a long game. Invest time into truly understanding your audience. This is not just something that needs to happen before you start posting. It's an ongoing practice to keep ideas and content fresh. And now, it's time for you to go put this in action!
This article is written by Diana Briceño, Head of Content at VEED. We are a simple but powerful online video editing platform perfect for adding subtitles to video, trimming, crop and resize video, add music, effects, progress bars and so much more. The best part? You can start your first video project today for free. No credit card required.