Thought up a killer business name worth protecting? You can trademark your business name in the UK and build a brand entrenched in law. 
As an essential component to the startup dictionary, trademarks provide much-needed legal protection against unregistered businesses using your name, stealing your audience, and devaluing your brand identity. 
In this article, we explore key questions you might have about trademarking your business name in the UK, including "how do I  trademark my business name?" and more — so read on and discover how to go about registering a trademark and the benefits of doing so. 
What is a trademark? 
Trademarks are an expression of intellectual property, declaring ownership of something to a particular person, company or source. This allows you to distinguish your ideas and services from those of another. 
Thinking of trademarks, you'll likely picture the Nike tick or Coca-cola brand name, but various things can be registered as a trademark, from catchy tunes to Viennetta swirls. 
Here are some examples of what can count as a trademark: 
Words
Logos
Shapes
Patterns
Colour (and combinations of colours)
Sounds
Motions
Holograms
When you trademark your business name in the UK, you'll be able to:
Take legal action against people/organisations using your business name
Use ® to signify ownership and to deter others from using your name
Sell, license, and distribute your business name freely
While the potential for trademarking is numerous, there is a limit — a trademark must be unique and not be confused with a trademark that already exists. 
You must research whether your business name has been trademarked by someone else. If you wind up using an already trademarked business name then you risk receiving a cease and desist order from the brand in question. 
Do you need to trademark your business name in the UK? 
Worried about someone ripping off your business name or losing out to the competition? If your business is based in the UK, then trademarking your business name is a vital step for preventing copycats and protecting your livelihood. 
Registering or owning a domain in your company name, while still important, affords no extra legal rights stopping someone from using a similar name or logo. 
This means the following actions don't count: 
Registering your business with Companies House ❌
Buying and owning a dot com address or web domain ❌
On the other hand, by trademarking your business name, you can protect your brand identity and invest in the future of your business. 
So, in answer to the question, "Should I trademark my business name in the UK?" — yes, especially if your business is expanding and becoming more vulnerable to exploitation. 
By not trademarking your business name, you risk someone else taking it off your hands — and while you can push back via unregistered rights, this is a costly process that could have been avoided by taking precaution and initially trademarking your business name in the UK. 
The benefits of registering a trademark
Been told you should trademark your business name in the UK, but aren't sure about the benefits? Trademarking protects your brand against potential threats now and in the future. 
Here are the main benefits of registering a trademark outlined clear and simply: 
Stronger protection than common law: unregistered or common law offers some protection, but trademarking your business name makes it much easier to protect your brand if someone copies it.
Authentic brand reputation: wear your trademark like a badge of authenticity, serving as a powerful tool to garner trust, retain customers, and drive new business.
Alongside being able to use the ® symbol as previously touched upon, the benefits of trademarking your business name in the UK run much deeper. 
Not only are you able to fight your case and protect your brand from misuse with more authority, but also nurture a professional and authentic brand image customers know to trust. 
How do you trademark your business name in the UK? 
Trademarking your business name can feel a bit like jumping through hoops, but if you're adamant about protecting your brand then it'll be worth it in the long run. In this section, we guide you through the process of trademarking your business name in the UK  step by step. 
Step one: check trademark eligibility
To trademark your business name in the UK, you must first learn whether your trademark is eligible by checking your name against government guidelines. For example, the government website says your trademark cannot be: 
Offensive ❌
Misleading ❌
A 3-D shape associated with your trademark ❌
Too general, common or non-distinctive ❌
Look similar to state symbols ❌
Remember to keep these criteria in mind before going ahead with the process to avoid disappointment or wasted effort. 
Step two: choose the right trademark class
When looking to trademark your business name in the UK, it's important to select the right trademark class — a selection of 45 different categories known as the Nice classification.
Each class covers different industries, products, and services ranging anywhere from chemicals to musical instruments. Make sure to pick the relevant class for your business name because different businesses can register the same trademark under different classes. 
Register your business name under all relevant classes (you'll need to understand exactly what your products/services are to do this), then tick off every class you expect your trademarked name will operate in. 
Step three: register your trademark business name in the UK
Have you checked your business name meets the given criteria and know which classes you want to register for? Great news. Now you need to apply through the UK Intellectual Property Office. 
The quickest and easiest way to register is by going online to the UKIPO website, but you can also register via post by filling in Form TM3. If the process goes off without a hitch you can expect everything to be finalised in four or so months. 
Note your application will first spend two months in the Trademarks Journal, during which anyone including businesses with similar unregistered names can object to the trademark of your name. 
How do you check existing trademarks? (And what to do next)
As mentioned previously, picking a name for your UK business can feel like walking on eggshells. It's important to check existing trademarks so you don't infringe on existing ownership and find yourself entangled in legal troubles. 
But how do you go about checking existing trademarked business names in the UK? Well, the process is rather simple…
You must search the trademarks database via: 
A trademark number
An owner's name
Keywords, phrases, or images
Or you can check the Trademarks Journal (mentioned above) to find ongoing applications and amendments. 
Searched for a trademark and found it is already in use? From this point, you have two options: obtain a letter of consent from the holder of an existing trademark stating permission to register your own — or continue your search elsewhere and use a trademark attorney to lend a helping hand. 
How much does it cost to trademark a business name? 
There are many forms and fees involved with trademarking your business name in the UK, for example: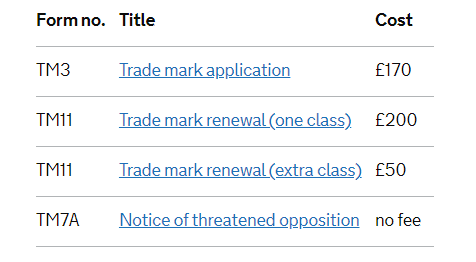 Image: gov.uk
However, when calculated in total the cost can be relatively inexpensive, especially if you choose to register online. On average you can expect to pay less than £1000 and then be subject to renewal fees after an initial ten years from registration. 
This will only cover the UK once granted. If you want to trademark your business name in other countries aside from the UK, you must apply through other means where the costs can vary and begin to add up. 
What are the next steps once you've registered your trademark? 
Registered trademarks are valid for ten years, but note you'll need to regularly use them if you want to retain the trademark. Use your trademarked business name within the first few years of registration — this way you ward off potential trademark challenges or refrain from being removed from the trademark register after five years into your ownership without use. 
Also, you cannot make changes to the trademark once registered; any alterations to the copy or appearance mean you'll have to start the registration process for a new trademark. 
Finally, you'll have to consider how to enforce your trademark if it is infringed by other parties during your ownership. Keep a watchful eye out for unauthorised use of your trademark in the UK and handle the issue under civil law, where a cease and desist letter from your solicitor is usually a big enough deterrent.
Use our answers to these frequently asked questions to guide you through trademark registration. While trademarking your business name in the UK can be a long and laborious one, if you're a growing brand then protecting your assets under the law is certainly worth the hassle.