Over the past decade the presence of nonprofit organizations on social media, either it is a Facebook following or Snapchat networking has increased a lot. A group that never back down from the challenge of having the potential to reach the audience without tapping into a limited budget & the growing popularity of social networks.
When we speak about marketing, nonprofits have a little in common.
They usually rely on marketing efforts to attract donors or volunteers.
Doesn't matter how well staffed they are, they could use more marketing resources.
There can never be enough hours in the day for a non-profit organization to accomplish every task on the marketing to-do list.
Nonprofits are ready to grow, just like the profit businesses. The only difference is instead of leads, their goal is to appeal to supporters & instead of getting customers they put their efforts to turn them into donors or volunteers.
There are many nonprofit organizations contributing truly incredible things to the world. Here are some of the social media marketing strategies that are a little more specific to nonprofits, designed to build awareness of what they're doing, attracting supporters, & increasing donations.
"Social media shouldn't be out there alone; it should be integrated and aligned with your strategic goals and target audiences," -Beth Kanter
Make the Connection with Audience
The moves you will make and the content you post on social media should tie back to your general communications and digital strategy. Consider how you're going to connect your organization's social media marketing efforts to your site and blog, events, conferences, promotions, email marketing and other content you share on the web.
The message shifts from "you have to buy this to improve your life" to "you need to do this to improve the world to be a better place."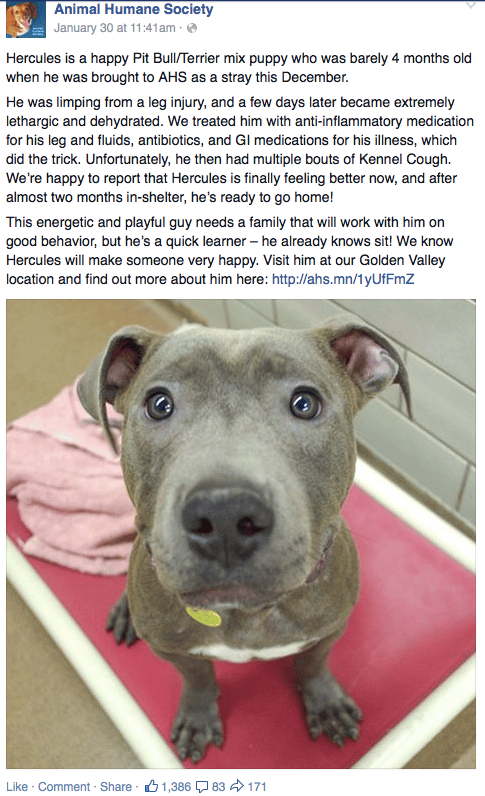 Furthermore, it's a smart thought to use a lot of organic videos for high-impact & low-cost marketing. Even if you're a business that doesn't fit in with the traditional philanthropic stereotype, it's alright, you can use this technique, as well.
Mention Being a Nonprofit
Being philanthropic or nonprofit has a few advantages. At the point when people see the term, they consequently know something honestly imperative about your brand right off the bat. Regardless of whether they were effectively looking out charities or simply happen to discover you, ensure you're listed as a philanthropic to boost the impact of that first visit.
For instance, when you're setting up your Facebook Page and choosing which class your organization fits into, pick "Company, Organization, or Institution" you'll locate a "Not-for-profit" choice in that section.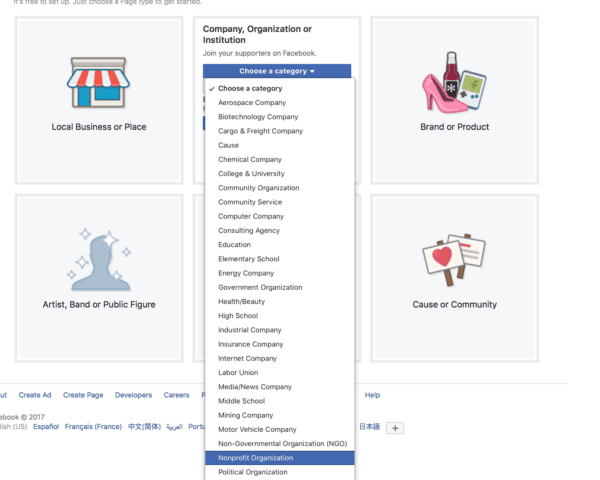 Utilize Storytelling to Distribute Your Message Effectively
Using story-telling to uplift the enthusiastic interest of what you're doing is a basic piece of marketing a nonprofit. Video marketing can be the key here to help disperse your message as much as it could reasonably be expected. Use native video on every stage (implying that you'll transfer the video record specifically to Facebook rather than YouTube first) for best outcomes, as the native video is organized higher in calculations and gets around 10x more offers, in light of current circumstances & for good reasons!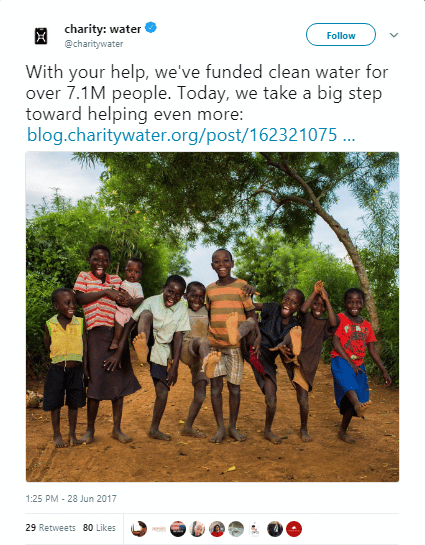 Have a go at catering your message to each social media platform you utilize, at that point connect them all together. Here are the means by which this promoting structure linked-list may look:
Instagram: to share previews of people, similar to your volunteers, participants, and partners. At that point guide supporters to your site or Facebook page for more information.
Facebook: to post longer stories and battle information. Guide your supporters to your site and YouTube channel.
YouTube channel: to share video content that delineates your central goal. Send these watchers specifically to your crusade or gift pages.
Keeping your content human-driven, sharing examples of overcoming adversity, and giving clear symbolism are narrative techniques and some of the best practices for social media engagement.
Keep Your Message Relevant
To really draw in new gatherings of people and end up valuable as marketing materials, your social media posts should be important to your supporters' lives! This procedure may appear glaringly evident, however many charities neglect to completely connect with their bases of support for this reason. A wide range of topic can make for intriguing content and grab viewers' attention in your social media, as:
Current occasions and news stories
Patterns, prevailing fashions, and popular culture
Commemorations of applicable occasions
Continuous social or political discussions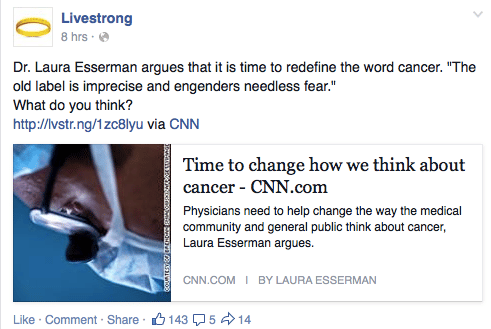 For this strategy to work, you additionally need to keep your messages completely relevant to your own work. Offer an ongoing news story directly related to your mission, or post a message on the birthday of a historical or famous figure who advocated your motivation, for instance.
Conduct a T-shirt Fundraising Campaign
T-Shirts are a dependable fundraising staple!
While a few supporters may delay making an immediate donation, it's considerably simpler for cash-strapped devotees or event participants to legitimize obtaining a shirt when they know the returns while supporting your work. Furthermore, shirts are an ideal method to draw in everybody on your group, including:
Givers
Volunteers
Online supporters
Event staff
Search for shirt fundraising platforms that let you offer shirts online in crowdfunding campaigns and buy shirts in mass to offer at your events. Promote your shirts via social media and link your supporters specifically to order pages.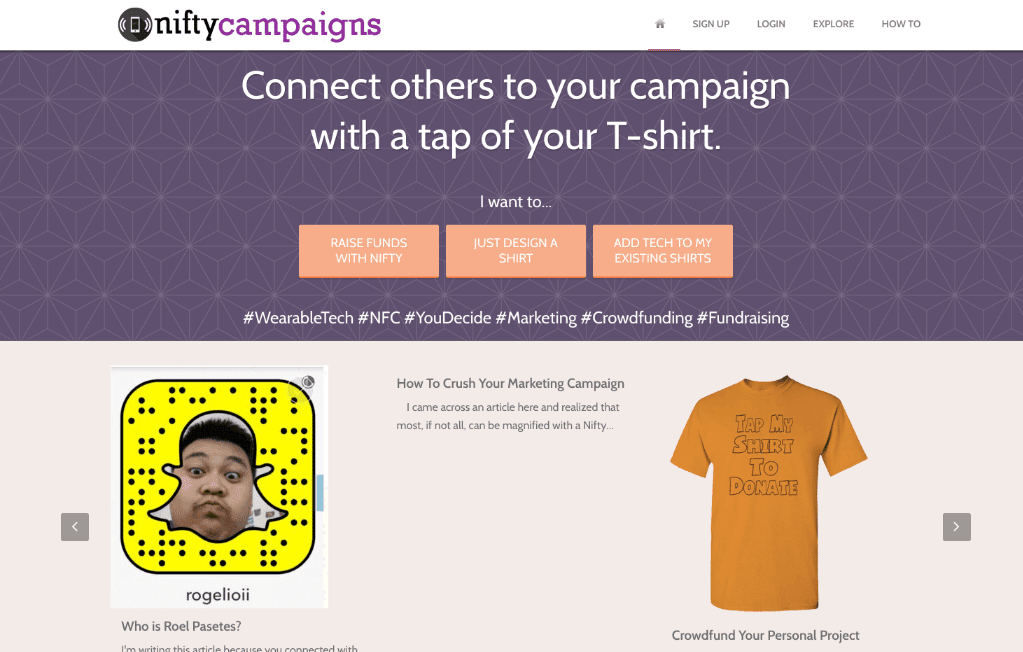 To truly help commitment, welcome your supporters to enter a shirt design challenge!
6. Using a Social Media Management Tool
Planning a social media strategy & considering things according to it is one step towards your goal of attracting supporters or donors, you can minimize your human efforts in posting your content through all the social mediums by using a social media management tool. A tool like Social Champ is the ultimate solution to all the automation you need to schedule your social media content. It can help you in bulk uploading all your content & scheduling on all social mediums without the switching through different tabs. Perks of being a non-profit is that you can get a lifetime discount too.
Using a management tool for your social marketing can help you in
Brand Visibility
Single Tap Marketing
Working with a team in a single window, without sharing passwords
Scheduling your posts for weekends too
Recycling your evergreen content
Analyzing your performance
& you don't have to worry about the time zone differences while targeting your audience in a different region!
Final Thoughts
Marketing a non-profit can be a little different from marketing a business whose goals are client retention or sales. Having said that, non-for-profit organizations can more effectively connect with their follower's routes, particularly via social media platforms. Joining a bunch of smart engagement strategies into your social media marketing can result in a considerable lift to your supporter engagement and donations!
To figure out "how nonprofit organizations can find marketing success in this kind of media environment" & how to convert your social connections into the actionable audience is simple, all you have to do is make them start believing & appreciating your vision & work in making the world a better place altogether.
Are you a nonprofit needing help in improving your marketing strategies? Leave us a comment and let us know what your marketing strategies are!
Sadia Muneer is Content Manager at Social Champ. Exploring the digital magic of writing with social media marketing niche. You can visit our twitter account @socialchampsays for great stuff related to social media marketing.