Despite the waning popularity of print media, national and local newspapers still have a huge and extremely passionate readership, with their websites receiving hundreds of thousands of visitors every day. 
Getting featured in a newspaper (whether in print or online) can significantly boost the reach of your charity, drawing attention to your cause or latest funding drive. Media coverage should be a vital part of your charity's marketing strategy. 
But despite every charity in the country wondering how to get a story published in the newspaper, very few have any idea of how to actually do it. This guide aims to change that, highlighting the benefits of media coverage for your charity and how you can go about attaining it. Here is how to get a story in the newspaper:
How to come up with a good story & angle
Before you can come up with a good idea for a story or angle, you need to know what makes a good news story.
A good news story doesn't just inform people — it entertains them, alerts them to things they'd have never otherwise found and leaves them curious about the next instalment. 
Great news stories feature an enticing mix of shock factor, recency, currency, proximity to the reader and uniqueness. Editors and journalists are always looking for the next big thing that will bring in readers and stand out in the social media vacuum. 
Journalists want to know five things about a story:
Who is involved?
What happened?
Where did it happen?
Why did it happen? 
How did it happen?
If you can provide this in your pitch, you're more likely to catch their attention. 
It's important to ask yourself when developing a story to get in the newspaper — "How does my charity figure into this?".
If you're reacting to a recent local news story or a national development think about how your charity is relevant to the story, either in the form of a quote or how you're reacting with an event or new high profile sponsorship.
Who to contact
So, who do you contact to get your story into a newspaper? 
Surely, newspaper stories come as a result of journalists seeking out information and coming to you for more context or a quote?
That's not always the case. It's becoming increasingly common for businesses and enterprises to pitch a story or partnership with journalists and editors. 
To get started, pick a publication you'd like to get featured in and look for your point of contact. This will likely be a journalist or commissioning editor. They will respond to your pitch and give you an idea of whether or not they're interested in the story and how they'd like to progress with it. 
Publications are split into 'desks' for each section of the paper. Make sure you're looking into the right desk for contacts.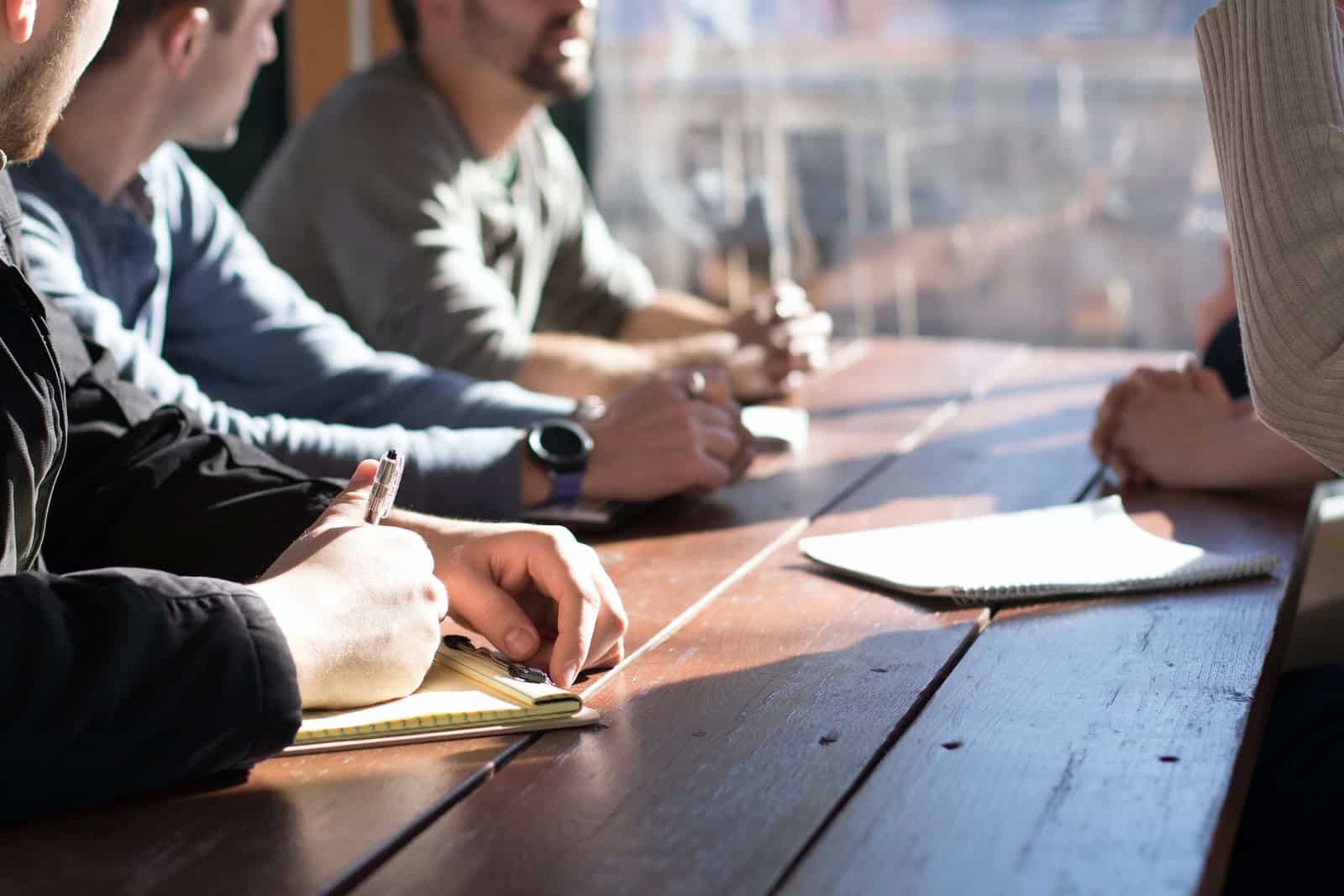 Image: Unsplash
How to contact
There are a number of different ways to build relationships and get in contact with journalists and editors at local and national newspapers. Some will have a preferred point of contact, but if your story is interesting enough, they'll likely give you the time of day or point you in the right direction to send them a pitch. 
Here are some of the primary ways journalists and editors will want to be contacted.
Over the phone
It might feel a little old-fashioned now, but media is a profession where picking up the phone and talking to someone is still an accepted and integral part of the job. 
Timing is everything in journalism, which means most people don't have the time to wait on an email or direct message reply. They need to speak to you now or they'll move onto a different contact. 
If you have a journalist's direct contact, don't be afraid to give them a call. More than anything, journalists appreciate someone who can make their job easier and give them all the facts quickly. 
Email
Although most journalists prefer to talk on the phone or in person, email is still a great way of initially catching their attention. 
Most pitches will be sent via email, as will press releases and updates from local services. Going through these is a typical part of your average journalist's daily routine. While you don't want to get lost in the shuffle, sending an enticing email is a great way to get yourself in front of someone who can get your charity's story published. 
Be short, snappy and direct with your email to stand out from the crowd. For more information on this, check out our 'How to pitch' section.
Social media
Social media has emerged as a brilliant channel for connecting charities with a story to journalists willing to tell it. 
The concept of HAROs has changed how journalists find sources and ideas, with many publications broadcasting their need for experts on popular platforms such as Twitter or through paid media databases. 
If you don't have access to a journalist's email or phone number, contacting them through social media is a great way of getting your idea heard or taking the first steps in building a relationship. 
Some of the best platforms for this include:
Twitter
LinkedIn
Instagram (Particularly for young journalists and influencers) 
Remember to… 
Build relationships!
The key to consistent coverage isn't just about providing quality stories, but building strong relationships with journalists and editors. By cultivating a media network you aren't just making it easier to get future pitches accepted, but making your charity and people within it top considerations for interviewees in the future. 
Chat with them over social media, ask how they are and show an interest in their work. It's about keeping your charity top of mind. 
How to pitch
Pitching is perhaps the hardest part of getting a story into a newspaper.
Editors are inundated with hundreds of pitches every day from aspiring writers and enterprising businesses alike. That's on top of a wave of press releases and social media content they have to sift through to find the right stories for their readers. 
Pitching is about making your story unique and of essential value to their readership. It might be a great story, but unless it appeals to the demographic they think will make them the most money, most editors won't go for it.
Crafting a good pitch is a skill in itself. It takes practice to get your pitching just right, even if you know your story inside out. Many publications will have house pitching styles, dictating a preferred way to receive story ideas. 
Typically though, editors and journalists will be looking for these features in a good pitch:
A good subject line (perhaps the most important part of your pitch)
A short and sweet summary of your idea
The key people in the story
Your target audience
When pitching as a charity, it makes sense to include some background on what you do and your past achievements. This will enhance your reputation, and give additional weight and expertise to the story. 
A vital part of pitching is knowing who you're pitching to. If you're telling a human interest story, don't pitch to the sports desk. Find the most relevant journalist at your target publication and learn what they want from pitches (they've probably tweeted about experiences before!)
What else to include
Journalism is a multimedia industry these days.
While newspapers make up a significant portion of the revenue, publications are now more reliant on their website and social media output than ever before as revenue drivers. From local papers to national media, outlets are looking for engaging, shareable and informative content to populate their social channels. 
When pitching a story, consider including any other multi-media assets you've produced to complement your story. Such as:
Video content such as live event footage
Audio content such as podcast appearances
Visual content such as infographics
These can help make the story feel more complete and engaging to a wider audience. The prospect of stretching out the story over a long period through other forms of media on other channels is very enticing to multimedia outlets. 
Getting major coverage in a national newspaper requires a significant amount of editing, research and perseverance. 
It's likely your charity won't get any featured stories until you can prove your worth or hit on a huge story that really appeals to present public interest and attention. 
Keep coming up with new ideas and find creative ways to pitch them. Having a robust idea with multimedia support behind it will only strengthen your pitch and make you the darling of local journalists. Once you're in, it's easier to get featured again and again.