In 2019, rising above the ranks in the field of digital marketing is all about garnering the relevant knowledge and expertise of the ever-evolving field. However, acquiring great digital marketing skills is becoming increasingly difficult (after all, the game is always changing). If you're thinking of growing your business, you need a game plan to conquer.
The good news? You don't need to spend a ton of effort on reading mundane articles or boring copy about the ins and outs of digital.
So, where do we go from here?
Digital marketing skills are not only crucial for those who wish to gain a foothold in the industry but also to entrepreneurs who are looking to improve the way they market their business.
The most successful business leaders have a working knowledge of the key aspects of a digital marketing campaign and how to implement one effectively.
So I've curated a list of the best resources to learn digital marketing which can teach you how to grow your brand presence. From bulletproof marketing tactics to top-notch practices, this guide is your best be in gaining a foothold in the industry.
Because digital marketing is not a stand-alone skill. We all have a little creative soul inside of us. Marketing is about tapping into that soul and using it to curate the best possible marketing strategy for your business.
Build your skills, become the mastermind of digital marketing and learn the basics of all things digital with our informative guide.
Here are my picks which are too unreal not to share:
General Assembly
General Assembly hosts an entire education journey in learning digital marketing fundamentals. You will acquire the skill set to learn the ins and outs of (but not limited to) SEO, PPC, social media, email and inbound marketing. Upon completing any one of their courses, you'll be equipped with the knowledge on the best practices of quality online marketing.
Written and taught by well-known industry practitioners, the General Assembly is your gateway to staying on top of digital trends and instruments.
Hubspot Academy Free Inbound Marketing Certification
Inbound marketing is a business methodology for capturing customers via SEO, social and content marketing.
Hubspot's Inbound Marketing Certification Course can help you source the basics of inbound marketing, find and focus on areas of business growth, and learn both helpful and practical information on digital.
The art of driving projects to your website and drawing customers in is centred on your knowledge of your audience. That's why – especially for startups and small businesses – Hubspot's certification is the key to unlocking greater brand awareness.
Google Analytics Academy
Have you ever thought of analytics as a client retention tool? We all know how important measurement tools are for improving the effectiveness of your marketing campaign. With increasing benefits to business growth and customer retention that inevitably translates to revenue, there are more reasons to get started with Google Analytics Academy. Analytics Academy offers free, online courses on analytics and other data analysis tools.
While data collection and analysis is something that you may think of as complicated and confusing – it doesn't have to be! It's not a chore that should rob our time from more important things, it is critical to making your digital marketing campaign work.
Through a series of self-paced courses and lessons, you can learn how to implement tracking code, analyze basic reports, and set up goals and campaign tracking.
Social Reports Insights Blog
One of the best ways to learn about digital marketing is by reading industry blogs written by seasoned experts. Written especially for small businesses to learn the ropes of strategic insights on social, the Social Reports Insights Blog is your complete guide to understanding what tools and strategies can be most meaningful for growing your brand.
So if you wish to improve your social media marketing skills immensely or to uncover the most valuable tools and solutions for getting started with social, this blog is for you. Resources like these will help you transform your data from metrics into more meaningful reports. It's jammed packed full of advice and helpful tips for using social media reports to communicate value to your customers.
It takes thoughtful work to grow a business with digital and it's important to have a solid grasp on full-proof digital skills to succeed in the industry.
Not only does engaging an online audience require digital expertise, but it means ensuring you are continuously equipped with the knowledge to find ground in the industry. Sure, you could make wild guesses off "best practices" but without a solid understanding of digital, how will you tackle any problems you may endeavour down the track?
It's not hard to feel caught up in your niche – but with the right resources, you can grow and maximise your bottom line and potential customers.
Neil Patel
Neil Patel is one of the most successful digital marketers and his blog is one you will want to bookmark. As the gold standard for working smarter and identifying the best opportunities in SEO and PPC, you'll get your answers to digital as quickly as possible.
Unlike most mundane SEO blogs out there, you won't need thousands of jolts of caffeine to get through the copy. Whether you're hoping to acquire wider reach, try new digital tactics, or gain further insight into the realm of digital marketing, Neil Patel's blog is for your business.
About the Author: Andrew Raso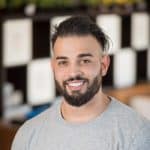 CEO and Co-Founder of 
Online Marketing Gurus
, Andrew has had a long, illustrious career in the SEO and SEM industry. After years of working for agencies, Andrew started OMG to remove the complexity of SEO and provide simple, transparent results. He has recently won a B&T 30 under 30 award in the Entrepreneur category. Andrew has featured in and contributes to Entrepreneur, CMI, Jeffbullas, Search Engine Journal, and more. Andrew has also been featured on Sky News Business and Foxtel's 'Industry Leaders'.