People have been selling art and antiques online for over 20 years. In another two decades your customers might buy all their Art Deco pieces from online marketplaces or dealership websites.
There's no better time than now to break into digital and it's easy to do. Read on and you'll see how.
Become an online auctioneer
Auction house selling is a business model used by many dealers. Art & antique entrepreneurs have used it for centuries. The first auction house, Stockholms Auktionsverk, was founded in 1674.
You can break into digital by using the auction house model. How? Through marketplace selling.
In this business model, you set up a profile on an ecommerce website. The website allows you to list your products and services. You pay a commission on every sale you make. This is in exchange for using the marketplace.
The main marketplaces are:
99Designs
Alibaba
Amazon
Apple App Store
Creative Market
eBay
Etsy
Envato
Facebook Marketplace
Fiverr
Google Play Store
iStock
Shutterstock
Skillshare
Udemy
Upwork
Zazzle
The marketplace best-known for using the auction house model is eBay. Bidding on items is central to the platform. It has over 178 million users and is simple to use. To break into digital by setting up an eBay account, follow the steps in the video below:
Use an ecommerce marketplace to sell your art & antiques
Even if you don't want to sell by auction, an online marketplace is still a great way of going digital. There are many benefits to using a marketplace:
Using a recognised marketplace establishes trust
You get access to a large potential customer base
It's an opportunity to establish new trading partnerships
Access to a search engine optimized platform
Web development and technical matters are handled by the marketplace
It's not all pros to using an online marketplace. Some of the drawbacks are:
You have to abide by the rules of the platform
Customer support for smaller businesses is often poor
There can be a delay in receiving payment for the goods you've sold
Lack of access to customer data
Commission is paid on every sale you make
Each online marketplace has its own good and bad points. Watch the video underneath for more information on the main options:
Select a specialized art & antique marketplace
Platforms like Amazon, eBay, and Etsy have millions of users. But they aren't designed specifically for art & and antique entrepreneurs. These marketplaces are:
1stdibs
Chairish
Christie's
Everything But The House
Ruby Lane
Skinner
Sotheby's
Like the ecommerce options, these specialist marketplaces have pros and cons. Here are a few of the good points:
1stdibs has excellent press
Chairish looks after the logistics involved in dispatching big items
Christie's audience is growing by up to 33% each year
Everything But The House offers a free consultation when selling goods
Ruby Lane doesn't charge commission
Skinner holds appraisal events
Sotheby's offer white glove shipping
Like an ecommerce marketplace, you'll be subject to the conditions of the marketplace provider. This means most of the specialized options charge a commission for each sale. For example, Chairish takes 20% of every item you sell.
Even commission-free options like Ruby Lane have drawbacks. Ruby Lane charge you $69 a month to use the platform.
Get an online store
If you want more control over your business, you can get an online store. This allows you to sell antiques and art without having to pay a commission.
Ecommerce sales comprised 9% of all US retail sales in 2017. This figure is increasing year on year. It is expected to rise to 12.4% by 2020. The art and antique industry is no exception to this trend. Check out the figures for online art sales since 2013:
2013: $1.507 billion
2014: $2.636 billion
2015: $3.274 billion
2016: $3.753 billion
2017: $4.221 billion
There are two main ways you can get an online store.
Both are simple ways of breaking into digital.
Building your own store gives you complete creative control. You decide what your store looks like, where it will be hosted, and get full access to your customer data. The downside is that you have to build it or hire a developer to do it for you.
There is a range of providers you can choose from. WooCommerce is a free WordPress plugin which is used by millions of people. It comes with a community of developers and a range of antique store themes, such as AntiqueMall. Below is an example of the store you could build: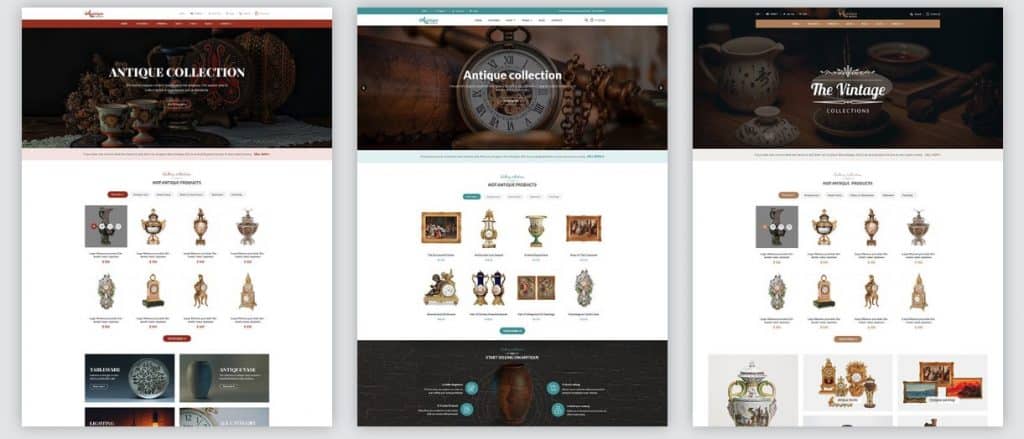 Credit: Themeforest
Or you could buy a readymade online store. Buying an existing online store takes away the hassle of construction. It's a pre-built website and an existing business. This can save you time and money, allowing you to focus on other areas of your business. The downside is that it will cost more initially than building your own store.
The question is not if art and antique entrepreneurs should break into digital. It's how you should do it. Now that you have the answers, make your decision and take your business online today.