As a bootstrapped micro-startup, you'll be looking for a low cost web hosting provider – especially when you're just starting out. Ideally, you want a hosting service that offers cheap hosting plans, great site performance, and helpful customer support.
In this post, we'll take a look at three of the cheapest web-hosting providers – SiteGround, Bluehost, and GreenGeeks – and highlight their standout features to help you make an informed decision.
What to Look for in a Cheap Host
If you're just starting out and want to launch
a website to start building your business' web presence, you don't need to
spend a lot of money on high-end web hosting.
That said, there are a number of things to look for in a budget web hosting provider. Typically, this includes the server resources you'll need, customer support, and features (like one-click CMS installation).
Most of the time, users looking for cheap web hosting options have modest needs. As a micro-startup, you probably want to start out small to get your website up and running and upgrade once it starts to gain traction.
Here are the key features you should keep in mind when looking for a cheap host:
A reasonable amount of storage
space and bandwidth for your small business website.
Website email accounts such as [email protected].
One-click WordPress (or your
preferred CMS) installation.
A free domain name or an
inexpensive domain, at the very least.
Basic security features to keep
your website and server safe.
It's important to keep in mind that super
cheap hosts (for example those that charge $1 per month for web hosting) aren't
worth it due to their poor technical performance.
3 Cheap Web Hosting Options for Micro-Startups
Here, we'll take a closer look at three of the best (and cheapest) web hosting options for micro-startups: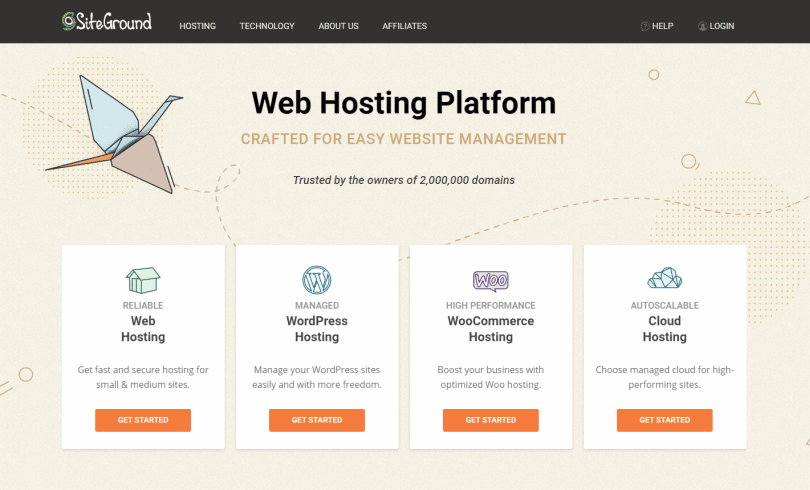 SiteGround is a web hosting company that focuses primarily on micro-startups, solopreneurs, and small businesses. Its startup plan offers the basic hosting features you need to get your website up and running.
SiteGround is known for its reliable customer support which includes 24/7 phone support and live chat with instant response time. With SiteGround, you can expect to get a one-click WordPress installation and a free domain with your account. It also lets you transfer an account for free which is great for micro-startups that are looking to switch hosting providers. SiteGround's WordPress experts will navigate you through the entire process.
Key features:
SiteGround is an independent hosting service with an excellent reputation for its top-notch customer service.
It offers great technical performance with impressive page loading times and 100% uptime.
It's an ideal solution for beginner-level WordPress users who are looking for a simple hosting option.
It gives you access to unmetered data transfers, free email accounts, and unlimited domains.
SiteGround's customer support team is available to you 24/7 which is great for micro-startups looking to launch their first website.
Other useful features include automated daily backups, free shopping cart installation, and free SSL certificates.
Pricing: StartUp plan starts at $3.95 per month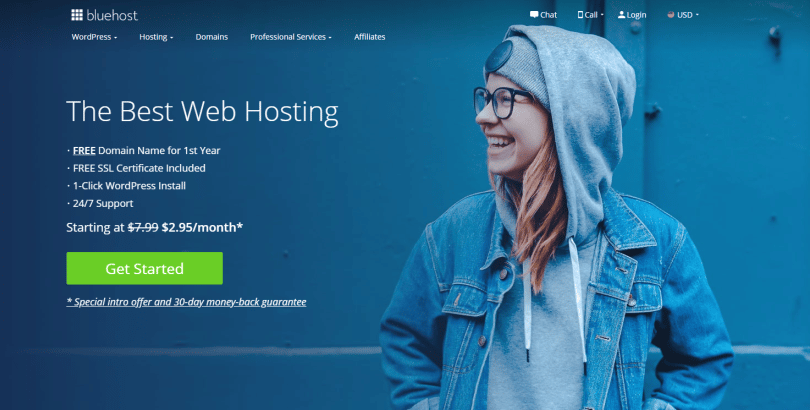 Based in Utah, Bluehost is one of the most
popular web hosting companies out there. It's owned by the Endurance
International Group that also owns Site5, Hostgator, and Arvixe.
Bluehost charges low fees for their all-inclusive hosting package. For micro-startups, the company offers shared hosting which is popular among businesses looking for cheap yet reliable hosting options.
Traditionally, when it comes to shared
hosting, multiple websites share partitioned space on the same server. However,
Bluehost's technology can identify sites that need more resources than others
on the same server and temporarily switches them to unused systems. This means
that your website will not face performance issues.
Key
features:
Bluehost is a huge company that offers good technical performance.
Bluehost gives you access to unlimited disk space, transfers, and emails accounts.
It comes with built-in propriety caching to boost the speed of your website.
You get one-on-one training in addition to 24/7 customer support and helpful tutorials.
Pricing: Basic Plan starts at $2.95 per month

Founded in 2008, GreenGeeks hosts several
hundred thousand websites at the time of this writing. Although it isn't the
most economical hosting option out there, users pay the eco-friendly premium
for the company's energy-efficient web hosting products and services.
GreenGeeks' entry-level plan gives you access
to unlimited bandwidth, disk storage, databases, domain names, and emails for
each domain. It comes with a user-friendly cPanel, an extensive Fantastico
script library for one-click script installation which supports Drupal, Joomla,
and WordPress.
In addition to this, GreenGeeks provides
customer support via email, live chat, and phone. The hosting provider also
provides customers with Secured
visualization File System to protect against security issues.
Key
features:  GreenGeeks offers lightning-fast speeds and great technical performance.
Offers unlimited bandwidth, unlimited disk space, and unlimited email accounts.
GreenGeeks has eco-friendly credentials and is recognized as an EPA Green Power Partner.
All GreenGeeks plans come with e-commerce features which makes it a great option for online store owners
Free transfer assistance and one-click WordPress install.
GreenGeeks gives you access to free Cloudflare CDN integration.
Offers 24/7 customer support through email, live chat, and phone.
Pricing: Ecosite Lite costs $2.49 per month
Be sure to check out this data-driven review of the best WordPress hosting companies to learn more about the relative performance of the three hosting providers as well as some other viable budget web hosting options.
Conclusion
When selecting a hosting provider, it's important to go with a company that offers great site performance and excellent customer support. We looked at various cheap web hosting options for micro-startups and covered their standout features and entry-level plans. Hopefully, you're in a good position now to choose a budget web hosting provider that fits your needs best.
Which hosting providers have you tried out for your micro-startup's website? Share your experience and recommendations in the comments section below.