The world has seen many new innovations in recent times, and we are happy to say that the horse racing industry isn't left alone. There are many startup companies that bring something new to the industry whether it is about enhancing user experience, improving equine well-being, or improving the betting sector.
If you think about it, not too long ago, horse-racing betting was only limited to waging on the track, whereas nowadays you can watch the race and check the Breeders' Cup results from your phone anywhere.
Times are moving fast! Now you can even own a real horse by buying fractional shares, or race your own digital horse in the metaverse.
This is why we decided to dig a bit deeper and find out some of the startup companies that managed to bring something new to the world of horse racing.
Innovative Startups in the Horse Racing Industry
Game of Silks
Game of Silks is an interesting fantasy horse racing startup, that has successfully secured $5 million in recent funding, elevating its total investments to over $10 million since inception. Launched in 2021, the innovative startup captivates consumers by offering the opportunity to purchase NFTs and garner rewards in the realm of horse racing.
Embarking on a Play-to-Earn (P2E) model, Realm of Silks redefines horse racing games, seamlessly blending exhilarating fun with pioneering gameplay mechanics. 
This allows enthusiasts to earn tangible value while indulging in a deeply engaging and exciting gaming adventure. The game's uniqueness lies not just in owning digital horses, but it extends to replicating these digital equines based on actual horses making waves in contemporary horse racing circuits.
Equine MediRecord
Initiated by the visionary alumni of Trinity College Dublin and LaunchBox, Pierce Dargan and Simon Hillary, Equine MediRecord is poised to transform the multi-billion euro horse racing industry radically. It aims to digitalize the essential medical and regulatory records of elite thoroughbred racehorses.
Offering a meticulously designed mobile application and website, Equine MediRecord facilitates the accurate and efficient recording of extensive medical treatments and vaccinations that racehorses routinely undergo. Traditionally, the industry relies on manual logs and physical registers to track these critical details, which are not only cumbersome but also susceptible to loss or damage due to the constant traveling of the horses and their caretakers.
Equine MediRecord promises to enhance the ease and reliability of maintaining these records, catering to the varied medication regulations prevalent across global racing jurisdictions. This trailblazing initiative heralds a transformative era in elevating the standards of horse care and well-being.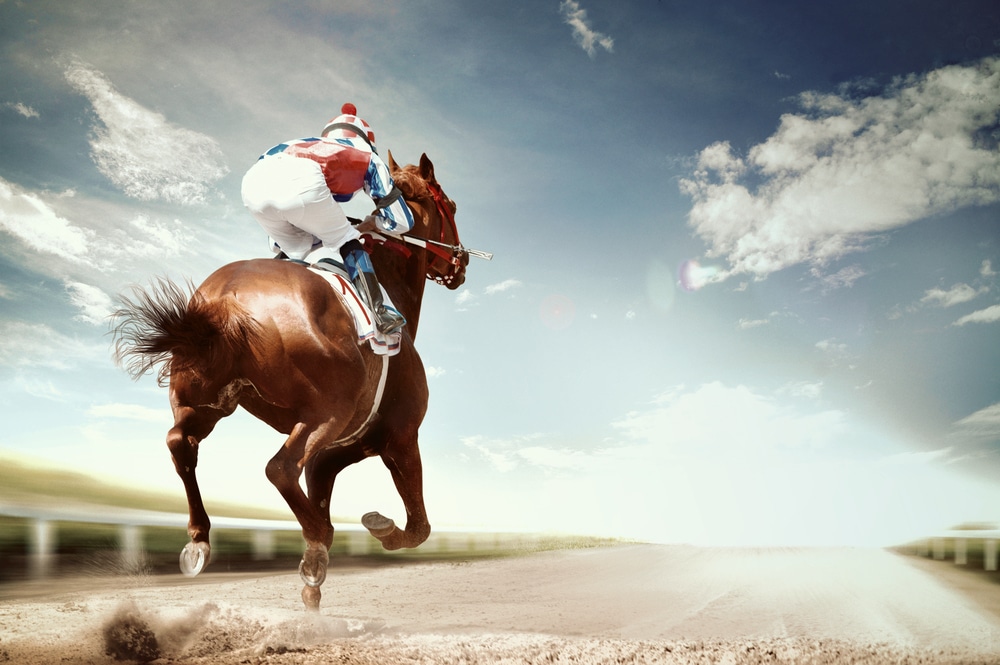 KLAPx42DLP's Partnership
Equidia has forged a partnership with KLAP, an avant-garde AI startup specializing in deep-learning applications for horse racing.
This collaboration aims to proficiently detect and track jockeys and horses in over 40 races daily. On the other hand, 42DLP, renowned for providing exceptional Live Broadcast Solutions, enhances this tracking data, converting it into an extraordinary visual feast with bespoke graphic design elements.
During each race, Equidia's operator meticulously scrutinizes the tracking quality, ensuring the flexibility to modify or exclude automatic tracking from the final video output.
Enhancing the viewers' experience is paramount, making the integration of augmented reality technology crucial. This tech marvel impeccably amplifies the broadcast, enriching it with invaluable data, and offering a spectacular viewing experience.
1/ST Technology's Innovation
With operations sprawling across 38 states and extending into Alberta, Canada, 1/ST BET revolutionizes betting with its unparalleled patented and proprietary technology.
It meticulously analyzes ongoing races, juxtaposing them with a wealth of historical data. This intricate handicapping technology discerns predictive elements from analogous races, optimizing the value assessment for imminent races.
The 1/ST BET application transcends the boundaries of conventional betting platforms. It graciously welcomes bettors from all walks of life, regardless of their familiarity or expertise in horse racing. 
The application is fortified with sophisticated data and pioneering technology, which arms bettors with the tools to navigate through a multitude of variables and figures.
This encourages the discernment of the most influential factors to secure a winning bet. Seasoned bettors also have the luxury to craft bespoke algorithms, leveraging the profound data that 1/ST BET contributes to the sport.
MyRacehorse App
MyRacehorse offers you the unique opportunity to acquire fractional shares of elite racehorses. When you invest in a horse that subsequently proves to be profitable—after accounting for expenses such as the horse's purchase price, training, maintenance, and other operational costs tied to the horse series company—you stand to earn dividends.
Each share's price is inclusively precharged with an amount dedicated to the horse's well-being and comprehensive training.
Every horse featured on MyRacehorse is subjected to a rigorous diligence process before listing. This meticulous process involves a veterinary examination, a detailed confirmation evaluation, and a value assessment.
The latter incorporates a thorough analysis of various crucial factors, such as pedigree, racing history, remaining conditions, and several other determinants that collectively ascertain a horse's fair market value.
Final Words
These are some of the future-forward startups that made some changes in the horse racing industry. Both spectators and the sport need companies like these to make sure that horse racing stays relevant in these tech-oriented modern times.