Is your office hopelessly outdated and in need of a fresh look, but you have a limited budget? Fortunately, there are a lot of updates you can do that don't cost much to upgrade your space and the value of it long-term. Perhaps your office needs a facelift to help you improve your focus and grow your business.
About 22,164 businesses spent $35 billion on commercial remodelling in the United States this year. That sounds like a big number, but it includes both big and small budgets. The truth is you can make improvements even if you have zero money for remodelling.
Keep things simple and focus on the areas giving you the most problems currently. Think about your employee needs, as well. Did you know that 87 percent of workers wish their company offered healthier workspace options, such as a wellness room or ergonomic seating? If you only have a little money to invest, consult your employees about how you might best use those dollars to help them do their jobs more productively.
From adding a fresh coat of paint to hiring a student designer, here's how you can renovate your office on a budget.
1. Add A Fresh Coat of Paint
One of the least expensive and fastest ways to freshen up a drab space is with a fresh coat of paint. Enlist your workers to help with painting and get everyone involved in the process. Choose a few colour palettes and let employees vote to choose the final shader. Keep things bright and airy so people are happy to come to work and their moods are uplifted. Avoid darker colours unless using for accent.
2. Replace Flooring
High-quality commercial flooring is quite expensive. Think about the foot traffic in your space. Would a high-end laminate hold up to daily wear just as well as more expensive materials? Consider the ease of regular upkeep as well. Perhaps you could save time and expenses on office cleaning by investing in a robot vacuum that runs when the office is empty. It works best when the surface is all on the same level, and there are no rugs or other items to block its efforts.
3. Choose Longlasting Appliances
Save money in the future by selecting appliances that last a long time and don't need replacing every few years. For example, items for your office kitchen should have a powder coating, which provides resistance to corrosion and durability. Many different hands touch the appliances in your kitchen area, so using a higher-quality finish makes sense. You can also add powder coating to outside furniture you wish to hold up to environmental elements.
4. Rearrange Current Furniture And Layout
If your budget is zero, you can still give your office a facelift by using items you already own and revamping your layout. If you currently use cubicles, perhaps taking some of them out and creating an open concept where team members brainstorm and communicate would benefit your business. Another idea is to reconfigure the cubicles so you have quiet workspaces as well as public areas.
5. Add Quirky Accents
Do you want to give your office space a bit of personality but can't afford an interior designer? Invite your employees to come up with a theme and help you hunt garage sales and thrift stores. Perhaps the theme is "in motion," so you find an old bicycle wheel and mount it on the wall. Another employee makes model airplanes and brings in a few to suspend from the ceiling. A third worker has a vinyl craft machine at home and cuts out the words "In Motion" to place on the wall facing the entry to your office space.
With a little ingenuity, you'll have a unique office space that rivals those seen in glossy design magazines.
6. Lose The Posters
No matter how cute the image, do you really need another poster of a kitten hanging from a tree limb and telling you to "hang in there?" Replace them with items that inspire your team. You could even just add some whiteboards to the walls so people can write their own notes or praise other team members for going above and beyond.
7. Add Plants
Studies on the effects of nature in the workplace show that adding plants to your office has many benefits. Plants relax and calm us down, as well as boost productivity. They may even reduce absenteeism and late arrivals, as well as counteract sick building syndrome by cleaning the air. A bit of greenery adds a light and airy touch to most spaces.
8. Cut The Clutter
Ensuring that your offices are kept clean and clutter-free creates a positive first impression. And if you want to brighten up your space and create more room, you don't have to knock out any walls. Just get rid of all the stuff. Start by throwing out anything large that you aren't using. If that conference room table is never used, give it to charity or sell it. Next, have employees cut the clutter around their workspaces. Give them a goal to throw out or give away as many unneeded items as possible. Move out unused desks and cubicles and place them in storage. You'll be surprised how much more space you'll gain by decluttering.
9. Refresh What You Have
Add a coat of paint to old, beat-up desks. Cover chairs with colourful fabric. Repaint chalkboards that are beaten up and no longer fresh and new. A few minor changes cost very little money but make your office seem almost like new. If you need things, pick up used versions at swap meets or secondhand stores and refinish them so they look fresh.
10. Hire A Student Designer
Not sure you have a handle on the design of your office space? Call a local university and ask if they have a senior design student who might be interested in working with you as an intern to gain material for their portfolio. Students need experience to land jobs once they graduate and may be willing to work for you for free or very cheap.
While they don't have the experience of a seasoned commercial architectural designer, they do have the training and have worked on projects at school. They will have new ideas and can offer input that takes your design to the next level without costing a fortune.
Set A Budget
No matter how much you have to spend on renovations, set a strict budget and stick to it. If a project starts to go over on costs, look at ways to reduce expenses or do some of the work yourself. A bit of determination goes a long way toward creating an amazing office that won't bankrupt you.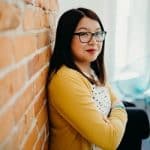 Author Bio: Lexie is a UX content strategist and web designer. She enjoys copious amounts of coffee (with a dash of milk) and walking her goldendoodle. Subscribe to her design blog, Design Roast, and follow her on Twitter @lexieludesigner.